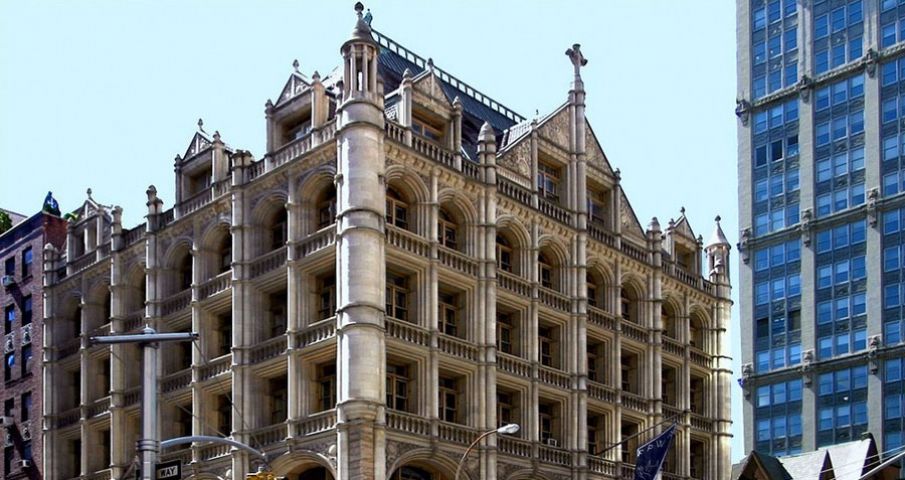 On the morning of Nov. 23, 1889, a one-paragraph item in The New York Times reported that a plot of land had been acquired "on Fourth-avenue, near Twenty-second-street" by "the committee to promote the erection of a church missions house." The cost of the project was estimated at $200,000 and the committee sought "men and women of means" to provide the money.
The Church Missions House, a magnificent steel-frame Romanesque structure inspired by the medieval guildhalls of Amsterdam and Haarlem, was completed in 1894. It stands at 281 Park Avenue South (as Fourth Avenue came to be known) in an area that became a hub for charitable organizations. Originally the command center of the Protestant Episcopal Church's mission work, it now is the headquarters of the Federation of Protestant Welfare Agencies (FPWA), an organization founded in 1922 that provides social services to more than two million people each year through its network of Protestant and non-sectarian agencies.
The building's cornerstone was laid in October 1892 and by the following summer, the original $200,000 estimate had grown to $500,000. Cornelius Vanderbilt and J. Pierpont Morgan — clearly, two men "of means" — were major contributors. The Church Missions House was designed by a pair of Englishmen: Robert W. Gibson, who came to this country in 1881 and became a two-time president of the New York Architectural League, and Edward J. N. Stent, whose specialty was church interiors.
A frieze over the main entrance depicts St. Augustine on the left, preaching to the barbarians in England, while on the right Bishop Samuel Seabury — the first American Episcopal bishop – sermonizes to the barbarians in America. In 1963, the building was acquired by FPWA and restored, revealing the pink rock granite and Indiana limestone of its exterior. It was designated a New York City landmark in 1979. In 1991, a $5.5 million project was launched to renovate the copper and terra-cotta roof, to bare the marble mosaic floors that had been hidden beneath vinyl tiles, and to restore leaded stained-glass windows, wooden wainscoting and wooden doors. The project also introduced a new meeting hall, the Laura Parsons Pratt Conference Center on the ground floor. "Once again, the Morgan name appears among the benefactors," noted the Times. The FPWA's letter of credit was provided by J.P. Morgan.
Image via Panoramio