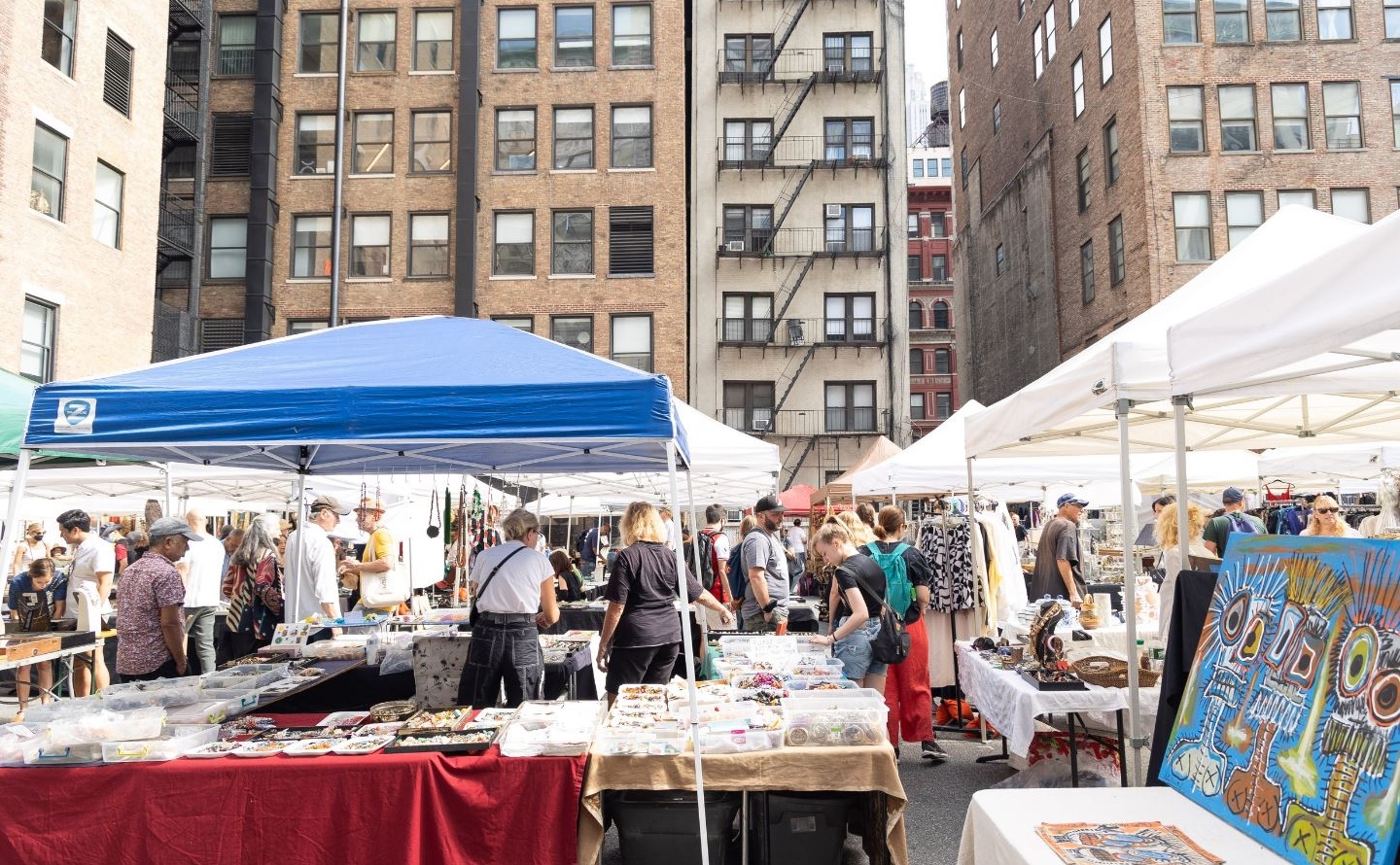 This month, we look back on the 40+ year of history at iconic outdoor market Chelsea Flea. Located at 29 West 25th Street between Sixth Avenue and Broadway, the venue features high-quality antiques, vintage goods, architectural salvage, and collectibles. Chelsea Flea is free to enter and open year-round every Saturday and Sunday, rain or shine, from 8 a.m. to 4 p.m.
Initially known as Chelsea Flea Market, the site was part of the Annex Markets founded by entrepreneur Alan Boss in 1976. "The first day brought 11 vendors," according to gothamist.com, "a number that grew to over 600 as the markets expanded to include a string of corner lots lining Sixth Avenue and shaping an outdoor shopping and design mecca that became known worldwide." And, notes architecturaldigest.com, "New Yorkers of all backgrounds turned to the weekend retail destination for affordable finds and hidden treasures, of which some bore the potential to be museum-quality."
By the 1980s, "the parking lots near West 25th Street and Sixth Avenue were filled with vendors selling tchotchkes, collectibles, and fine antiques," wrote the New York Times on December 30, 2019. The Annex Markets would eventually establish itself as "New York City 's largest flea market, that included seven separate lots over the years," reported the newspaper. "It was the city's version of famous bazaars like Portobello Road Market in London and the Marché aux Puces in Paris. The lots, which drew the city's creative community, also helped to shape Chelsea into an arts district."
In The Golden Flea, author Michael Rips writes that these markets became "a meeting place for the various groups filling Chelsea: rare yet inexpensive items could be found to fill their apartments, artists took inspiration from the accidental combination of objects, and those who were leaving the clubs and bars in the early morning had a place to go before returning home. This constellation of secondhand markets was known by New Yorkers, and a host of others who came from beyond the city, as 'the flea.'"
According to gothamist.com, these flea markets were "vital to the cultural fabric of New York City, world-renowned and loved by locals and tourists alike," which reportedly included celebrities such as Drew Barrymore, Brad Pitt, and Andy Warhol, who arrived at the markets on Sundays in an old Dodge convertible. "He bought vintage watches," said markets owner Boss to The New York Times on December 30, 2019. "He bought cookie jars. Nobody cared about cookie jars until he started collecting them."
By the 1990s, however, increased commercial and residential development in the community led to Annex Markets closings. The Garage Antique Flea Market at 112 West 25th Street, a two-floor property with 100 vendors, shut down in 2014. Some vendors relocated to Chelsea Flea Market, although it, too, would shutter in 2019. But in 2020, Chelsea Flea Market was able to launch a comeback with new owners, Eric Demby and Jonathan Butler, co-founders of Brooklyn Flea, and a new name, Chelsea Flea.
"Our hope is that by returning New York's biggest and highest-quality vintage and antiques market to its status as a regional and global destination," Demby told amny.com's The Villager in 2020, "we will bring back many longtime buyers while attracting a new generation of shoppers who constantly seek out what's unique and special in style and who care about current fashion's impact on the environment and climate."