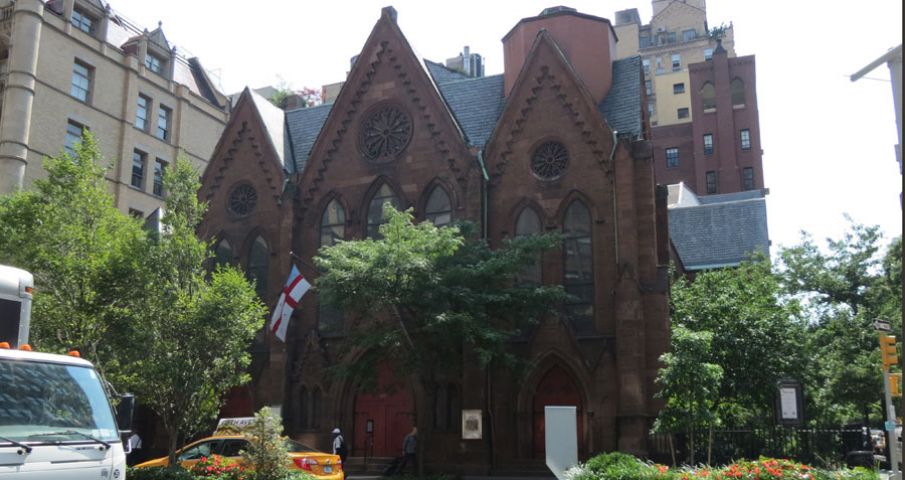 It is a modest-looking house of worship, but don't let that fool you. Calvary Episcopal Church might no longer have its steeples, but it boasts a history studded with well-known names and it was the birthplace of an idea that launched an international institution.
Calvary had its beginnings in 1836, in a small frame building at what is now Park Avenue South and 30th Street. It moved down the avenue to 22nd Street in 1844 and two years after that, the cornerstone for its present location was laid at Park Avenue South and 21st Street. The architect was James Renwick Jr., then 26 years old, and although he would become famous as the designer of St. Patrick's Cathedral, the Smithsonian Institution and the Free Academy, the Gothic Revival style he employed at Calvary did not immediately meet with universal approval. The diarist George Templeton Strong, who lived just around the corner, called the brown sandstone church "a miracle of ugliness." It did not help that its twin spires were removed in 1860 because they had become unstable.
Nevertheless, Calvary went on to generate an enviable social history. In the 1870s, its parishioners included George and Lucretia Jones, whose young daughter, Edith, became friendly with Emelyn Washburn, the daughter of Edward Washburn, Calvary's rector. The two girls would sit on the rectory roof, taking in the sun and reading Dante to each other. Before long, Edith Jones married and became Edith Wharton. New York society's wedding of the decade took place at Calvary in 1875, when Cornelius Vanderbilt's grandson William married Alva Smith of Mobile, Ala. To celebrate Alva's 39th birthday, Vanderbilt built her an $11 million home called Marble House in Newport, R.I., a mansion that still draws thousands of tourists annually. In 1884, Eleanor Roosevelt was baptized at Calvary. Her uncle Teddy, who lived in a nearby brownstone and would later live in the White House — as, of course, would Eleanor — served as godfather.
Calvary is also known for being the titular headquarters of the Oxford Group in the 1930s, when the Rev. Samuel Shoemaker was the rector. It was Shoemaker who is credited with inspiring the 12-step program that became the spiritual guide for Alcoholics Anonymous.
In 1975, Calvary merged with two other nearby churches: St. George's Church, near Stuyvesant Square, and the Church of the Holy Communion, at Sixth Avenue and 20th Street, which was later deconsecrated and became infamous as the Limelight disco. At the time of the merger, the Rev. Dr. Thomas F. Pike became rector. Since then he has been active in many aspects of New York life, secular as well as religious. He has been chairman of Partnership for the Homeless and a member of the city's Landmarks Preservation Commission. On June 29, after 33 years as head of the Calvary-St. George's Parish, Dr. Pike will deliver his final address as rector before retiring. Following services that day, a farewell party is scheduled at the Players Club on Gramercy Park South.