Bowling Comes to Madison Square Garden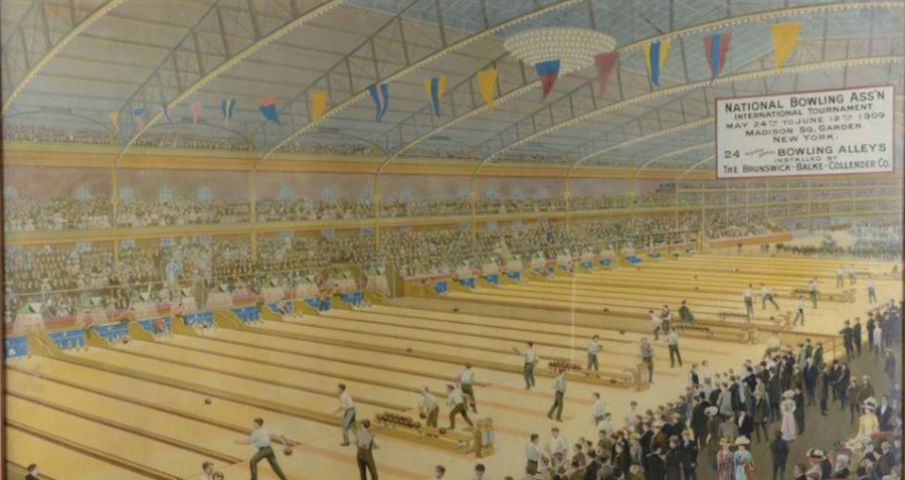 The Flatiron/23rd Street Partnership takes a look back at Madison Square Garden and the historic bowling tournament billed as the most "elaborate ever held" in 1909.
For the first time in its history, The National Bowling Association held its International Tournament in New York City from May 24 to June 12, 1909. The tournament was held in Madison Square Garden, then located on 26th Street. The second Madison Square Garden was designed by noted architect Stanford White who was commissioned by a team of wealthy clients, including J.P. Morgan and Andrew Carnegie, for a reported final cost of $3 million when it opened in 1890.
Bowling's popularity boomed in the late 19th Century, and the Garden was deemed a perfect fit for the sport. "For the tournament, which will bring together many of the best bowlers of the country and the crack teams that have figured in the championships in former years, Madison Square Garden will be converted into a huge bowling hall, the entire floor space of the building occupied by twenty-four high-grade alleys, laid in the amphitheatre," reported The New York Times on January 17, 1909.
On opening night of the 1909 tournament, which offered $50,000 in prize money, a total of 4,000 fans were in attendance. The three-week lineup featured 313 five-man teams, 700 two-man teams, and 1,420 individual players.
"I welcome the bowlers of America to the greatest city on the American Continent," said New York City Comptroller Herman A. Metz, reported The New York Times on May 25, 1909. "It is a stupendous enterprise, and well worth the support of every New Yorker who takes a pride in his city."
By the second day, New York teams dominated. The five-man team from "Jamaica, Long Island crowded out the Ravenswood team of Long Island City by rolling the high score of 2,809," reported The New York Times on May 26, 1909. By the tournament's closing night on June 12, the top individual winner hailed from Brooklyn and two Manhattanites secured second place in the two-man competition.
Bowling continued to thrive at Madison Square Garden even after the venue's relocation to Midtown (Eighth Avenue between 49th and 50th Streets) in 1925, then-considered the new hub of the City's flourishing business and commercial real estate markets.