Big Apple Barbecue Block Party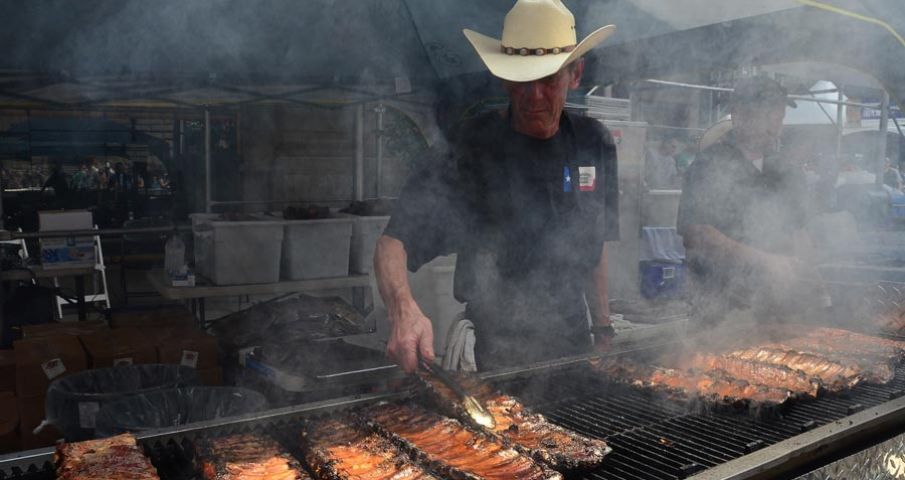 Billed as the nation's largest culinary and music festival featuring the best in barbecue, the Big Apple Barbecue Block Party will make its annual return to Madison Square Park from 11:00 a.m. to 6:00 p.m. on June 11th and 12th, 2016. At the 2015 event, more than 125,000 diners devoured 14,000 pounds of ribs and 7,500 pounds of pork! And to date, that savory taste has earned more than $1.3 million in proceeds for the Park's Conservancy.
A total of 14 pitmasters and chefs from across the nation plan to participate, including Executive Chef Jean-Paul Bourgeois of Blue Smoke in the Flatiron District. "We are most excited to showcase the next chapter for Blue Smoke with an awesome chicken option this year, our smoked Alabama White Wings!" says Bourgeois. "The jumbo chicken wings are first brined, seasoned and then smoked before they're grilled and sauced. The result is an extremely moist chicken wing with subtle heat and tons of umami. Get excited–these wings are not to be missed!"
Admission to the event is free; a plate of barbecue costs $10. All food, beer, wine, sides, and dessert are available on a first-come, first-served basis. Extra-hungry visitors can purchase a limited number of expedited service tickets—the FastPass (starting at $125) and Big Wig VIP Pass (from $275). In addition, diners will be entertained with live music performances, activities for children, and product demonstrations.
The Big Apple Barbecue Block Party was merely a single-block event when it began in 2003. Restaurateur Danny Meyer and his team launched the event in front of their palace to Southern cuisine, Blue Smoke, on 27th Street between Park Avenue South and Lexington Avenue. Meyer leads Union Square Hospitality Group (USHG) as its Chief Executive Officer.
"It's hard to imagine today, but when Blue Smoke opened in 2002, New York City was unfamiliar with the world of barbecue," recalls Mark Maynard-Parisi, USHG's Senior Managing Partner and a Big Apple Barbecue Block Party co-founder. "We wanted to share with NYC the hospitality, spirit, food, and music we had experienced in our travels throughout the South. We asked some of our new barbecue friends and mentors to come to Manhattan to show New Yorkers their craft. It took some serious arm-twisting, but that first year was magical. And despite two days of torrential rain, we served over 6,000 people!"
The growing success of the event compelled Union Square Hospitality Group to relocate its party a few blocks over to Madison Square Park in 2005. "We realized there was an even greater appetite for 'cue than we had anticipated," says Maynard-Parisi, "and we really wanted to ask more pitmasters to join us. By that time, the event had already garnered serious press, not to mention a cult following. So we decided to double the event's size."
And the expansion also proved to be a game-changer, notes Maynard-Parisi. "We were able to include more [culinary] regions, different styles of barbecue, and even some sweets," he explains. "More participants also meant more funds raised for the Madison Square Park Conservancy! There is nothing like cooking in the shadow of the Flatiron, MetLife, and Empire State Buildings, and we're thrilled to see the Conservancy running the event this year." Adds Bourgeois, "I expect this year to be the greatest block party to date! I'm most looking forward to the mix of old and new pitmaster friends. It's a great indication of how this event has grown and evolved!"
Image via Brian Killian/Getty Images.