Andrew Heiskell Braille and Talking Book Library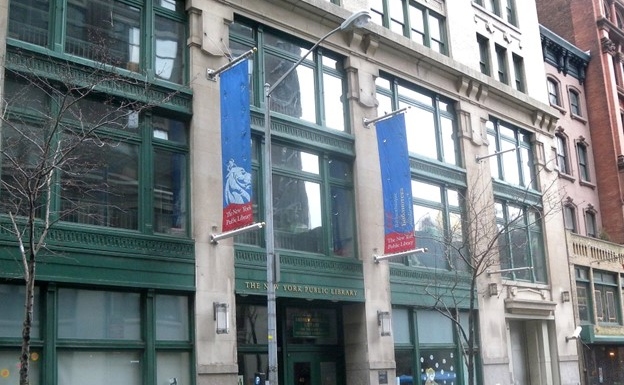 As we return to school this month, the Flatiron NoMad Partnership recalls the history behind the 1991 launch of a notable neighborhood source for learning, the Andrew Heiskell Braille and Talking Book Library. A branch of the New York Public Library system, the building is located at 40 West 20th Street, between Fifth and Sixth Avenues, here in Flatiron. It is reportedly the first ever U.S. public library to have a vast collection of Braille, large-print, and recorded books appear on open shelves that is available to residents of New York City and Long Island's Nassau and Suffolk Counties.
Before its occupation on West 20th Street, the library had been located in Lower Manhattan. "The SoHo building at 166 Avenue of the Americas, near Spring Street, was constructed to house the New York Public Library's maintenance operations, but since 1953 it has been the library's home," reported The New York Times on August 28, 1988. It had nearly "23,000 regular users, which made it the second busiest library of its kind in the country." But, wrote Real Estate Weekly in 1991, a librarian spokesperson stated that the site was more of a "mail drop" because of its limited space to the public and most business had been done either by mail or telephone.
Established in 1895 by hat manufacturer Richard Randall Ferry who had become blind, the library was initially known as the New York Free Circulating Library for the Blind. Then in 1931, "federal legislation authorized an annual appropriation to the Library of Congress for the production of Braille books for blind adults, to be distributed nationally through a system of regional libraries," notes nypl.org. "The New York Public Library was one of the 19 original participants in this newly established network." And soon "patrons frequently" wanted to "read anything recorded by a favored narrator." Talking books were read by their authors, which included Eleanor Roosevelt, who wrote This is My Story, and celebrities such as Joan Crawford.
In 1988, however, and after four years of lobbying by advocates for the blind, a bill signed by New York Governor Mario Cuomo issued a reported total of $17.5 million for the expansion and relocation of the library, then called New York City's Library for the Blind and Physically Handicapped. The structure would be designed by Dennis Kowal Architects and have "a barrier free lobby, tactile and large print signage and glare-free lighting to help impaired readers," wrote Real Estate Weekly in 1991. "A children's room, a spacious reading room, and a meeting room equipped with amplification devices for the hearing-impaired are part of the facility as well."
The new library made its debut on December 12, 1991. It would inhabit the first six floors of 40 West 20th Street, a 12-story neo-renaissance loft property. The library was also renamed the Andrew Heiskell Library for the Blind and Physically Handicapped. Heiskell was a former Time Inc. Chairman and CEO who had helped create the company's popular People magazine and also served as Chairman of the Board of Trustees at the New York Public Library from 1981-1990. "Long in decline when he joined the board in 1978, the library system was facing a real crisis," wrote The New York Times in Heiskell's July 7, 2003 obituary, and he "started a remarkable public campaign that succeeded in transforming" New York City's public library system.
Today, according to nypl.org, the Andrew Heiskell Library for the Blind and Physically Handicapped "is now a full-service central library providing a circulation collection. As the Andrew Heiskell Library moves into the 21st century, the New York Public Library's continuing commitment to the provision of quality public service, coupled with the promise of future publishing innovations and technological development, will ensure "That All May Read."
Header & Thumbnail Photo Credit: Andrew Heiskell Braille and Talking Book Library via Wikipedia