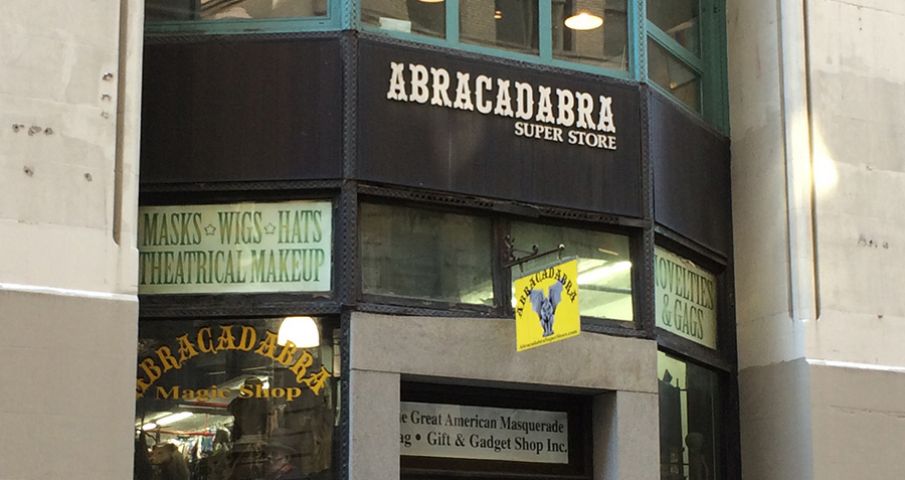 Enter the doorway at 19 West 21st Street and the first thing you hear is the unmistakable sound of someone retching. Seek the source of that sound and there, just inside the entrance, practically breathing on you, is a ghoulish-looking mannequin with matted hair, a stained shirt and an open mouth disgorging a noxious-looking liquid into a barrel marked "Inedible."
Welcome to Abracadabra, an 11,000-square-foot playpen that is one of the oddest stores in New York. It is crammed with thousands of costumes, wigs, masks, magic tricks, stuffed animals, stage makeup, theatrical props, a "Haunted Graveyard" and novelty items that range from your basic whoopee cushion and fake eyeballs to a "bail-out" bolero tie that looks like a noose and comes in a package reading: "If the government can't bail you out . . . do it yourself." In smaller letters, it says, "Please use responsibly."
"It's our latest item," says Robert Pinzon, who together with his younger brother, Joseph, bought the business from long-time owner Paul Blum in 2007. "It's kind of cute, right?"
Abracadabra was launched in Greenwich Village in 1981 and relocated to the Flatiron district in 1997. It is now poised for its busiest month of the year. Halloween is to Abracadabra as Mother's Day is to your local tulip shop. In October, the store stays open longer, more salespeople are on hand and the basement, which is where the costumes are kept, looks like backstage at the circus.
The celebrity most trick-or-treaters will dress as this year is expected to be Michael Jackson. That's no surprise, says Pinzon: "Every year he's popular, but this year, because he's dead, he'll pick up steam. Same thing happened with the Joker. Always popular, but when that actor [Heath Ledger] died, we ran out of Jokers."
As for political figures, he said, Obama masks are doing nicely, but Sarah Palin wigs have been swept under the rug.
"She was popular back then," said Pinzon, alluding to Halloween 2008. "Now, no one talks about her."
Magic, of course, is another staple at Abracadabra, a word that goes back almost 2,000 years and is often used as an incantation by budding magicians whose voices haven't yet begun to change. Abracadabra has a professional conjurer on staff, a young fellow named Josh Edelman who not only mans the store's Magic Shop, a dedicated area with its own stage, but gives free performances every Sunday at 3 p.m.
The most expensive thing in the store, said Pinzon, is a stuffed four-year-old lion. It can be purchased for $4,000 but is also one of many Abracadabra items available for rent to filmmakers, theaters and photographers as props. An extensive online catalog lists everything from gag items like an exploding toilet and rubber worms to fog machines, bubble machines, strobe lights and disco balls.
Taking inventory must be a real headache, a visitor said to Pinzon, who in his 55 years has been an accountant, opened a deli and ran an ice-cream parlor.
"Are you kidding?" he replied. "I got a hundred thousand items here. This is some crazy store."