A Hardware Gem Celebrates its 75th Anniversary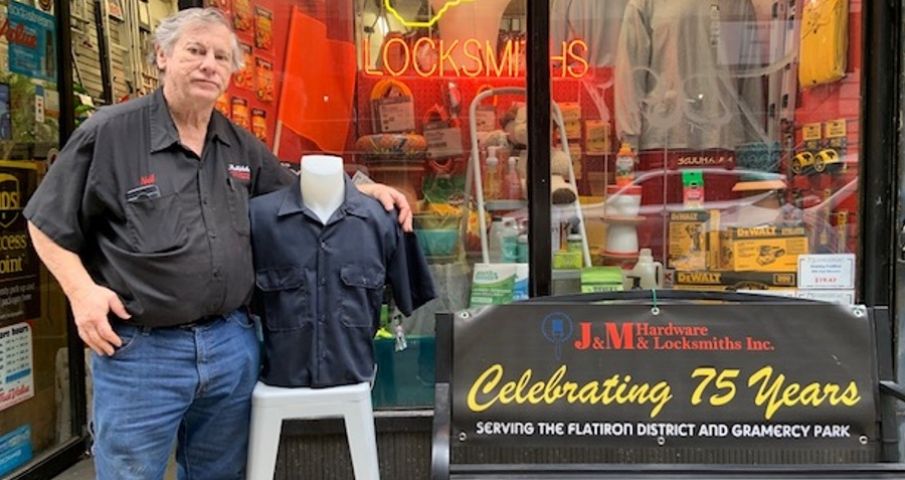 This year marks the 75th anniversary of J&M Hardware & Locksmiths in the Flatiron District. Currently located at 19 East 21st Street, between Broadway and Park Avenue South, the store is the oldest retail business in the area. In honor of this historic achievement, the Flatiron Partnership spoke with owner Neil Schneider who shares several memorable moments from his 34 years at the store, which range from celebrity sightings to the effects from the 2020 pandemic.
It all began in 1947 when Jessie and Mack Packard opened their hardware business on Broadway between 22nd and 23rd Streets. But when Mack died, according to Neil Schneider Leo Brukier purchased the property. Brukier then hired his son-in-law Dan Basovitch in the early 1980s and soon Brukier retired. "Dan and I became partners in 1988," recalls Schneider. "When J&M first opened, the Flatiron District was mostly manufacturing companies. Later, artists moved in and the area became alive with restaurants and other stores that catered to residential customers. Advertising companies moved in, and then dot-com startups arrived."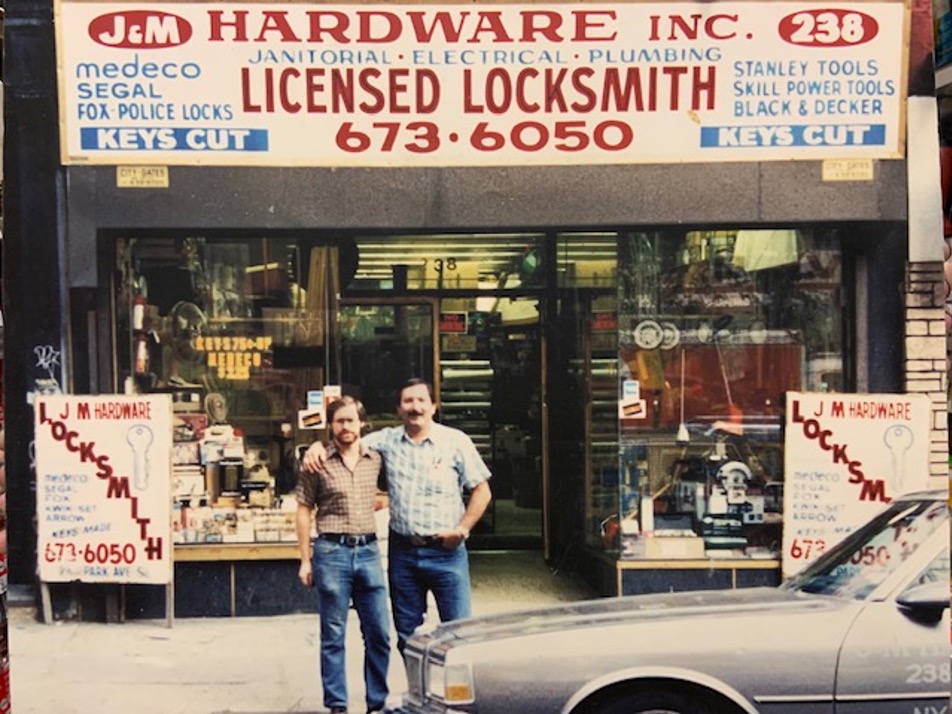 The store's clientele is just as diverse as the neighborhood's population and architectural designs. "Celebrities from actors, writers, photographers, dancers, and artists have all come to the store," says Schneider. "Actress Julia Roberts, choreographer Eliot Feld, and painter Carmen Herrera, to name a few." And the store owner fondly remembers the presence of one prominent Mets baseball player at the property. "The first time David Wright came in he was locked out of his apartment," says Schneider. "When my locksmith, a Yankee fan, saw him, he asked David, 'How does it feel to be the second best third basemen in New York?' and David just laughed."
In 1966, however, the store became the site for the acknowledgment of another kind of hero. On October 17th, 12 firefighters lost their lives battling a blaze on Broadway, between 22nd and 23rd Streets. "The fire was in the pharmacy next to the hardware store," says Schneider about the 6 East 23rd Street location. "It was the largest loss of FDNY lives until 9/11," the September 11, 2001 terrorist attacks that lead to the collapse of the World Trade Center. "[After the fire] the store relocated to 238 Park Avenue South, between 19th and 20th Streets," says Schneider. "Then, in 2002, we moved to the current location on East 21st Street when the 238 building was torn down.
One year later, New York City was hit with a blackout on August 14, 2003. J&M Hardware & Locksmiths became the neighborhood's light at the end of the tunnel. Schneider remembers that the store "remained open the rest of the day so our customers could get flashlights and batteries. By early morning, we had sold out of flashlights, and only had C batteries left. But customers kept coming. We brainstormed and came up with a unique solution. With C batteries, flashlight bulbs, a little wire, and the clear tubes that held packages of screws, we fashioned the J&M Blackout Flashlight. With no electricity, we used a cordless drill to make holes and a propane torch to heat the soldering iron and attach the wires."
Nearly 18 years later, yet another unexpected incident would present itself at the store. In March 2020, the global pandemic arrived and "business plunged," says Schneider. "We stayed open, but we did not allow customers inside. I scrambled to get PPE (Personal Protective Equipment) and limited how much anyone could buy. Worried about riding on trains, I drove in each day. I also did not want my employees taking the subways, so I picked them up and took them home, going from New Jersey into Manhattan, then to Brooklyn and back into Manhattan. I had a store full of merchandise, but people only wanted PPE. Our business nosedived. When people asked me if business was bad, I told them, 'If my sales doubled, then business would be bad.'"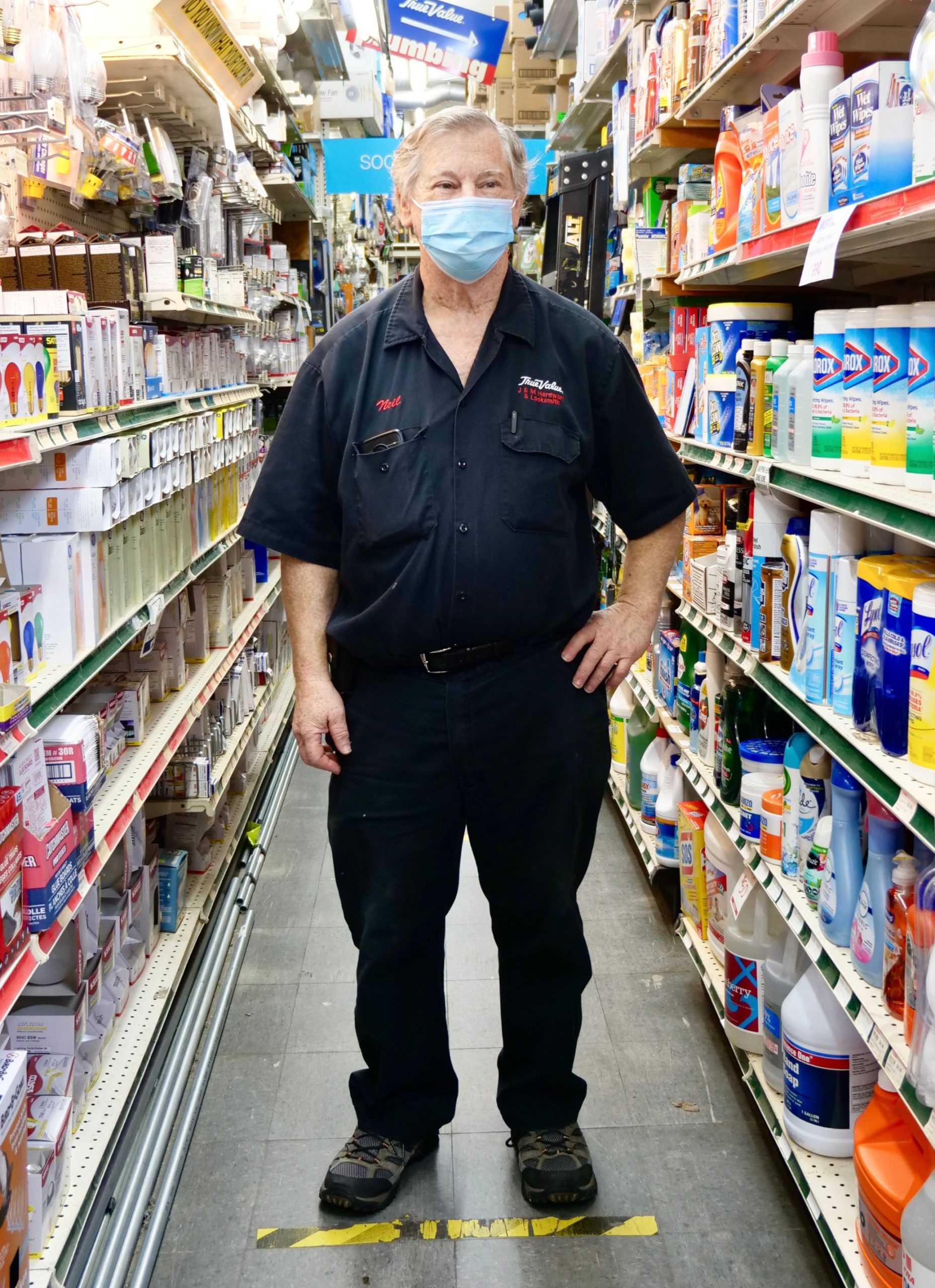 Thanks to his resilient relationship with the neighborhood, customers, and store staff, Schneider considers himself lucky. "Fortunately, we survived," he says. "Our landlord worked with us. We could pay only a fraction of the rent, but he accepted that. As business grew, we were able to pay more. I am grateful to the people of the neighborhood who supported us. The PPP (Paycheck Protection Program) loans enabled me to keep all my employees working. Business continues to be depressed, but it is improving."
In addition, Schneider proclaims, "many of the customers are my friends, and we strive to have products people need. More than that, we offer free delivery and have knowledgeable staff to help people with their hardware issues." And, he also notes that "I still enjoy coming in each day, kibbitzing with customers and vendors, and helping people with their projects. I am 66 years old and am hoping to find someone to take over the business in the next few years. I have been blessed to work in the store and to serve the good people who live and work here."