A Brief History of Public Transportation in the Flatiron District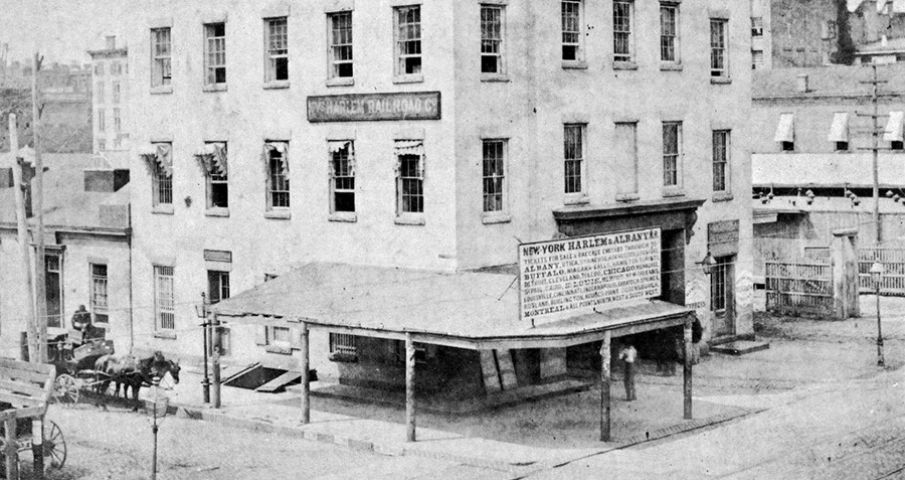 There have long been a number of ways to commute to the Flatiron District. Here is a brief look at the ways people have journeyed to, and through, the neighborhood.
In the early 1800s, one of the primary forms of urban transportation was the omnibus. The bus was a long box with 12-15 seats, with wheels made of wood, and pulled by horses. It was turbulent travel due to the prevalence of cobblestone streets. Smoother terrain soon prevailed for commuters with the arrival of the first-ever horse-drawn railway along Fourth Avenue (now Park Avenue South) in 1832.
The railway was the New York and Harlem Railroad, and within six years it amassed a stable of 100 horses, 40 cars, and four locomotives. The railway's depot was located at 26th Street and Fourth Avenue, which was later the site of the original Madison Square Garden.
"The railroad cars moved on iron tracks fastened to granite sleepers that rose several inches above the street," wrote Clay McShane and Joel A. Tarr in their book The Horse in the City: Living Machines in the Nineteenth Century. "These tracks provided a smooth ride for the vehicle on the rails, especially compared to the omnibus running along the rough street."
The harnessing of electricity eventually led to the creation of New York City's subway system, which debuted on October 27, 1904. "At 7 p.m. that evening," states History.com,  "the subway opened to the general public, and more than 100,000 people paid a nickel each to take their first ride under Manhattan."
This initial line was operated by the Interborough Rapid Transit Company (IRT) and included a station at 23rd Street and Lexington Avenue, and 28th Street and Lexington Avenue, where the 6 train now serves local passengers on the Lexington Avenue line.
The Brooklyn—Manhattan Transit Corporation's Broadway Line opened on January 5, 1918. This line extended from Rector Street to Times Square, including the modern-day 23rd Street and 28th Street R/W stations under Broadway. On September 20, 1918, the line was extended to Whitehall Street—South Ferry.
Since 2002, the 23rd Street R/W station has featured artist Keith Goddard's prominent display of glass mosaic hats on the station walls. Goddard's "Memories of Twenty-Third Street" honors the Flatiron District's history as a major commercial and cultural destination with a focus on fashions from the 1880s through the 1920s.
The Madison Avenue end of the New York and Harlem Railroad depot, Fourth Avenue and 26th Street, in the 1880s. Image via the Office for Metropolitan History