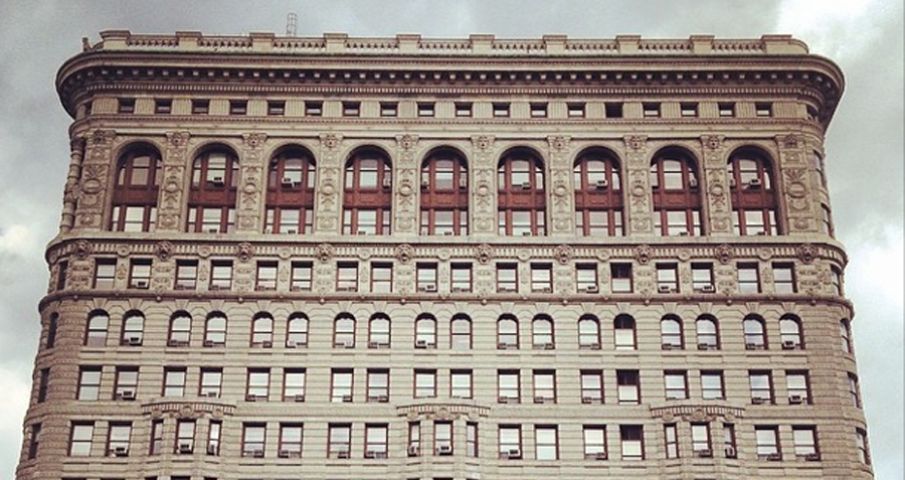 As the iconic Flatiron Building marked its 25th anniversary as a National Historic Landmark on June 29, 2014, the BID takes a quick look back at the neighborhood in the 1980's. 
The year 1989 would prove to be a banner one for the Flatiron Building, one of the most recognized forms of architecture in the district and globally. The structure gained status as a National Historic Landmark by the National Park Service on June 29, 1989.
The building's landmark plaque describes the property as a site that "possesses national significance in commemorating the history of the United States of America." Designed by D. H. Burnham & Company of Chicago, the 22 story building was completed in 1902.
Today, the building is the center of one of New York's most dynamic neighborhoods, but what was the area like 25 years ago? Here, we highlight a few notable moments from the decade:
Danceteria was located at 30 West 21st Street from 1982 to 1986. It was the site of Madonna's debut performance at the disco, where she also worked as a coat-check girl. Scenes from the singer's breakthrough role in Desperately Seeking Susan, the 1985 romantic comedy featuring Rosanna Arquette and Aidan Quinn, were also filmed by director Susan Seidelman at 30 West 21st Street.
By the 1980's, the area was sometimes referred to as the Photo District, following the influx of photographers and artists who had sought out space for both living and working, due in part to the area's spacious, loft-like studios.
Flatiron had been the home of the International Toy Center since World War I. Connected by a pedestrian bridge, the buildings of 200 Fifth Avenue and 1107 Broadway reportedly had one million square feet of rental space occupied by 600 toy company tenants in the early 1980's.
By mid-decade, an influx of "advertising agencies, small publishing houses, architects and design firms moved to the area in search of low rents and large spaces,"according to The New York Times. Real estate brokers reportedly adopted a more stylish moniker for the area, now to be known as the Flatiron District.
In the late 1980's, one-bedroom condominiums reportedly started at $240,000, with two-bedrooms around $360,000, while rentals ran from $1,100 to $1,600 for studio apartments, $1,600 to $2,600 for one-bedrooms, and $2,600 and up for two-bedrooms.
An apartment of note: in 1986, a 2,000-square-foot duplex loft, with a 1,000-square-foot private roof, reportedly sold for $675,000. Two years later, the price tag had risen to $900,000, noted The New York Times on October 30, 1988.
Photo via @elektrovideo