300 Park Avenue South, the Creative Arts Building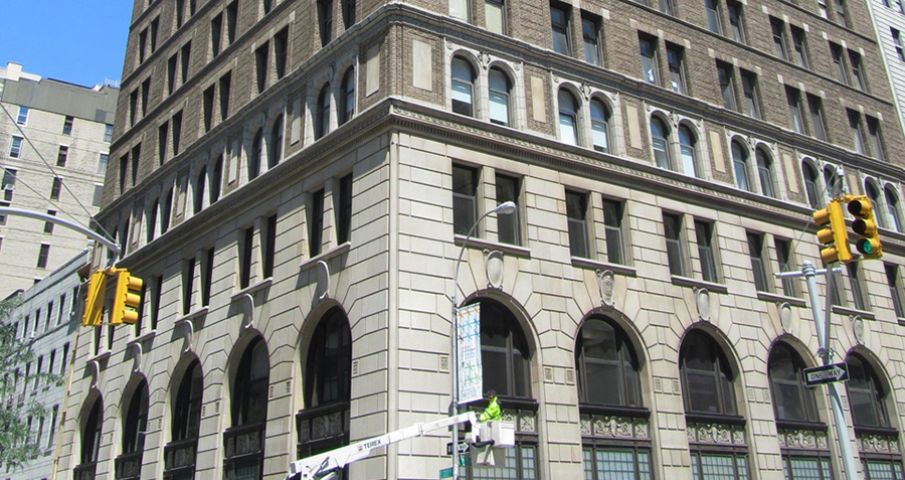 It's a district distinction that Flatiron's own 300 Park Avenue South can only claim––North America's one building that's home to three major cultural institutions: the Whitney Museum of American Art, the Smithsonian Institution and the New York State Council on the Arts.
"Our building has become a world-class hub for the arts and cultural institutions," says Craig Deitelzweig, a BID board member and the head of the Office Division of Rockrose Development Corporation, which has owned the 183,330 square-foot, 15-story Beaux-Arts building at the northwest corner of 22nd Street and Park Avenue South since 1999. Last month, the 95% leased property was rebranded as the Creative Arts Building. "The renaming celebrates the completion of major architectural upgrades," explains Deitelzweig of the reported $5 million renovation of the property that once was considered for residential or hotel conversion by Rockrose. "The architecture firm of Moed, de Armas & Shannon modernized the building's lobby, elevators and common areas. Newly installed exterior lighting illuminates and highlights the building's oversized arched windows at night, making the property a striking centerpiece of design."
And an increasing allure for many in the artistic community. Adds Whitney Museum Chief Operating Officer John Stanley, who moved some of his staff to their 20,000 square feet, two-floor space in the building a year ago, "Location, location, location! The property is well situated with subway lines, especially with public transportation very accessible to our uptown site, new downtown site, and other Whitney properties."
Before 300 Park Avenue South's arrival in Flatiron stood the landmark Fourth Avenue Presbyterian Church since 1857. But by 1910, the community saw an increasing move by businesses into the historic neighborhood. In the case of the church property, it was purchased for $660,000 by the global dry goods importing firm of Mills & Gibb, then leading importers of items such as laces, embroideries, linens, handkerchiefs, ribbons and curtains, who decided to leave their lower Manhattan location, which was then known as the heart of the dry goods district. Mills & Gibb hired Goldwin Starrett & Van Vleck, the architects behind such iconic New York City properties as Lord & Taylor, Bloomingdale's and Saks Fifth Avenue, to build their new multi-story property that would serve as office space and salesrooms for various companies.
During the next several decades, the building became the place to be for an eclectic group of occupants, which included candle manufacturer Will & Baumer in 1960; a floor leased in 1962 by the United Federation of Teachers, where a sit-in would take place at the offices during negotiations between the Board of Education and the teachers' union in 1967; and the arrival a year later by Planned Parenthood of New York to rent space for its fourth-floor headquarters.
Since then, the property has seen a steady influx of arts-related businesses, which began with the big move from Midtown in 1990 by current tenant Rizzoli International Publications. And notes Deitzelweig, who's also a self-proclaimed "bit of a foodie" and fan of the "many great restaurants" in the district, "We are always looking for ways to improve the tenant experience in our buildings. We are speaking to various galleries about adding artwork in our lobby and common areas.  In addition, some of our cultural tenants have requested that they install rotating art installations of some of their major museum pieces in the lobby of our building, which I think would be very exciting." And according to Dawn Messinger, Financial Director at Wilhelmina Models, the world-renown agency that has been the building's second-floor tenant since 1989, "The Flatiron area provides a great sense of community and awareness that makes you feel part of a neighborhood. The launch of the Creative Arts Building suits us perfectly as fashion and models are an art form within itself."
Image via Loopnet