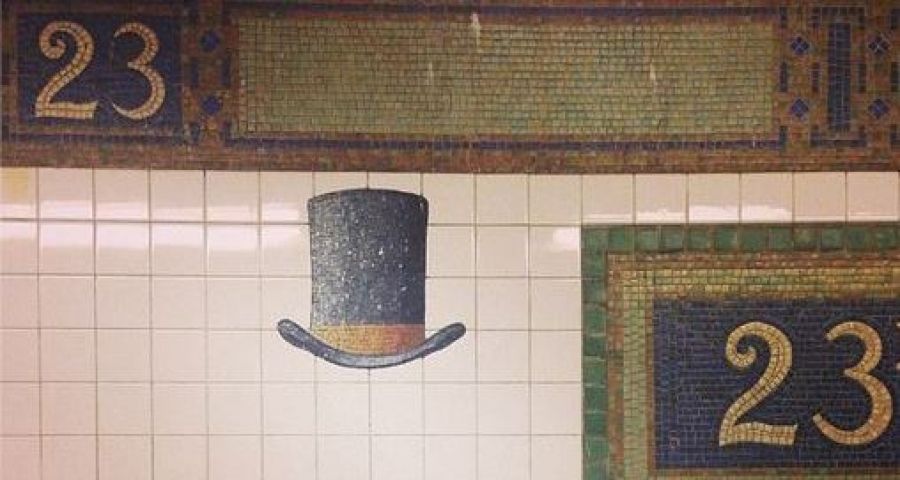 National Hat Day is January 15th. Here's our brief look back at the District's historical role in the mosaic glass tile hats that now appear on the platform walls of the 23rd Street and Broadway N/R subway stop.
To pay homage to Flatiron's era as a fashion and cultural hub from the 1880s through the 1920s, award-winning graphic designer Keith Godard created "Memories of Twenty-Third Street" in 2002. The mosaic glass tile installation depicts hats in styles that may have been worn by notables who reportedly visited the area a century ago. "I've actually had people say, when you get off the R train, get off at the hat stop," noted the British-born and former 23rd Street resident Godard in an online interview.
The eclectic lineup of celebrity toppers include then First Lady of New York Eleanor Roosevelt, Oscar winner Ethel Barrymore, newspaper publisher William Randolph Hearst, novelist Henry James, actress Sara Bernhardt, arts patron Gertrude Vanderbilt Whitney, composer Scott Joplin, soprano Lillian Russell, journalist Nellie Bly, suffragist Maud Nathan, and illusionist Harry Houdini.
Selected from an open call held by the MTA's Arts for Transit and Urban Design program, Godard has acknowledged his tile inspiration came from research findings that many of the men and almost all the women wore hats as outerwear during that time.
Declared Godard in an MTA.info interview, "In addition to bringing back memories of the specific time period and people and appealing to the viewers on a more common level as fascinating hats, this design can also serve as an interactive, playful, and witty landmark."
The images also incorporate the actual height of the individual who would have worn a specific hat. Added the artist, "As a diversion, passengers waiting for the subway train might try to picture people on the opposite platform wearing the hats they are standing beneath!"