Historic 'Dive' into the Asser Levy Bathhouse & Pool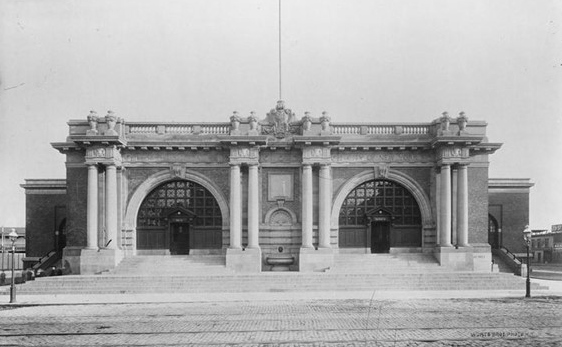 As we've welcomed the dog days of summer this month, the Flatiron NoMad Partnership takes a deep dive into the history of the Asser Levy bathhouse and swimming pool. Listed on the National Register of Historic Places and a designated New York City Landmark, the neo-Classical Roman-style site is located at East 23rd Street and Avenue A. Its architectural collaborators were Arnold W. Brunner and William Martin Aiken, who unveiled their design in 1908.
The 23rd Street bathhouse had "its origins in the Public Health movement," writes nycgovparks.org. "Between 1820 and 1870, New York City's population increased tenfold, while cholera and typhoid epidemics raged through crowded neighborhoods. To fight dirt, and the ills associated with it, reformers promoted the idea of municipally-run public bathing facilities." And, reported New York Magazine on June 23-30 1997, it was also noted during that era that "clogged skin was once blamed for such ills as foul-temperedness, divorce, and even business failure."
The Landmarks Preservation Commission expressed a similar sentiment in a 1974 report. "Public baths were a necessity for many New York City residents during the 19th and early 20th centuries," according to the LPC.  "The area of Manhattan north of City Hall up to 23rd Street and east to the river had an extremely high population density. The residents of this area were housed in overcrowded tenements which for the most part contained no bathing facilities. Consequently, public baths served an important need."
Bathhouses, however, had already been a frequented activity among more affluent city residents for decades, but for a very different reason. "Unlike ordinary public baths, where workers went to wash if they didn't have bathrooms, Turkish baths were popular among the middle class and the wealthy, who frequented them to relax in the pools," according to The New York Times on May 26, 1977. Such was the case of the Everard Baths, a Madison Square North neighborhood business located at 28 West 28th Street near Broadway, which was reportedly built around 1890, and was one of the more prominent Turkish bathhouse facilities in the community.
By 1895, though, area bathhouses began to embrace a more inclusive existence. In that same year, a New York State law was passed requiring local health boards to build bathhouses accessible to the public. Several years later in 1903, notes nycgovparks.org, the Department of Docks and Ferries "surrendered property on Avenue A for a new bathhouse." Architects Arnold William Brunner and William Martin Aiken were selected to design the structure and had also been inspired by America's beautification movement. The two-year construction period of the building was considered "a turn-of-the-century effort to create civic architecture in the United States that would rival the monuments of the great European capitals," writes nycgovparks.org.
Manhattan managed to open nearly a dozen bathhouses by 1911, some with swimming pools, such as the 23rd Street location, which had a pool then measuring 66′ x 25′ and held 70,000 gallons of filtered water that was changed three times a week. In 1936, and soon under the jurisdiction of the New York City Department of Parks & Recreation, the 23rd Street facility expanded and featured new outdoor swimming and diving pools and a new playground, according to nycgovparks.org. "Pools were opened within weeks of each other in the hot summer of 1936, bringing relief to thousands upon thousands of New Yorkers," writes the city website. "Mayor Fiorello La Guardia and Parks Commissioner Robert Moses attended packed dedication ceremonies that summer."
Within two decades, the 23rd Street bathhouse structure was honored in 1954 with the name Asser Levy, an advocate for the civil rights of Jewish people. Levy was reportedly the first Jewish citizen of New Amsterdam when he migrated to America from Poland in 1654. "Mr. Levy was the first Kosher butcher in what was to become New York, and as one of its largest landowners, his prosperity enabled him to exercise political influence with Governor Peter Stuyvesant," wrote The New York Times on July 3, 1977. In addition, the Tenement Museum writes, Levy had also "petitioned the city to allow Jews to be considered burghers, or middle-class citizens, for only burghers had the right to trade within the colony."
Levy's legacy continued to make history when his namesake property was declared a New York City Landmark in 1974 and also made the list of National Register of Historic Places in 1980. Several years later, the facility was closed to the public from 1988 to 1990 for a purported $8 million restoration of the indoor and outdoor pools, and the addition of an auditorium, fitness center, a senior citizens' room, and a wading pool. The event's groundbreaking ceremony featured "a rabbi, a Borscht Belt comedian, and a groaning board of pastrami and chopped liver donated by the Second Avenue Deli," reported New York Magazine on December 5, 1988.
"Among its important qualities," the LPC summarized in its landmark designation report about the Asser Levy bathhouse, "the Public Baths are an exceptionally handsome example of the neo-Classical Roman style of architecture, that they employ an interesting contrast of materials and a wealth of carved detail, that they enhance the site and the neighborhood, and that they have served a most necessary community function for many years."
Header & Thumbnail Photo Credit: Museum of the City of New York, Wurts Bros.