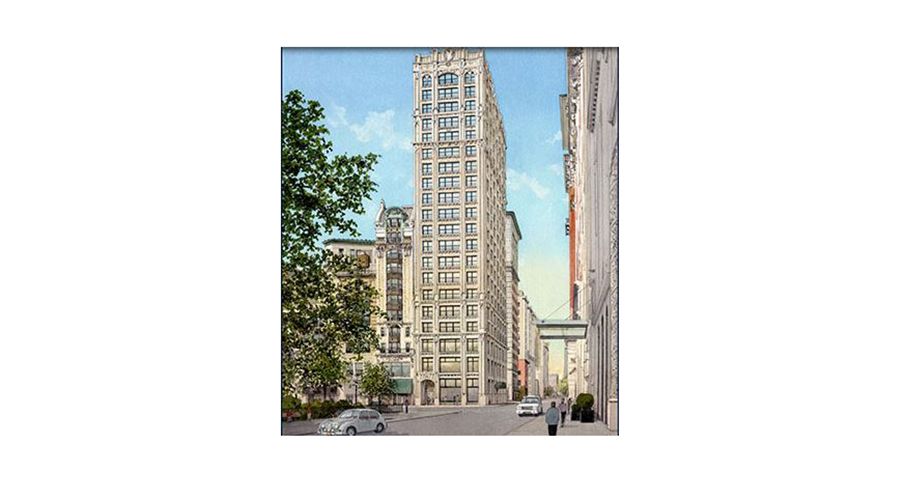 As 212 Fifth Avenue makes its move from commercial structure to luxury residential building, the BID takes a look back at the history of the 26th Street site whose diverse past occupants included a high-profile restaurant, a dance school, and a café.
The current building at 212 Fifth Avenue was built between 1912-1913 by the architectural firm Schwartz & Gross and is a 20-story, neo-Medieval style property with a steel frame and brick, limestone, and terra-cotta facing. It was constructed during one of Flatiron's major economic transition periods, with office space replacing a vast number of homes and hotels and redefining the area as primarily a business district. During this time Simon I. Schwartz and Arthur Gross, who met as students at the Hebrew Technical Institute in Lower Manhattan, designed not only lofts and offices in Flatiron but many of New York City's most recognizable apartment buildings during their nearly 40-year business partnership.
The reported cost construction for 212 Fifth Avenue was $1 million dollars and was promoted as a project that "will present an advance in many ways in the best store and office planning," according to the feature "A Newcomer on Madison Square" in the Real Estate Record and Builders Guide on March 22, 1913. The article also unveiled some of the site's details such as six high-speed passenger elevators, unobstructed floor plans on all stories that would be clear of columns, and each floor furnished with ice water. One of the building's earliest tenants was Exchange Buffet Lunch, which paid $300,000 to rent the entire basement for 10 years. Upper floor occupants included woolens firm S. Steen & Co. and clothier B. Kuppenheimer & Co.
Prior to the construction of the Schwartz & Gross design, other notable businesses of the time had called the site at the corner of Fifth Avenue and 26th Street home. One such business was the Dodworth Dancing Academy, which in the mid-19th century prepared many of the city's upper class and their children, reportedly including one young Flatiron resident and future US President -Theodore Roosevelt, for society balls. Participants were instructed in "series of measured steps that emphasized discipline for stately dances such as the court quadrille, the minuet, and the polonaise," according to City Folk book author Daniel J. Walkowitz. The facility had "reached the height of popularity as the nouveau riche wanted their children to acquire the proper cultural capital," wrote Hilary Levey Friedman in Playing to Win, however, "economic difficulties" forced the Academy to close.
In 1876, legendary New York City restaurant Delmonico's opened in the then five-story brick property which featured "a café and table d'hote room sitting five hundred persons and eight private dining rooms decorated in various styles, from Japanese to Art Nouveau," according to the June 26, 2001 edition of the Madison Square North Historic Designation Report issued by the Landmarks Preservation Commission. The invention of legendary dishes such as Eggs Benedict, Baked Alaska, and Lobster Newburg are attributed to Delmonico's.
By 1899, Delmonico's decided to move farther north on Fifth Avenue to 44th Street, and their former site became a café when it was sold two years later to Martin Hotel owner John B. Martin. Café Martin was known as "the Frenchest French restaurant," wrote author William Grimes in his book Appetite City. The menu included "Marenne oysters, French sole, pre-sale lamb, and Bigareau cherries, as well as exotic international dishes like pilaf and moussaka. Best of all New Yorkers beginning to find Delmonico's just a little stuffy, was its 'polished suggestion of naughtiness.' The construction of Schwartz & Gross' 212 Fifth Avenue replaced Café Martin and operated as a commercial office building for approximately a century.
In early 2015, it was announced that the building will be converted into a 48-unit residential condominium, including a tri-plex penthouse. The conversion is joint venture between Robert Gladstone's Madison Equities, Joseph Sitt's Thor Equities, and development and property manager Building and Land Technology (BLT).
Image via Thor Equities.