Jen Lobo Plamondon, Co-Founder of bodē nyc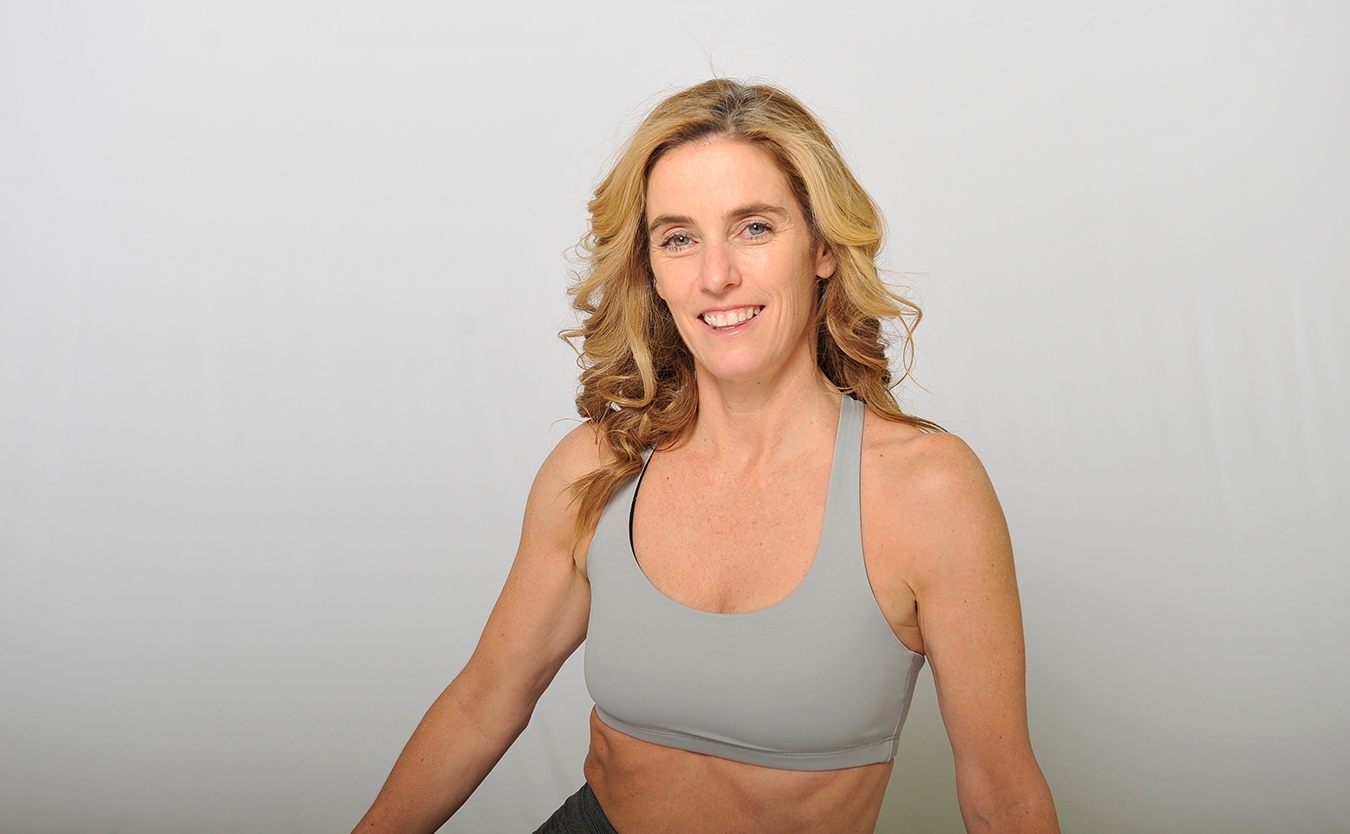 Meet Jen Lobo Plamondon, Co-Founder of bodē nyc, a hot yoga studio located at 182 Fifth Avenue, between 22nd and 23rd Streets. "Most people come for the physical benefits but then after a month or so realize that they need it more for their mental health," says Lobo Plamondon about bodē nyc, which has been in the Flatiron District since 2002. "Once our yogis truly learn how to connect the body and the breath, stress begins to lessen and happiness is unavoidable. We like to joke— "Warning! You may experience a happier, healthier you!"
1. You're a co-founder and certified instructor at bodē nyc. Tell us more about the yoga chain and its name, your role at the company, which you co-launched with Donna Rubin in 1999, and the rebranding of the business that began as NYC's first hot yoga studio.
We just celebrated our 23rd anniversary in business so this could be a long answer, but I will attempt to consolidate! We launched Bikram Yoga NYC as the first official hot yoga studio in the five boroughs. We opened our Midtown studio first, but after a great New York Times article and Elle magazine feature, we quickly became the place to get your sweat on and opened three more studios in quick succession. Our Flatiron location at 182 Fifth Avenue opened in 2002. My partner, Donna Rubin, and I co-founded the business and have been running the locations with our amazing staff for more than two decades. We are a women-led independent business with no investment nor franchise affiliations.
While the term "boutique fitness" didn't exist when we started our chain of yoga studios, that's what we were. We specialized in one form of yoga and offered the same classes throughout the day at various locations. Then around 2014, the boutique fitness space started to become oversaturated. While we were considered crazy back in the late 1990s for heating our rooms, many of our competitors began to understand the benefits of the heat, and added heating to their classes. This is when the new era of hot yoga began in NYC. With more competition, we needed to expand our offerings and added HIIT (High Intensity Interval Training), Hot Yin, and Vinyasa as well as other shorter length formats of our signature Original Hot Yoga class. This is when we started to consider a rebrand because Bikram Yoga NYC no longer encompassed all we had to offer.
We worked with a branding company and came up with the name bodē (pronounced bo-dee). The name is based on the Sanskrit word "bodhi," which signifies enlightenment. The cairns symbol (a stack of rocks on a trail) in our letter "o" represents "being on the right path." We believe that with a regular yoga practice at bodē that you are on your path to enlightenment and optimum health. Of course, all this symbolism is NOT obvious, but that's the backstory!
2. The Flatiron District is also known as the "Fitness District," and this summer, bodē nyc was a participant in the Flatiron NoMad Partnership's Flatiron Fitness Series. What sets your brand apart from others? What are your favorite classes and recommendations at the studio?
We specialize in "hot" because we believe deeply in the physical and mental benefits of the heat. Not only are you able to detox and make your skin literally glow, but it allows the body to stretch safely and avoid injury. We were the first in the "heat" business in NYC and believe we have the best instructors that truly understand how to lead a healing and rejuvenating class in a heated environment. It's not just about throwing some heat panels in and calling it "hot yoga," it's about understanding how to guide people in the heat, encourage breaks when needed, and help our clients achieve a strong lifelong practice and the mental and physical benefits that follow!
Our core offering is our original hot yoga series. We have always had a very nurturing approach to this class as we truly feel it is for every "body." You are never too old, too sick, or too injured to try this practice. Everyone feels and sees the benefits within a month of regular practice. It is the same series of postures every time, so it only takes a few classes to learn the postures. But it never gets boring as there is always something that you can work on. And the payoff is worth it as the class works every muscle, tendon, and ligament in your entire body. During the class we say you get benefits "from the inside out" as we also massage the internal organs in many postures.
3. As a yoga expert, what do you consider is the appeal, as well as the physical and mental benefits of practicing this form of exercise? What aspect of yoga excites you the most?  
As an athlete growing up, I didn't appreciate the importance of stretching and keeping my body flexible. Most young people don't and find yoga too late. Luckily, two friends introduced me to this style of yoga when I was running marathons. By incorporating a few classes each week into my training regime, my times got faster, my lungs became stronger, and I experienced zero pain after long training runs.
What excites me about yoga most is that by making time for it in your life, you can physically keep doing the things you love for longer, whether that's dancing, running, tennis, hiking, gardening, you name it! But it's the mental benefits that sneak up on you.
4. What ongoing pandemic-related challenges does bodē nyc face, and how are you managing them?
As a NYC yoga studio, we were under mandated closure for over a year. Even though we were lucky to get some government help to pay our employees and rent, we suffered a big financial blow. As a small business without deep pockets, managing expenses and keeping the studios open has been our main focus as we know how important our community is, now more than ever. Unfortunately, we are still only at 50% of pre-COVID attendance but back to pre-COVID expenses!
Another challenge is that every day we hear from former clients that they are not ready to come back yet because they have gained weight, become stiff, suffered injuries and more. And we say "Get in the hot room and let's fix that right away. Don't wait another day!" The pandemic really isolated a lot of people and getting them back in the studio has not been easy. But each day, a familiar face walks in after two years and says, "I'm ready to get back into my yoga practice." And that makes our day.
5. In addition to being a New York native and business owner, you also have a background in sports marketing and distance running. What inspired you to pursue a career in the fitness industry?
It happened organically. I was transferred from San Francisco to NYC when I was working for IMG. I had already become addicted to the Original Hot Yoga series and was shocked to learn that there were no such studios in all of NYC when I arrived. I met a yoga teacher at a studio in Tribeca and after a long conversation, she introduced me to Donna Rubin who had just become certified in the Original Hot Yoga method and was looking for a partner. We met over one lunch, wrote some notes on napkins, and that was it. After the success of the first studio, I quit my job at IMG to work with Donna on opening more studios. That is the short version!
6. When you're taking a break from the operation of bodē nyc, how do you like to spend your time in Flatiron and NoMad? What do you love most about these vibrant communities?
I love teaching and taking classes at our Flatiron studio as there is so much to do in the area. I love sitting in Madison Square Park with a smoothie after class, eating a yummy salad at Patisserie Chanson, or meeting friends for drinks on the rooftop at Eataly!
7. Finally, choose three words to describe Flatiron and NoMad.
Lively. International. Beautiful architecture.
Header & Thumbnail Photo Credit: Victoria Jackson