Leanne Shear, Uplift Studios & Flatiron BID Board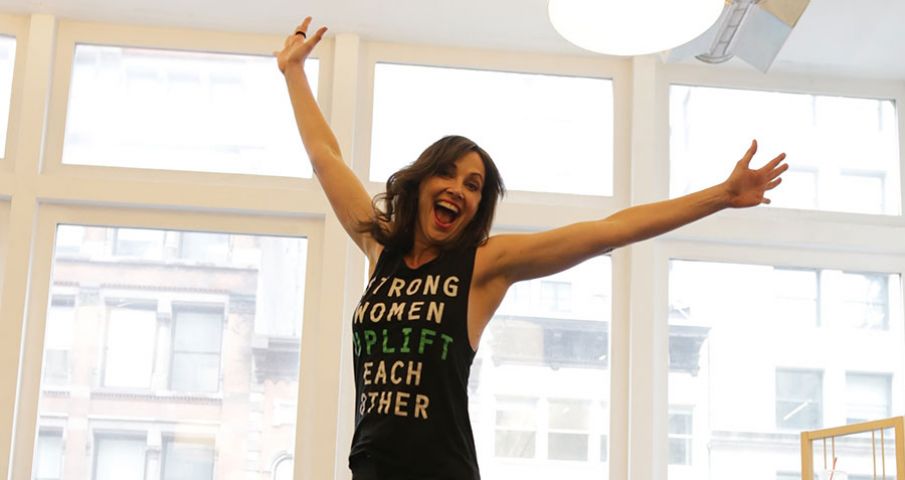 In honor of the celebration of women's achievements during Women's History Month, meet Leanne Shear, Co-Founder and President of Uplift Studios, a women-only fitness and female society located at 24 West 23rd Street. "Fitness is our fulcrum," says Shear, "but our aim is to help women become physically strong, which in turn permeates out into their professional, emotional, and interpersonal lives."
1. You're the Co-Founder and President of Uplift Studios, New York City's first women-only fitness and wellness facility that opened in 2012. What does Uplift offer, and what's your day-to-day look like?
Uplift offers group classes, small group training, and amazing one-on-one personal training for women. We also do a certification program called "Fitness for the Female Body," in addition to lots of events outside of fitness to empower women in all aspects of their lives.
My day-to-day is very busy, and varied! I am always up really early. In addition to being very much a morning person (someone please tell me how people are possibly productive at night!), I spend a lot of time on the ground with my staff and our clients. I still have a few personal training clients myself so I stay engaged that way, and I also spend a good portion of my day engaging in staff development, mentorship, and everything else I can think of to keep our young and amazing group of women motivated and moving forward. I have also been doing a lot of public speaking lately on topics like "Female Empowerment Through Fitness," "Empowered Leadership," and other topics stemming from female empowerment, which is our specialty.
2. International Women's Day is March 8th. How do you and your business hope to make a positive impact on the lives of women?
The good news is, I don't have to hope we make a positive impact on women because I already know we do. Every single day, I hear from clients and the women who come in our doors about how special Uplift is and the powerful ways in which it instills confidence and strength in women. From day one, being women-only was non-negotiable, as was being authentic and welcoming to every single woman out there. I am really proud of the fact that there is room for every woman at our table, and also of the fact that we have so many different demographics of women coming in. We appeal to religious women who cannot workout around men, pre- and post-natal women, women over 50. It's such a mixed bag of fascinating females! Our motto is "Strong Women Uplift Each Other" and I literally and figuratively see that every single day with our clientele and staff across the board.
3. Uplift offers various types of group classes. Do you have a favorite class, or favorite type of workout?
I love all of our classes–and I try to take classes as often as possible, almost every day if I can. We are always tweaking and improving and learning. I would say our Strength class is our signature and a great place to start. But I would also say our personal training is really incredible–we spend an inordinate amount of time training our Coaches to be truly connected to their clients so it's so much more than just a workout.
4. Flatiron is a hotbed for fitness and wellness studios. Do you have any advice for others interested in the industry?
Yes, it's wonderful how fitness has flourished in Flatiron. I think another great thing about our district is that there are shorter term spaces to rent, too, through places like Breather and all of the incredible event and co-working spaces in our area. I think based on that I would advise anyone wanting to start a fitness or wellness or really any kind of business that would potentially entail brick and mortar to do a pop-up or short-term lease to test the waters and get a feel for what being a long-term lease holder for a business might encompass.
5. You joined the Board of the Flatiron/23rd Street Partnership Board Member in 2018. What compelled you to get involved, and going back to Uplift, why did you choose to locate in the neighborhood?
I really and truly love the Flatiron District. It's so centrally located and so chock-full of amazing businesses and powerhouse people. I was so honored to join the Board because I want to do everything I can to work toward supporting the hard work of the BID staff who work tirelessly to make our district as hospitable as possible to the people that live, work, and visit here.
6. Switching gears to your life outside of work–how do you like to spend time away from the studio?
I love to travel, I read an enormous amount, I love to run, and I spend a lot of time with friends and family–I am really lucky to have a huge tribe.
7. When it's time to grab a bite, where do you like to dine in Flatiron? Do you have a go-to dish?
We have SUCH amazing food here. I somewhat recently discovered Obicà for pizza and wine and I love it. My best kept secret for and great little Happy Hour is Punch Bar & Grill (Happy Hour is all day for those that are interested and they have surprisingly good food, too), Oxido, Mangia, and Pret a Manger (the lentil soup is amazing) are my very quick go-to lunch spots since Uplift is sandwiched between them. And for me, the best of the best in our neighborhood is the new Freehand hotel and the rooftop bar there, Broken Shaker.
8. What do you consider a "must-see" or "must-do" here in the neighborhood?
One thing on my very short list is the free Sunday walking tour of the Flatiron–what an awesome amenity, and I can't wait to partake in it. I adore Madison Square Park. Strolling through there even at the busiest times of the day brings my stress levels down by a factor of about 10. I also love the Public Plazas, particularly the one right on 23rd Street and Fifth Avenue and Broadway where the BID does incredible programming. It's the best respite when I have a few minutes to get a tea and soak up a little bit of sun, even for five minutes. Finally, I love the women-only co-working space Luminary. You can drop in any day with their day pass–their inside space is so cool and cozy and beautiful–and they also have a fitness studio and glam bar, and anyone can partake in those offerings.
9. What's your favorite building or architectural element in the area? 
The Flatiron Building is so iconic that I find myself staring up at it whenever it's in sight. I actually also love the building where Uplift lives, not because I am biased (well, not entirely 🙂 ), but because while it is small, it's a landmarked building, and we are on the second floor and have gorgeous floor to ceiling original windows. I have a little office set up in the very front corner of our space so I can kick up my feet and gaze out the window, caught up in the bustling BID below me. It's one of my favorite moments of zen every day!
10. Finally, choose three words to describe the Flatiron District.
Vibrant. Thriving. Diverse.
Photo Credit: Uplift Studios