Andrea Arroyo, Award-Winning Visual Artist-Artivist-Curator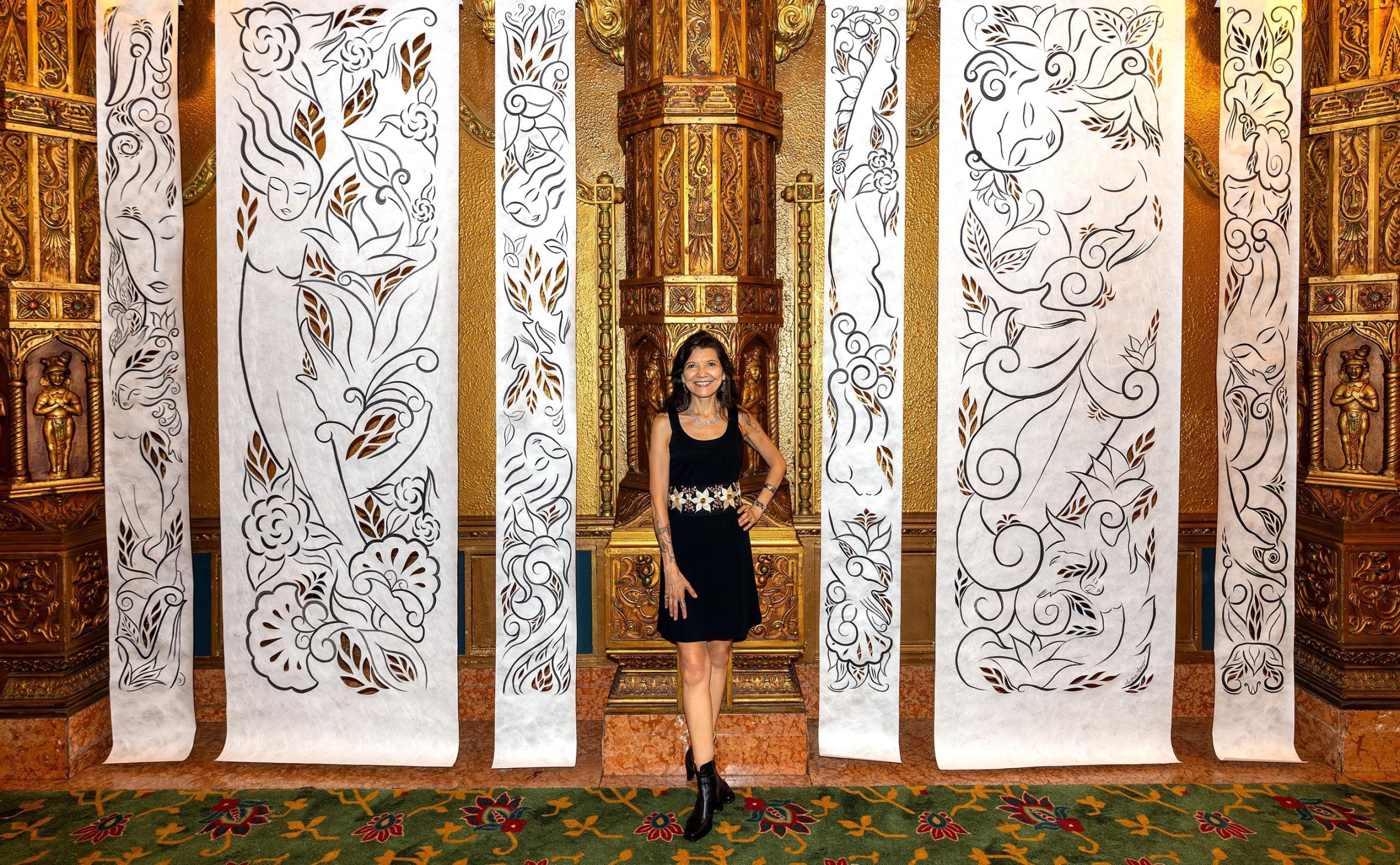 Meet Andrea Arroyo, awarding-winning Visual Artist-Artivist-Curator. Arroyo's interactive community altar in partnership with the School of Visual Arts, Division of Continuing Education, will appear at our Día de Muertos celebration on the Flatiron North Plaza on November 2 from 3 – 7 pm.
1. Congratulations on the selection of your interactive community altar. What was your reaction upon hearing the news? What was your inspiration?
I am excited to have accepted this project as it perfectly aligns with the kind of work I do. It provides me with the opportunity to showcase art in public spaces and participate in meaningful partnerships. My work, which includes painting, drawing, site-specific installation, and public art, reflects universal values such as love, peace, justice, and solidarity.
I draw inspiration from my cultural background, both directly and indirectly. This project is particularly significant as it focuses on the spiritual and communal aspects of Día de Muertos, a revered tradition that helps us stay connected with our ancestors and our culture. It reminds us that death is a natural part of life, and helps us honor our ancestors while keeping their memories alive.
2. Tell us more about the concept of your design.
The piece features a traditional Day of the Dead Altar on one side, adorned with various objects that welcome and guide our ancestors to the world of the living. This is where we come together to celebrate culture and community.
The Mexican Day of the Dead originates from the belief in the strong connection between the living and the deceased, as well as the everlasting link between this world and the next. The items placed on the altar hold significant meaning and symbolize the four elements: Earth (represented by food), Fire (candles), Wind (Papel Picado), and Water (water).
The garland arches made of cempasuchitl flowers and the levels of the altar represent the journey between life and death. The light from the candles is believed to guide the spirits of the deceased, while the food and water are meant to nourish them.
The other three sides of the piece present a contemporary artwork that features elements symbolizing universal values such as peace, freedom, and solidarity. This particular section showcases human-scale wings, flying figures with wings, and dancing skeletons flowing amidst flowers and ribbons carrying messages to the departed.
Winged figures are often associated with otherworldly beings seen as messengers, guardians, and protectors soaring between Heaven and Earth. These figures evoke a sense of freedom, hope, love, and life, and hold significant meaning in cultures across the globe.
The life-size wings also serve as a photo-op for participants, reminding us of our ability to connect with our loved ones who have passed away, and our true nature, which is to love and protect one another.
This piece features crucial interactive components, encouraging the public to bring offerings and write messages to their loved ones on ribbons and skulls. These offerings and messages are then incorporated into the piece, celebrating the communal aspect of altars.
3. What do you hope the public's takeaway will be when experiencing the altar on the Plaza?
It is my hope that the public will experience the power of art to bring people together, create bridges, and cross barriers, borders, and languages.
I also hope that people will appreciate this extraordinary and meaningful Mexican tradition that serves to bring people together, honor our ancestors and loved ones, and cultivate a stronger sense of community. I am thrilled to see the public contributions to the altar and to engage with attendees taking advantage of the wings photo-op, which is meant to remind us that we are each other's protectors.
It is important to recognize and honor the rich Mexican culture and its people. The Day of the Dead celebration is a deeply rooted tradition in Mexico and has become a significant cultural event worldwide.
4. Speaking of public spaces, Flatiron NoMad is known for its striking structures. What's your favorite architectural element or area within the neighborhood?
The Flatiron Building holds a special place in my heart. When I arrived in New York City from Mexico, I was in awe of the city's amazing architecture. However, the beauty of this particular structure struck me the most because it was both majestic and intimate at the same time. Its triangular shape was sweetly subversive and added to its charm.
5. You migrated to New York City from your native Mexico in the early 1980s to study dance. After several years, you became a self-taught visual artist. Your artwork has appeared in numerous exhibits, including the New York Public Library, and has also been the subject of more than 200 features in the international media. What inspired you to choose a career in this field and why? For those aspiring visual artists, what professional advice can you share?
As a dancer, I always worked with form, movement, and light, which are also essential elements in visual arts. I trained on a scholarship with Merce Cunningham, an avant-garde choreographer who collaborated with musicians like John Cage and visual artists such as Jasper Johns. Through his teachings, I came to realize the significance of interconnectedness within diverse art forms.
I have always loved museums and remember the first time I saw the magnificent Near Eastern reliefs. The experience was so profound that it became a turning point for me, and I had an epiphany: Although dance was my first love, I had finally found my true home in the visual arts.
I transitioned to the visual arts in a very natural way, and working full-time in my studio, I found freedom and independence. Even though many years and projects have passed, dance will always be a source of inspiration. My background as a dancer influences my style and my artistic process, which includes creating lyrical lines and human forms with brushstrokes and lines that seem to dance on the surface of the canvas or paper. Even though I am not physically dancing, I feel that I am still dancing with my brushes.
Art is not only my passion and my joy, but it's also my profession. I advise aspiring artists to discover their unique voices first and then share them with the world. Exploring, researching, listening, learning, and experimenting are essential steps in this process. Trusting your talent and vision, continually developing your skills, and staying dedicated to your craft is vital for your professional growth.
Also, the work of an artist is not limited to the studio. Building a supportive community who nurtures us is equally important. Creating a path for yourself and helping others navigate theirs can make all the difference.
6. When you're in Flatiron NoMad, how do you like to spend your time in the neighborhood? What do you love most about these vibrant communities?
I love the area and enjoy spending time in green spaces, particularly Madison Square Park. It is a tranquil haven of nature amidst the busy city life. I am always captivated by their fascinating public art exhibitions and enjoy observing people and sketching while seated on one of the benches. I also relish walking around the neighborhood and exploring the art exhibitions at the School of Visual Arts and MAISON 10 and the many new and old shops that make the area so vibrant.
7. Finally, choose three words to describe Flatiron and NoMad.
Artistic. Exciting. So New York!
Header & Thumbnail Photo Credit: Robbie Pope Bailey