Día de Muertos 2023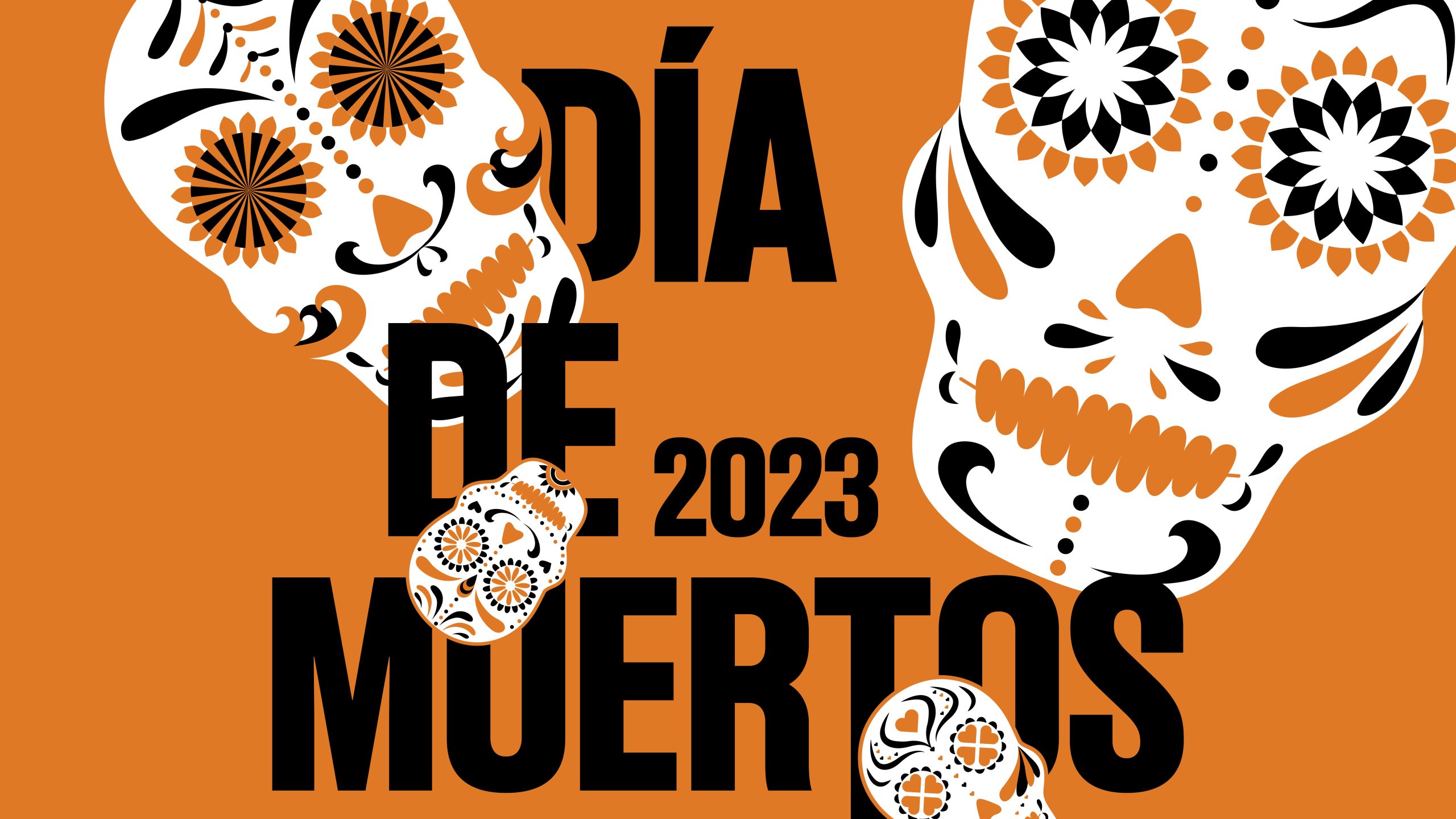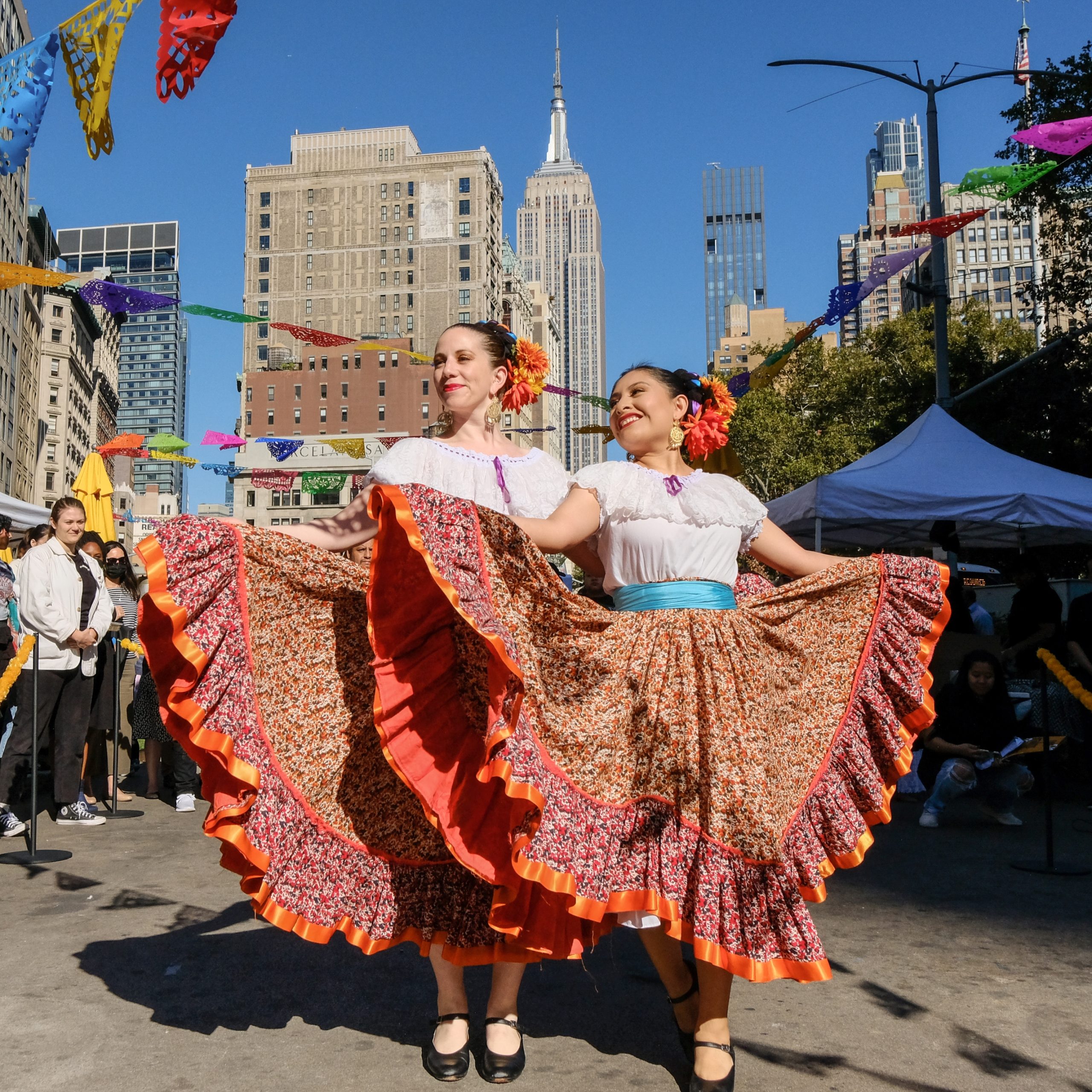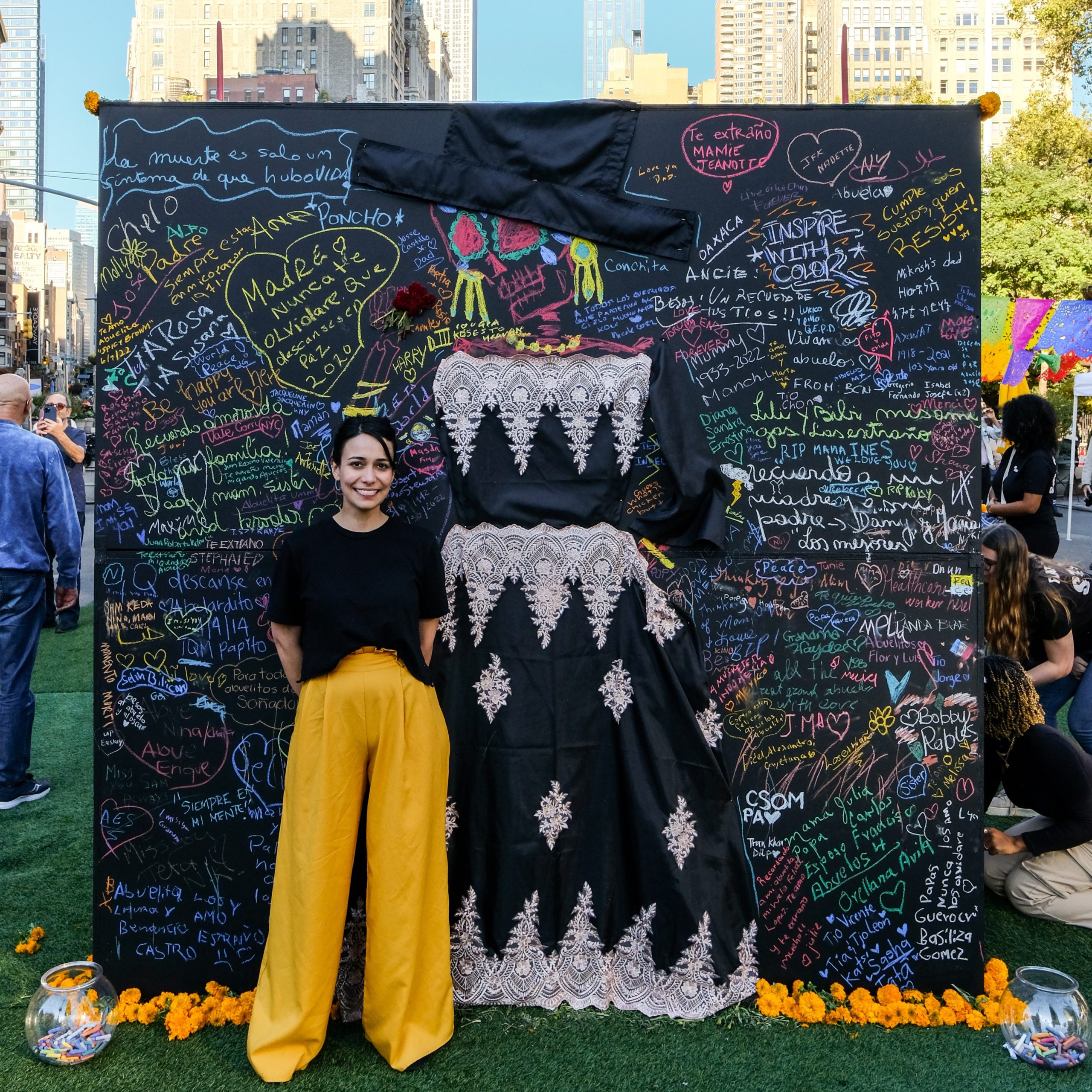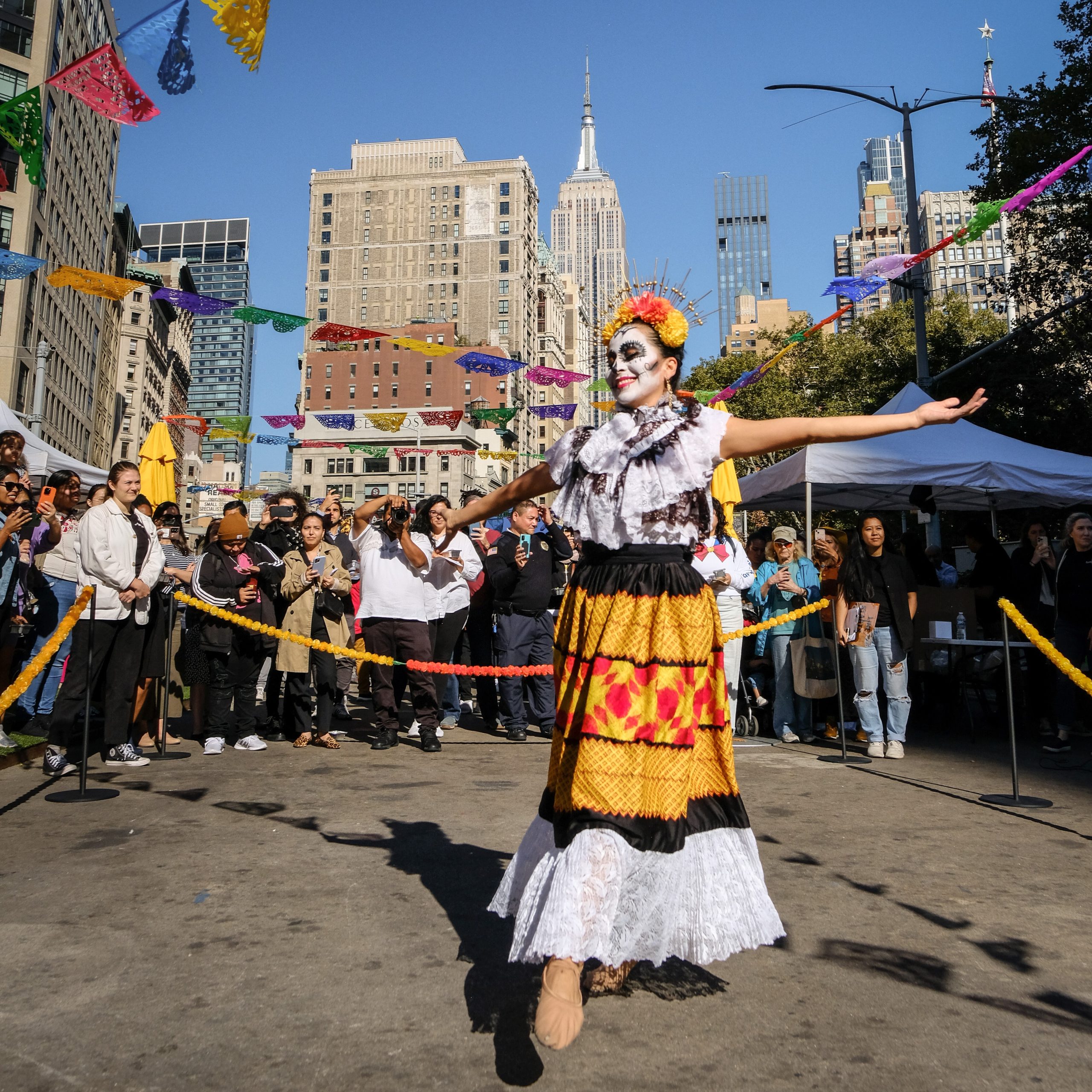 pErformances include:
La Danza de los Viejitos (Dance of the Little Old Men) and a curated mix of Mexican folklore performances presented by Calpulli Mexican Dance Company. From the Purépecha people in Michoacán, Mexico. This dance form originated in pre-Hispanic times as an offering to Tata Huriata (Grandfather Sun) and to the four Purépecha regions, as well as the four seasons and the four elements. Later, the dance became a critique and protest against colonization by Spain, while also celebrating the resilience and strength of the Purépecha communities.
community altar INCLUDES:
Participate in this year's interactive community altar where attendees are invited to bring photos and small mementos in honor of their departed loved ones. Presented in partnership with the Division of Continuing Education at the School of Visual Arts and designed and elaborated by visual artist Andrea Arroyo.
Take a picture in front of the life-sized wings created by artist, Andrea Arroyo. The wings are intended to evoke freedom, hope, love, and life, symbolizing otherworldly creatures flying between heaven and earth and acting as messengers, guardians, and protectors. Arroyo's art piece reminds us of our ability to connect with loved ones who have passed before us.
Offer your memories and respects at the altar with:
Photos

: Please bring only copies of your photos, not originals.

Small Offerings

: Small plants, flowers, cards, food, and candy are most welcome.

Messages

: Pen down heartfelt notes to your loved ones using the provided ribbons or skull-shaped note cards and markers. 
Additional Activities include:
Leave a message at the altar. Join the Division of Continuing Education at the School of Visual Arts team in expressing your feelings by writing messages on the ribbons and skull cards provided. SVACE staff will be present to guide you and share information about the tradition.
Create traditional Calavera imagery in this DIY printmaking activity using a tortilla press and lino blocks. Presented by Poster House.
Receive your Día de Muertos face painting transformation thanks to our on-site make-up artist. Presented by Flatiron NoMad Partnership.
Decorate your own sugar skull (Calaverita de Azucar) to take home or to place on the altar. Presented by the Flatiron NoMad Partnership in collaboration with Raise NY.
Enter a giveaway for a chance to win one (1) $100 gift card to one (1) of the following local restaurants: Cosme, Tortazo, Mamazul, SOL Mexican Cocina, or MEXiCUE. View the Día de Muertos Enter to Win Contest Rules.
From Mictlán, the land of eternal rest, to the Big Apple, The Consulate General of Mexico in New York will bring the Catrin and Catrinas to invite all new Yorkers to celebrate Día de Muertos.
Support Mexican Owned and Inspired Restaurants in Flatiron & NoMad. Keep the celebration going at one of these local eateries in the neighborhood! View the list here.
For updates, please check this page, subscribe to our weekly newsletter, and follow us on social media @flatironny.
Additional events and programming are happening in Flatiron and NoMad throughout the season. Visit our event page for a peek at upcoming district programs.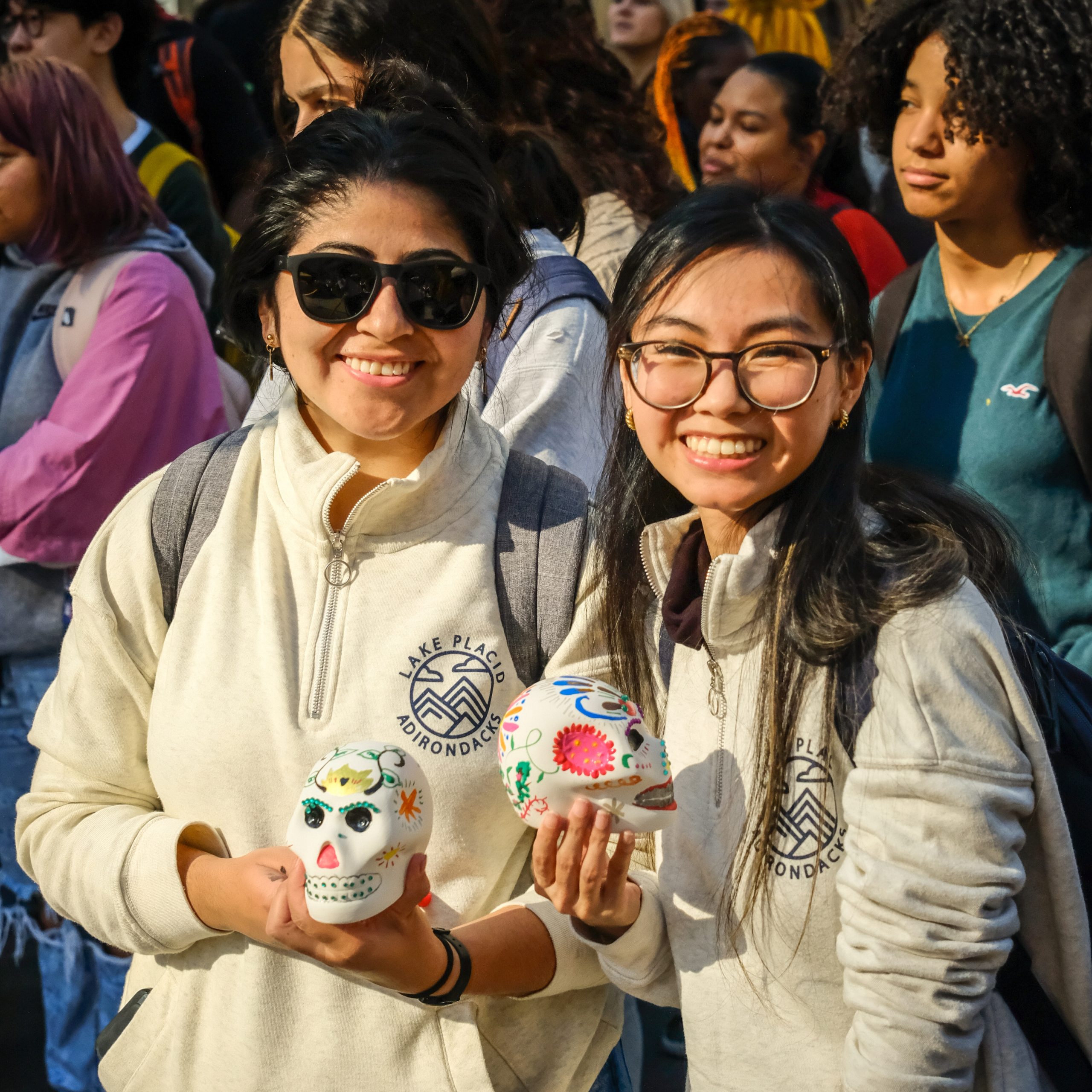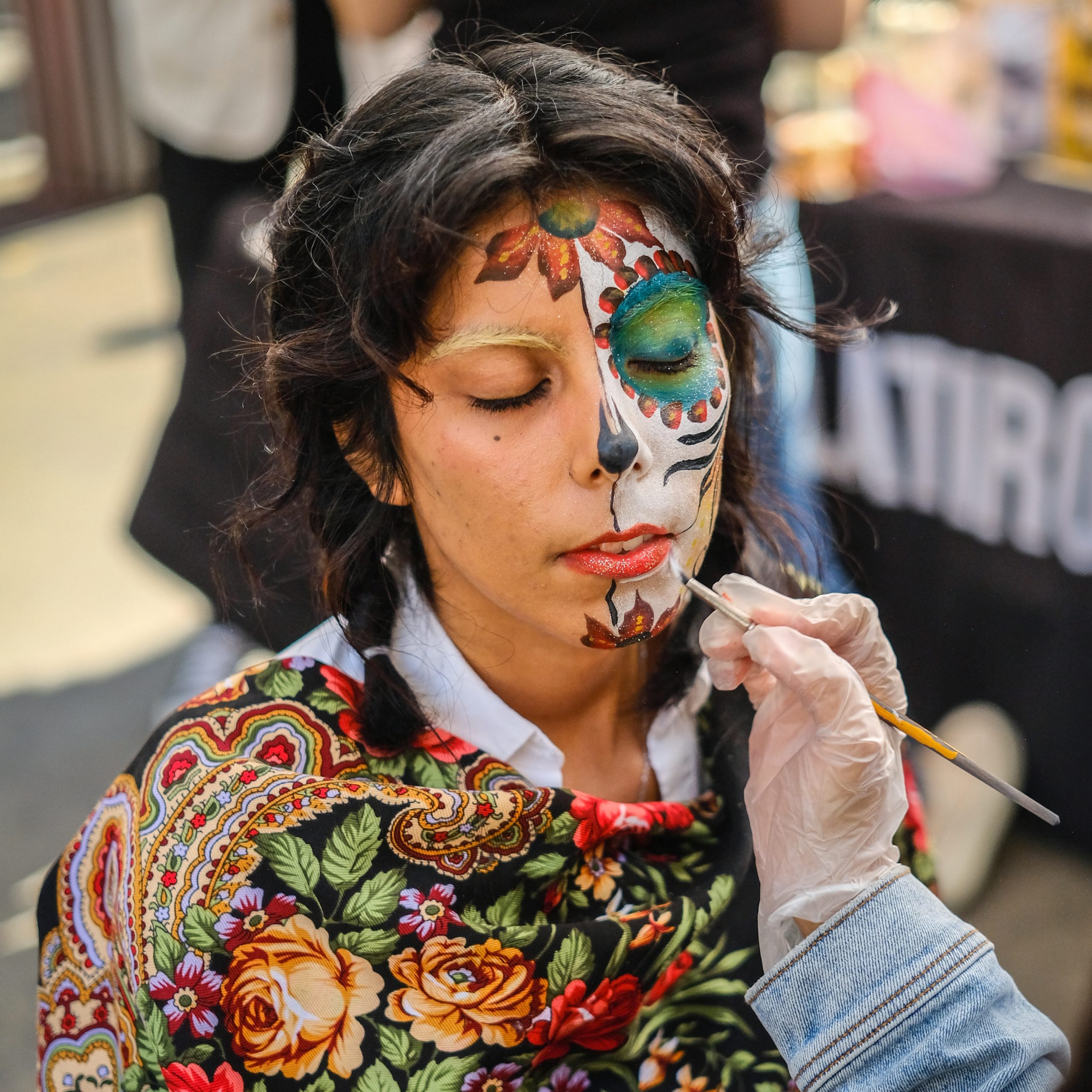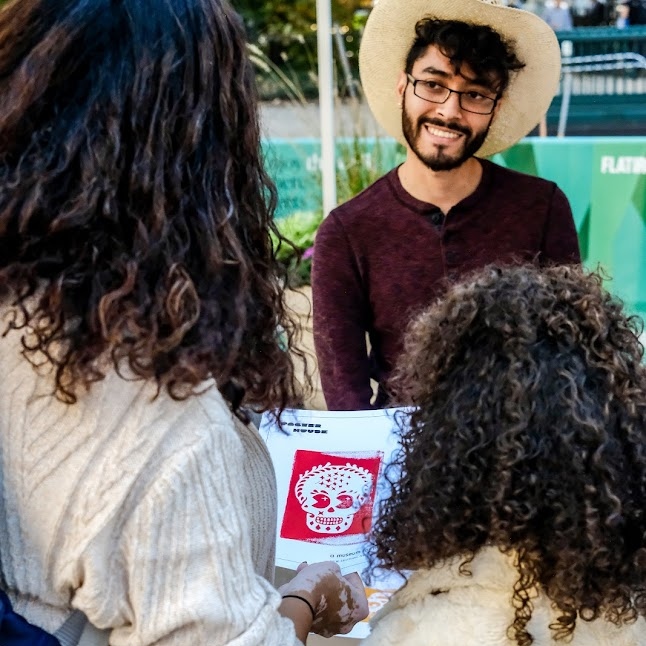 El Día de Muertos, es una tradición mexicana de origen prehispánico que celebra la memoria de los difuntos. Según la creencia popular, durante estas fechas (31 Octubre, 1 y 2 de Noviembre) su alma regresa a casa para estar con sus seres queridos los cuales los reciben con ofrendas, comida, música y rituales para festejar su visita.
Día de Muertos
Flatiron Plaza Norte
JUEVES, 2 de Noviembre
3 – 7 pm
Actuaciones incluye:
La Danza de los Viejitos, aunado a una repertorio curado del folklor Mexicano presentado por Calpulli Mexican Dance Company. La danza se basa en la Danza de los Viejitos de la comunidad purépecha en Patzcuaro Michoacán, México. Se originó en tiempos prehispánicos como una ofrenda a Tata Huriata (Abuelo Sol) y a las cuatro regiones Purépechas, así como a las cuatro estaciones y los cuatro elementos. La danza luego se transformó en una crítica y protesta contra la colonización por parte de España, como a su vez es celebración de la resistencia, unión y fuerza de las comunidades purépechas.
Este evento ha sido reprogramado para el jueves 2 de noviembre debido al mal tiempo.
altar comunitario incluye:
Colabora en el altar. Toda la comunidad está invitada a traer la foto de sus difuntos y compartir. flores, pan o fruta para nuestra ofrenda comunitaria. Diseñado por la artista visual Andrea Arroyo y Presentado en colaboracion con Division of Continuing Education at the School of Visual Arts.
Tómate una fotografía frente a las alas de tamaño natural creadas por la artista Andrea Arroyo. Las alas pretenden evocar libertad, esperanza, amor y vida, simbolizando criaturas de otro mundo que vuelan entre el cielo y la tierra y actúan como mensajeros, guardianes y protectores. La obra de arte de Arroyo nos recuerda nuestra capacidad de conectarnos con los seres queridos que fallecieron antes que nosotros.
Ofrece tus recuerdos y respetos en el altar con:
Fotos: Recomendamos traer copias de sus fotografías, así, puede mantener sus fotografías originales en caso de algún accidente.
Pequeñas ofrendas: Pequeñas plantas, flores, tarjetas, comida y dulces son bienvenidos.
Mensajes: escriba notas sinceras para sus seres queridos utilizando las cintas proporcionadas o las tarjetas y marcadores con forma de calavera.
Actividades Incluye:
Deja un mensaje en el altar. Únase al equipo de SVACE para expresar sus sentimientos escribiendo mensajes en los listones y tarjetas con forma de calavera proporcionadas. El personal de SVACE estará presente para guiarlo y compartir información sobre la tradición.
Crea tu propio poster de calavera usando un tortillero. Presentado por Poster House. 
Pintate de Catrina. Transfórmate en una calavera con maquillaje! Presentado por Flatiron NoMad Partnership. 
Decora tu propia calaverita de azucar y llevatela a tu casa o contribuye a nuestro altar comunitario. Presentado por Flatiron NoMad Partnership en colaboración con Raise NY.
Participa en la rifa de una (1) tarjeta de regalo de $100 para uno (1) de los siguientes restaurantes locales: Cosme, Tortazo, Mamazul, SOL Mexican Cocina o MEXiCUE. Ver las reglas del concurso del Día de Muertos Participa para ganar.
Desde Mictlán, la tierra del descanso eterno, hasta la NYC, el Consulado General de México en Nueva York traerá a los Catrin y Catrinas para invitar a todos los New Yorkers a celebrar el Día de Muertos.
Para actualizaciones del Dia de Muertos, por favor subscribase a nuestra weekly newsletter, y siganos en redes sociales @flatironny.