Will Rivas, Mixologist, Bo's Kitchen & Bar Room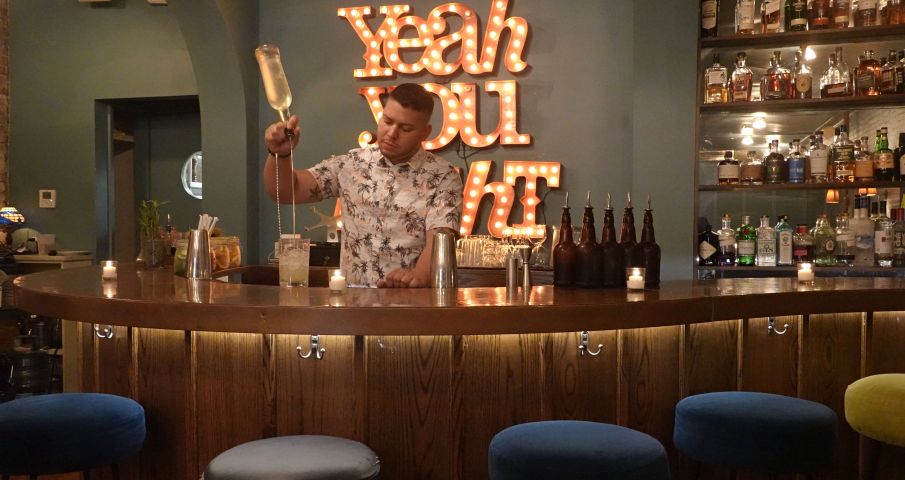 Meet Will Rivas, a mixologist at Bo's Kitchen & Bar Room, a New York and New Orleans-inspired restaurant and bar located at 6 West 24th Street, between Fifth and Sixth Avenues, in the Flatiron District. "I like to think I'm adventurous, which allows me to mix and experiment with different aesthetics and aromas," says the Brooklyn-born Rivas. "Coming up with variations of drinks, pairing them with different garnishes and glassware makes use of my passions in the world of craft cocktails."
1. Tell us more about your love for art, music, and the process of creating, and how that passion led you to a career crafting cocktails. How does being born and raised in Brooklyn influence your work behind the bar?
My process is pretty freestyle and spontaneous. I like to find the essence of my creations and just play around. My Brooklyn background pushes me to create an unforgettable contemporary trade since the craft of mixology wasn't always seen. This pushes me to implement originality in every drink. I want to create a famed environment for people to relax and enjoy, whether it's a drink after work or a drink after a long tour of the City.
2. What sets Bo's Kitchen & Bar Room apart from other spots? 
It's definitely the menu and our staff. The menu includes delicious, out-there plates to match our unique drink choices. But what really continuously brings people in is the incredible passion that the staff has for hospitality, our product, and our vibe.
3. Walk us through your favorite drink–tell us why you love it. What drinks are trending this summer at Bo's?
My favorite drink is my version of a New York Sour. It's a perfect iconic New York drink with its classic whiskey sour structure mixed with a twist of red wine that captures what the City is: rough and fine. But perfect for this summer is Bo's Kimi's Cleanse because it's a light vodka, citrus-forward drink where its sweetness comes from the muddled fruits within. Definitely, the drink to have during this hot summer.
4. Legend has it that the Manhattan was invented in the Flatiron District in the late 19th century. What's a cocktail unique to Bo's that you'd love to see become a classic?
Just as the Flatiron Building is so iconic to New York City, the Black Sail could be the flagship of the Flatiron District. It's refreshing hints of cucumber and it's a playful twist on a gin margarita using black currant really captures what the area is: a cohesive mix of completely different cultures, lifestyles, and people.
5. Everyone should know how to make a few killer cocktails. Can you break down some easy staples we can keep in our back pocket? 
Anyone can make a delicious drink as long as they have quality ingredients and can follow recipes. A good example would be a Rum Daiquiri. It's a three-part drink, including rum, sugar, and lime. It's an easy drink to make and its recipe allows room for a personal twist. And of course, it's enjoyable and tasteful.
6. You must interact with Flatiron District locals and visitors alike. Any interesting stories?
I have so many stories that I could write a whole book. Since this area is such an important staple of NYC, it attracts so many different people so things tend to get very interesting around here. A couple of nights ago, a group of corporate sharks came in dressed as sharks and danced all night. I appreciated that. NYC is the place for freedom of expression. If that's not NYC, I don't know what is.
7. Can you offer any tips for the aspiring mixologists amongst us?
Be open and don't be afraid to be creative. If you think it works, go for it. Believe in your creations and tastes. Don't allow anyone to crush your ideas, but also learn how to take advice and criticism. There's always someone out there who might have more experience or knowledge, but no one has the taste and ideas that you will have. So own it.
8. When you're not dining or having a drink at Bo's, where else do you like to eat and drink in Flatiron? Do you have a go-to dish or drink there?
I try to stay far away from work on my off days, but I love a good taco from Tacombi!
9. What do you consider a "must-see" or "must-do" in the neighborhood?
Other than the Flatiron Building, of course, Madison Square Park is a must-see. It's a perfect place for a break from the industrial business of the City. But a must-do is to visit Bo's to try some of our fried alligator and, of course, our amazing cocktails.
10. Finally, choose three words to describe the Flatiron District.
Eclectic. Monumental. Vibrant.