Vegan Chef Gaz Oakley, wagamama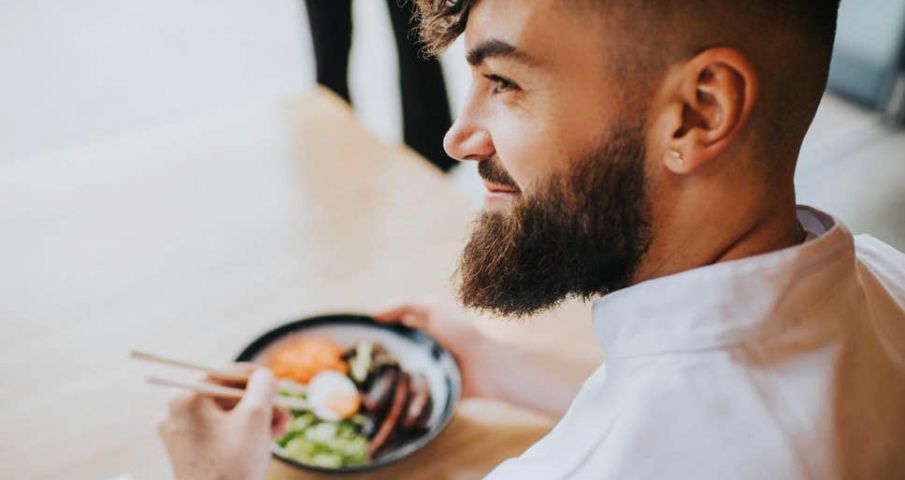 The Japanese-inspired restaurant wagamama is kicking off the year in partnership with UK-based, vegan Chef Gaz Oakley to create a signature plant-based dish: Vegan Sticky Asian 'Ribs'. This creation features barbecued seitan caramelized and glazed in a spicy cherry sauce that's garnished with sesame seeds and scallions. The 'ribs' will be paired with steamed broccolini, chilis, and sticky white rice.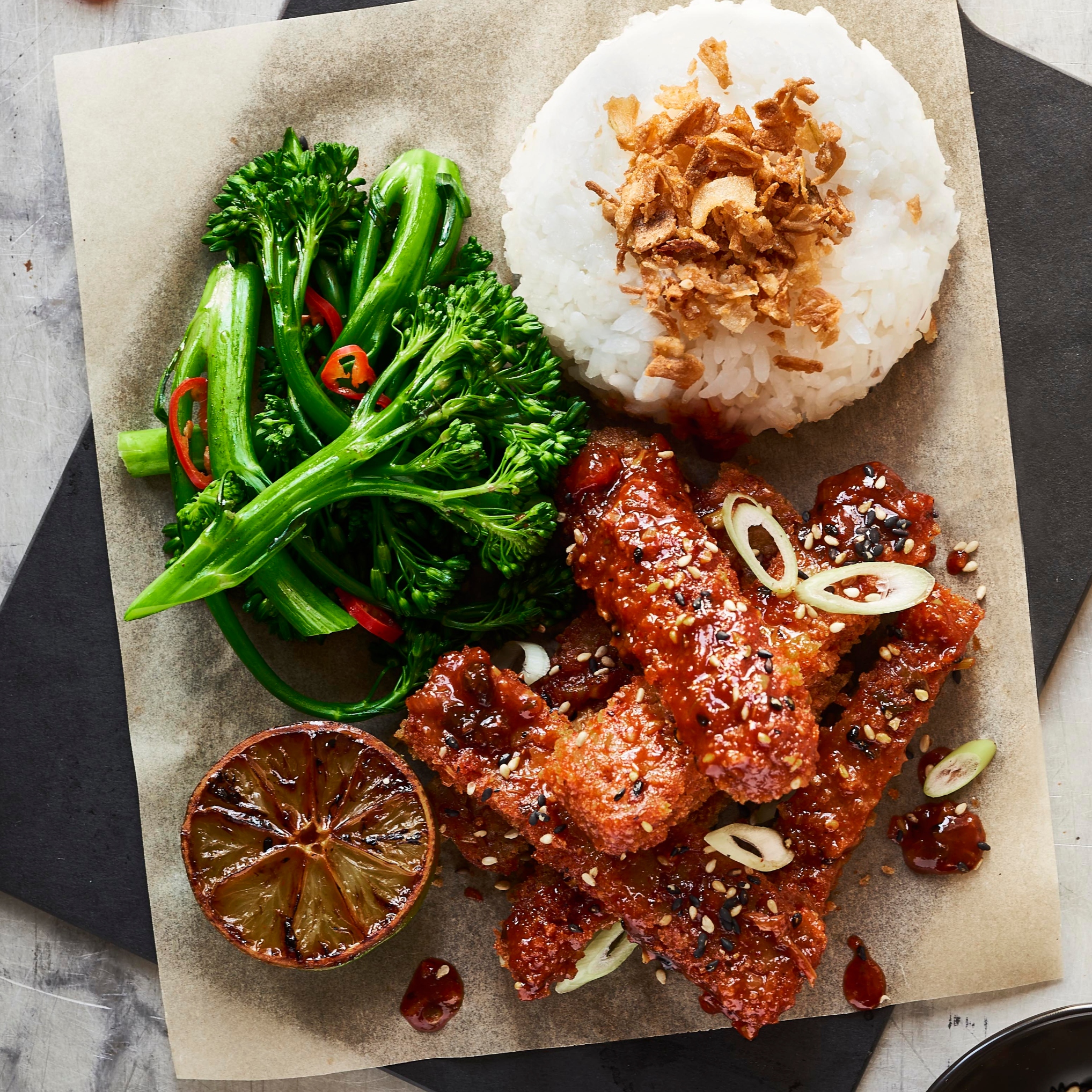 Oakley's newest creation compliments his previous collab that became a permanent feature on wagamama's menu in the United States, the avant gard'n' that features a vegan egg made with miso-infused coconut and sriracha mayo.
1. Landing a collaboration with wagamama was one of your biggest achievements to date. Please elaborate on this partnership and your creative process.
I admired wagamama even as a kid when I had one of their first cookbooks. I knew that I wanted to create something really exciting and use it as an opportunity to spread vegan options to a wider audience. That's why I conceive dishes with ingredients like the vegan 'egg' or 'ribs' that put a vegan spin on something that's familiar. I was a meat-eater for 20+ years, and I love the taste and texture of meat. If I can create meals in a cruelty-free way with a taste and texture that's just as good, I'm all for it.
2. Vegan is all the rage. What do you think is the biggest misconception around veganism, and what do you imagine for the future of vegan cuisine?
One of the biggest misconceptions is that you have to give up all these really exciting flavors if you go vegan. There are really unique, creative options out there that taste brilliant and use a variety of ingredients. There has been a lot of momentum around veganism in the last few years, so I imagine some really inventive dishes emerging. I know Asian flavors and plant-based imitation for traditional meat dishes are becoming more popular now because of their approachable flavors. I was thrilled to get ahead of these trends with wagamama.
3. You promote the vegan lifestyle as activism. Tell us more about your philosophy on food choices making a difference.
I was truly struck by a speech by animal liberation activist Gary Yourofsky. I had already seen a bit on social media, so I was intrigued by his thoughts around veganism. It brought a number of issues to my attention: the cruelty that is happening every single day to animals on farms and in slaughterhouses around the world, the devastation that animal agriculture has on our planet, and the damaging effects that eating animal products can have on our bodies. From that day on, I knew I would be vegan for the rest of my life.
4. Please speak to the health benefits that you've experienced since becoming vegan. Which recipes do you consider 'vegan gateways' for people looking to reduce their consumption of animal products?
I immediately felt lighter and had more energy when I became vegan. I didn't feel like I was eating these heavy ingredients anymore. In terms of gateways, I think that the space to find recipes and new styles of cooking has only grown. There are so maybe different spaces to exchange ideas whether it's social groups and communities online or looking up chefs like myself who share dishes designed for people to make at home. Some of my most popular how-to videos are my recipes for Sticky BBQ 'Ribs' (the recipe that inspired the collab dish with wagamama), 'Fish' & Chips, and My Famous Vegan Lasagna.
5. Your work weeks can be very long – even up to 80 hours. How do you maintain physical and mental health in the grind?
When I was younger, I was really motivated to play rugby professionally. Even though I had more passion for cooking, I still deeply value having the opportunity to exercise and use it to relieve stress and mentally unwind. I'm also very fortunate that I get to be quite active and travel with my cooking. I had a traditional job early on, and I definitely feel more excited each day when I wake up and have a role outside of the regular 9 to 5 pm.
6. When you share your story about becoming a chef at the age of 15, you mention fond memories of learning from fellow chefs in the kitchen. Looking back, what words of wisdom or teaching moments stood out most?
From the beginning, I actively worked to develop relationships with the Head Chefs at each of the restaurants I was fortunate enough to join. Some of the best advice that I received was to keep pushing and never limit yourself to what can be created in the kitchen. It can be easy to continue cooking the same dishes day after day once they prove to be successful, but I was taught to question each component of the plate and ask how it can be improved. That mentality has continued to inspire me as I work to create vegan dishes like the 'ribs'.
7. Since you've launched your YouTube Channel 'Avant Garde Vegan' in 2016, you have impressively gained 903K+ YouTube subscribers. What advice do you have for entrepreneurs who create original content?
Don't be afraid of doing something just because it's a bit of outside your comfort zone or you need to self-teach. I had no experience in the realm of digital or the 'influencer world' but I watched others before me and spent countless hours learning how to edit photos. You have to have confidence in what you're doing and truly believe in the content you're putting out there. When you care and are willing to take a chance, people are that much more interested in what you have to offer.
8. Outside of the kitchen, how do you like to spend your time? 
I really enjoy getting to spend time outside, so anything that allows me to be active and spend time with friends. I'm also very interested in opening my own restaurant one day and plan to make a big announcement on that when I reach 1 million subscribers.
9. You're based in the UK, but you travel to New York frequently. What do you consider a "must do" or "must eat" here in Flatiron?
When I travel to the US with wagamama, I've been lucky to see all different parts of the city including Flatiron. I enjoy walking around Madison Square Park and seeing the art exhibits on display while taking in the view of the Flatiron Building at the same time. I love a good vegan burger with tons of different toppings, so that's normally what I'm in search of when in the city. 

10. And finally, choose three words to describe the Flatiron District.
Unique. Community-based. Innovative.
Photo Credit: wagamama