Tyler Chauvin, Assistant General Manager of Food & Beverage at Swingers, The Crazy Golf Club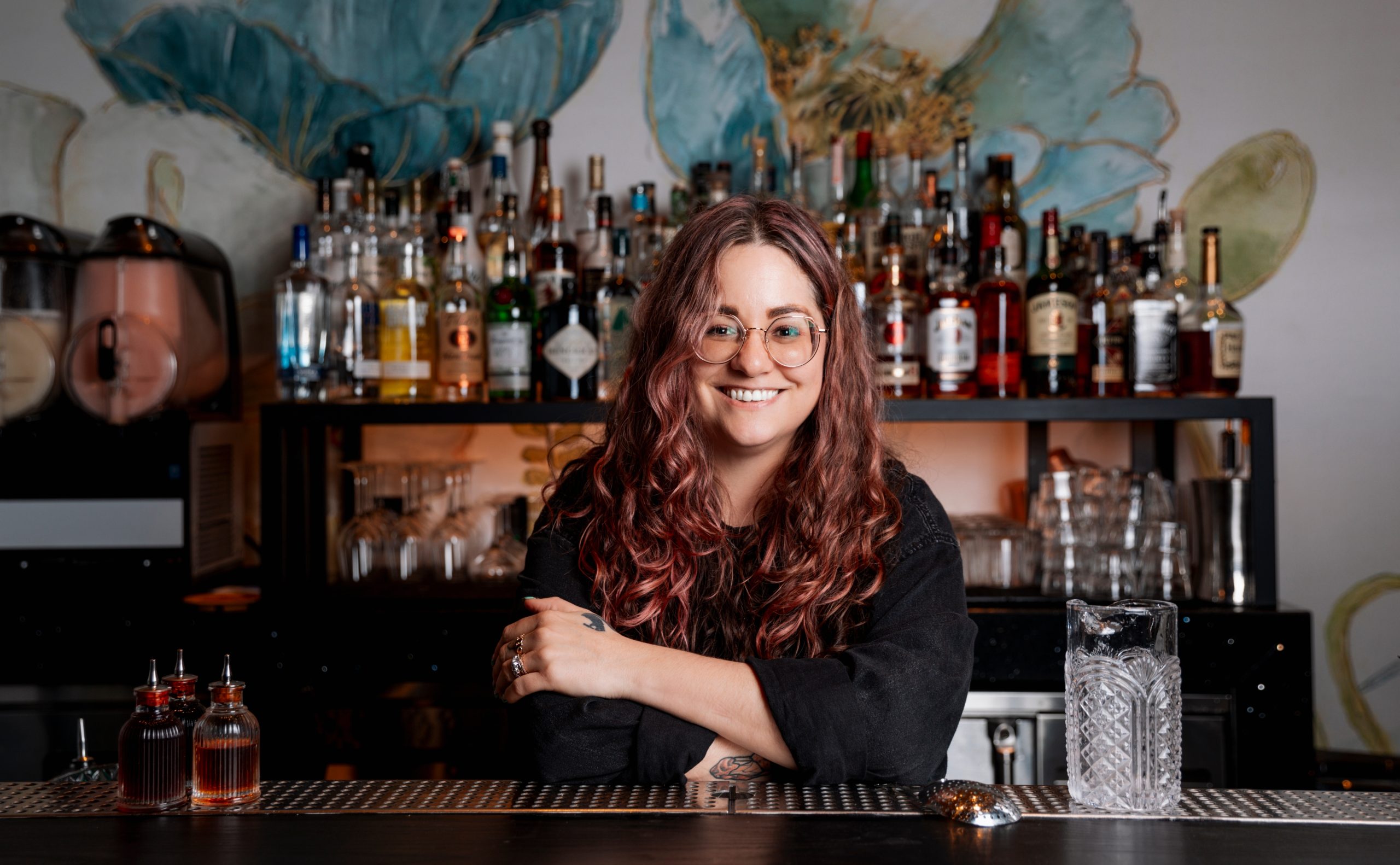 Meet Tyler Chauvin, Assistant General Manager of Food & Beverage at Swingers, The Crazy Golf Club. Located at 35 West 29th Street, the club is defined by the brand as a venue that teams "crazy golf with delicious street food, sensational cocktails and top-notch service in a totally unique, theatrical space."
1. Tell us more about Swingers, The Crazy Golf Club, which opened in 2022.
I always describe Swingers as Alice in Wonderland for adults. This venue truly brings magic and fun to everyday life. From the moment you enter the space, you are immersed in the experience—colorful lights, bespoke décor, enchanting scents, tantalizing flavors. This is the same thought and consideration that our talented bar team brings to our beverage program. We pay attention to the smallest of details to deliver delicious cocktails and mocktails that capture the spirit of Swingers and the idyllic English countryside.
2. Describe your role as Assistant General Manager of Food & Beverage. What aspect of the job excites you the most?
My role is complex and deeply engaging with a focus on both the analytical and creative aspects of operating a large-scale venue. Some of my time is spent working with the team to develop and grow our beverage program, while the other half is spent focusing on the financial details to ensure we are operating a healthy and thriving venue. Personally, I get the most enjoyment from mentoring the new generation of leaders at Swingers. As a senior leader, our department's managers and captains come to me for advice and guidance on how to handle various situations. It's my job to ensure that they are supported and prepared to handle any circumstances that arise. With my 20 years of experience in the service industry, it brings me great joy to share my experience with our team and to help them grow and shine!
3. When creating the menu and beverage list, where do you draw your inspiration from?
Swingers NoMad is inspired by the sights, sounds, and scents of the bucolic English countryside, with aesthetic and nuances that give our venue an unparalleled feeling. The same attention to detail drives our beverage program. Our cocktail program showcases the true depth of talent on our bar team. I'm always blown away by the level of creative genius with this group. We have 26 cocktails permanently on the menu with a constant rotation of seasonal and limited offerings. Each of these cocktails are crafted by our team. Our wines are natural and come from small producers. Beer selections are a great mix of crowd favorites and local brewers, and our spirits program offers a wide variety.
4. What are some customer favorites and your recommendations?
This question is fun because my answer changes constantly. Honestly, I've worked hard to ensure that we have something to offer for anyone's palate or preference. Our most popular cocktail on the menu is the Grand Mana Margarita made with Espolòn Reposado Tequila, Grand Marnier, and some fresh mango. And if you choose to dance on the spicy side, it can be finished with some of our house-made spicy tincture. We make the spicy tincture in-house by mixing grain alcohol with a fiery and savory combination of serrano, jalapeño, poblano, and habanero peppers.
Another fan favorite is the Raspberry Lemon Drop that blends Absolut Citron vodka and Cointreau liqueur with zippy raspberry to create a bright and fresh take on a classic cocktail. My personal pick is a tie between the Velvet Touch and Fairway to Heaven. The former is a seductive rye whiskey cocktail with notes of raisin and plum from amontillado sherry. The latter is a gin-based drink that's reminiscent of a cherry limeade and perfect for a post-crazy golf cool down if you're really working it on the course!
5. You've earned undergraduate degrees in biology and creative writing, as well as master's degree in medieval French literature. What inspired you to pursue a career in the culinary arts and hospitality? For those aspiring to work in these areas, what professional advice can you share?
I was born and raised in New Orleans, so hospitality runs deep in my blood. I started serving tables in a small beignet shop in New Orleans when I was only 15. However, I enjoyed the college experience and was drawn to both the arts and sciences for very different reasons. Ultimately, I found the dichotomy of thinking both scientifically and artistically balanced me as a person. In graduate school, I learned how grateful I was to be behind the bar creating cocktails rather than standing in a classroom lecturing. It was my first job as a beverage director that cemented my love of hospitality and the service industry. I flex my scientific and forensic muscles when pouring over financial reports while maintaining a creative dynamic with our cocktail program. I knew I was doing what I loved, so I kept growing and moving and learning.
Coming to New York was such a dream, and having the opportunity to contribute to the success of such a large program is an achievement that a young me aspired to for so long. My advice: first and foremost, if you are a young professional looking to grow in the beverage world, you should come and work with me at Swingers! We have the greatest team of bar professionals, and I am thrilled at how smart and eager everyone is here. But, if you're happy where you are, I recommend you ask as many questions as possible, taste as many spirits and cocktails as you can, keep an open mind because everyone is different and deserves the chance to consume what they love, and be gentle with others. This industry is challenging and difficult, and earnest kindness will carry you far.
The most important advice I can ever share with someone is to remember that we are here to create an unforgettable experience for our guests. People can get a martini or margarita anywhere, but if you treat someone well and bring them into your world, you will create an experience that will last a lifetime. And, that drive is what should attract someone to this business.
6. When you're taking a break from Swingers, how do you like to spend your time in Flatiron and NoMad? What do you love most about these vibrant communities?
It's got to be the "forever tourist" in me, but I enjoy sitting on Broadway, at night and looking up at the Empire State Building. It's so majestic and captivating. I love Koreatown. New Wonjo is so classic and delicious. Cote has an inspiring wine list that is well put together and thoughtful. Grace Street has shaved ice desserts that instantly transports me back home to eating snowballs on a warm summer day. There are so many fun rooftops for a great cocktail and a killer view of the city—the Broken Shaker in the Freehand Hotel comes to mind. Flatiron Wines & Spirits carries some perfectly esoteric yet approachable wines, and their selection works for any palate. Lastly, walking through the Flower District and seeing all the gorgeous plants inspires my very intermediate green thumb.
7. Finally, choose three words to describe Flatiron and NoMad.
Classic. Elegant. Timeless.
Header & Thumbnail Photo Credit: Swingers, The Crazy Golf Club