Nina Cooke John, Principal & Founder, Studio Cooke John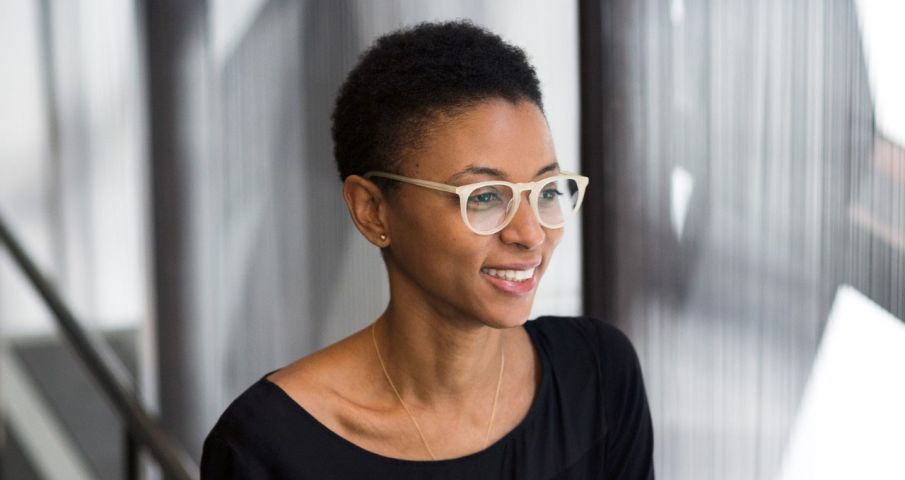 Meet Nina Cooke John, Principal & Founder of Studio Cooke John, this year's winner of the Flatiron Public Plaza Holiday Installation presented by the Flatiron/23rd Street Partnership and Van Alen Institute.
Point of Action is the first installation to appear on both the Flatiron North and South Public Plazas as the centerpiece of the Partnership's "23 Days of Flatiron Cheer" programming and will be in display from November 23rd through January 1st. Cooke John's design invites visitors to contemplate the experience of seeing one another—and being seen. Once the viewer steps out of their usual routine and into the installation's threshold, there are multiple chances to connect with other viewers and passersby.
1. Congratulations on being selected as this year's winner of the Flatiron Public Plaza Holiday Design Competition for your concept titled Point of Action. What was your reaction upon hearing the news?
I was absolutely thrilled to be given the opportunity to develop ideas for such an important location in the city.
2. Point of Action will appear on both the North and South Public Plazas. Visitors will be able to contemplate the experience of seeing one another—and being seen–on both sides of 23rd Street. You've indicated that society is now at a threshold with the pandemic and that Point of Action could possibly make people think about how we connect to others. Tell us more about the piece and what do you hope the public's takeaway will be when experiencing your installation?
New Yorkers hail from all over the country and the world, are of differing economic, ethnic, and religious backgrounds, but rarely connect with each other as they rub shoulders in the subway and on the streets. Making eye contact is considered one of the worst things you can do. How can we care about the issues that don't affect us if we don't connect to those who are? Engaging in public art provides an opportunity for city dwellers to pause their everyday routines and take a detour from their usual paths.
Point of Action provides the space for contemplation as viewers unravel themselves from their busy lives. As they engage with each of the nine units, they step into the spotlight. While in the spotlight, they can be more easily seen and connect with passersby, as well as others also in the spotlight throughout the installation. The spotlight is also a threshold. It becomes a place of connection and reflection, a point from which they can decide to take action on any of the many issues they've long promised themselves they would as they move back out into their everyday routines.
3. You're the Principal and Founder of Studio Cooke John, a multidisciplinary design workspace located in Montclair, New Jersey and Manhattan. Tell us more about what led to opening your own practice.
I started working for myself once I had children. Having my own firm gave me the flexibility to work at whatever hours I needed to, while actively engaging with my children's school life. It also allowed me to develop my practice around my own interests.
4. You're a native of Kingston, Jamaica and studied architecture at Cornell and Columbia. In addition, you teach at Parsons the New School of Design. Can you offer advice to those who may be interested in architecture, design, or urban planning?
Anyone interested in studying architecture, design, or urban planning should get as much practice as possible with being creative. This doesn't mean you have to take architecture classes. If you love photography, art, or painting graphics on your friends' sneakers, keep doing it. Those skills of exploring your creativity in multiple media will serve you better than anything else.
5. Speaking of architecture and urbanism, Flatiron/NoMad is well-known globally for its striking buildings and public spaces. What's your favorite building or architectural element here in the neighborhood and why? And, do you have a favorite park or public space that you can share (anywhere in the world)?
The Flatiron Building is certainly iconic. I particularly admire how the architect decided to own the odd shape of the lot and build into it, instead of trying to figure out how to compromise the geometry. I love public parks around the city and the world. When you stop and spend time in a park, you feel like you are a part of that city. When I worked in the West Village, my friends and I loved to sit and have lunch in the tiny park close to our office. We used to also go to jazz concerts at Grant's Tomb. The High Line is great for the architectural detailing, art, and the variety of experiences that you can get as you walk along from a new vantage point above the city. Washington Square Park is great because of the vibrancy added by performers. They are all different and great for their unique characteristics.
6. In addition to visiting Point of Action, what else is a "must-see" or "must-do" in the neighborhood?
There is great shopping in the area. I've always loved Eataly, not only the shops and restaurants downstairs but the rooftop as well. There are also a great variety of shops heading downtown via Fifth Avenue. I frequent the tile and bathroom fixture shops in the area often when I'm shopping for clients, especially Porcelanosa.
7. When it's time to leave the office or worksite and grab a bite in Flatiron, where's your go-to? And your favorite dish?
I actually worked out of the Wing Flatiron for a while before we had to lockdown. They had an amazing salad with grilled jerk chicken that I was a fan of. Eating that on the roof was a favorite pastime.
8. Finally, choose three words to describe the Flatiron District.
Nexus. Vibrant. Interchange.
Photo credit: Ball & Albanese