Ngo Okafor, Founder and Owner of Iconoclast Fitness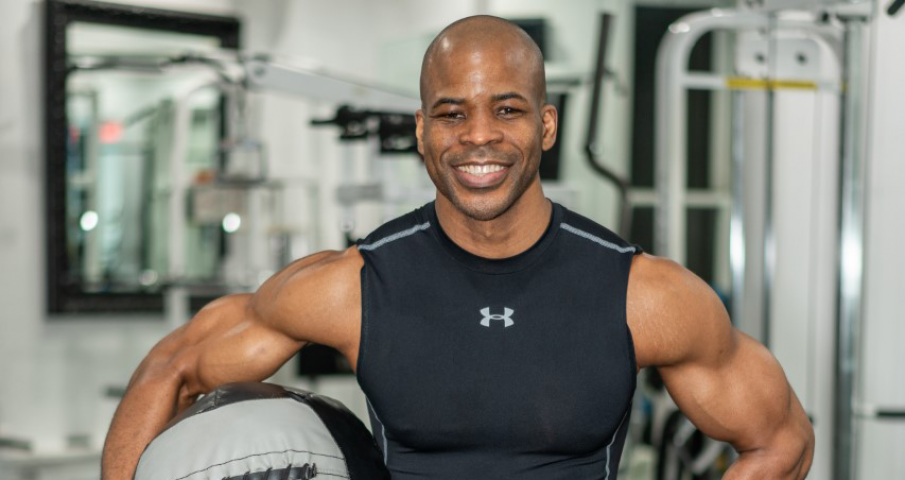 Meet Ngo Okafor, Founder and Owner of Iconoclast Fitness, a personal training and workout facility, located at 210 Fifth Avenue, between 25th and 26th Streets, in the Flatiron District. At Iconoclast, virtual training sessions and in-person training sessions are available (book a tour).

1. Briefly describe Iconoclast Fitness and your roles as owner and Body Transformation Specialist? What makes your gym a standout among others?
In addition to being a coworking-style space for independent personal trainers, Iconoclast Fitness is a training facility that I designed to become a home where my top trainers and I train and perform dramatic body transformations on clients. As the owner of Iconoclast Fitness, I strive to maintain a supportive and safe environment for clients and trainers. Anyone, whether it is a client or trainer who spends time at Iconoclast Fitness becomes family. As a Body Transformation Specialist, I have created a results-driven training program, which dramatically changes our clients' bodies in 7, 14, or 28 days flat. My transformation program inspires a mental transformation from the outside in.

2. Your high-profile clients have included Jennifer Lopez, Mariska Hargitay, and Naomi Campbell. What do you think it is about your Ngo Effect workouts that attract such star power?
The Ngo Effect is training method that I created because I understand that high-profile clients have careers that demand for them to look their best at all times. My workouts are designed to get all of my clients, not just high-profile clients, great results, in a short time. My clients who are in the public eye don't have the luxury of time to look their best, therefore, I created a training method that gets dramatic results in a very short time, without drugs, shakes. or potions. Whether they have to prepare for a role in a movie, a red-carpet appearance, the runway, or a photoshoot, we get them ready quickly!

3. You were born in Massachusetts and spent most of your time growing up in Nigeria. Later, you became a model, an actor, and Golden Gloves Championship winner! What's appealing about the work you do now and how does it compare to what you did before?
What makes the work I do now very appealing is the pressure. The pressure to continue to produce results for my clients motivates me. When creating training programs for my clients, I have to account for the fact that although they are high profile, supremely driven, and successful, they are human and make mistakes with their nutrition. I have created a program that will produce great results, even if the client slips, because at the end of the day, if the client does not achieve great results, the blame falls on me. I love it because I do my best work under pressure.

4. Both virtual and in-person training is available at Iconoclast. What safety protocols are in place for clients who train in person?
We are happy that our clients trust Iconoclast Fitness enough to train in person. Therefore, we work extremely hard to keep both our clients and trainers safe, by ensuring that everyone entering the facility wears a face mask at all times, even while working out. We updated our air filters to HEPA filters throughout the facility, we have hand sanitizer stations located throughout, and our cleaning staff is working even harder than ever to keep all areas and equipment in the gym constantly clean. Trainers and clients also contribute to the safety and cleanliness of the facility by wiping down the equipment after each use.

5. What are your favorite workout routines for both beginners and for fitness fanatics? Any tips for staying consistent?
My favorite workout routines for both beginners and fitness fanatics are circuit training workouts, where a cardio burst is mixed in. These workouts vary in intensity, depending on the client's level of experience. The goal is to get the client to work hard, without reaching complete exhaustion. It is important to never ask a client to do more than he or she can physically handle, although it is often more than the client thinks they are capable of, which leaves the client feeling very proud when they accomplish a physical goal they thought was impossible. My tip for staying consistent is to make the workouts fun while getting the client fast results. When the client starts seeing results, they get excited and want to continue working out. Another tip for staying consistent is to never give a client a workout or exercise that they cannot handle.

6. Are there any misconceptions around fitness and health that you can help clear up?
One of the biggest misconceptions around fitness and health is that our metabolism slows down as we get older. This is absolutely not true. Our metabolism does not slow down, we do. As we get older, we lead more sedentary lives, but continue to consume calories as we did when we were younger and more active. The fact that our daily activity level diminishes as we get older, but our caloric intake stays the same, we burn fewer calories and therefore, gain weight. Many of the clients at Iconoclast are over the age of 50. The point is that if you train and maintain the activity level of a 20- or 30-year-old, you will look like a 20- or 30-year-old. I believe in leading by example, therefore, at the age of 46, I look better than I did in my 20s and 30s, because I choose to workout and maintain an activity level that is higher than that of a 20- or 30-year-old.
7. In terms of nutrition, what advice do you offer your clients? Are there any foods you recommend incorporating more or less of and why?
In terms of nutrition, the advice that I offer to my clients is to keep things simple. If your goal is to lose weight, eat less, but if your goal is to gain weight, eat more. I advise clients not to cut foods out of their diet, but rather cut back on the volume of their intake of certain foods. For example, many New Yorkers like to drink wine in the evenings, to help them relax and decompress. I suggest that they just cut back on the amount of wine they consume. That immediately lowers their calorie intake. For example, if a client consumes two glasses of wine, I suggest that they drink just one. This way, they do not feel as though they are missing out on the things they love and they can maintain a reduced-calorie diet over a longer period of time. I recommend that clients incorporate more green leafy vegetables into their diet, because not only do they aid in digestion, they are filling and have a lower calorie content than most other foods.

8. Why did you choose Flatiron as your business destination? How long has the studio been in the area and what do you love most about being here?
I chose Flatiron as my business because I believe that Flatiron is the center of New York City. You can feel the positive energy in Flatiron and it is infectious. I get inspired to soar to even greater heights when I spend time in Madison Square Park or the promenade by the Flatiron Building. I started my career as a trainer at the Equinox at 19th Street and Broadway. A year later, I became an independent and have been running a successful training business for the past 14 years. I fulfilled a huge dream of mine, when I bought, renovated, and opened my own gym, Iconoclast Fitness, in September of 2018 and it has grown to become a huge success. I don't believe that I would have been as successful if I ran my business elsewhere.

9. What advice would you offer those considering a career in the competitive field of fitness?
The advice that I would give to those considering a career in the field of fitness is to understand that the cream always rises to the top. If they dedicate themselves to hard work and the perfection of their craft, they will become successful. I also advise young trainers to create their own method or style of training as quickly as possible. Once they do that, they can then invest time and resources into building themselves as a brand.

10. When you're not in the studio, how do you like to spend your time?
I love to spend my time with my wife and kids. I work a lot and don't get to spend a lot of time with my family, so when I have free time, I like to run home and spend as much time as I can with my family.

11. Where do you like to grab a bite to eat in the neighborhood? Do you have a go-to dish?
I like to grab a bite at The Smith. My wife and I have had plenty of lunch dates there. The food is great, the service is fast, and they are always accommodating to me, my wife, and my two kids. The Bar Steak, which comes with a salad, is my go-to dish. Steak is my favorite food, and the Bar Steak is always the right temperature and size for me.

12. Finally, choose three words to describe the Flatiron District.
Strong. Inspiring. Progressive.
Iconoclast Fitness, 210 Fifth Avenue, Fifth Floor, (646) 598-4806, @iconoclastnyc