Neil Schneider, Owner, J&M Hardware & Locksmiths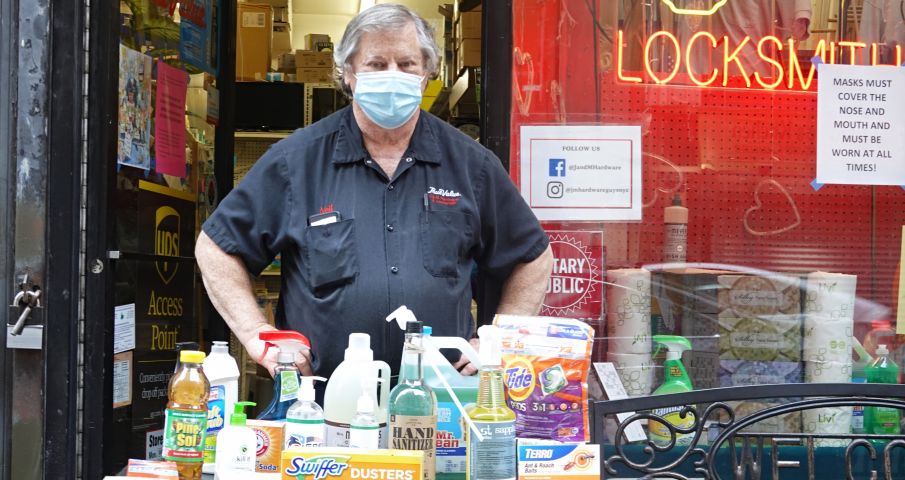 Meet Neil Schneider, owner of J&M Hardware & Locksmiths, located at 19 East 21st Street, between Broadway and Park Avenue South. Open since 1947, the store is the oldest retail businesses in Flatiron. Schneider who has stayed open to offer essential items and services to the community during the COVID-19 pandemic says, "Being open, providing the products people need, listening to customers express their concerns and worries, and bringing some sense of normalcy to our neighbors is most important."
Be a hero and help small businesses like J&M Hardware survive this crisis. We need them as much as they need us.
1. During the COVID-19 pandemic, J&M Hardware & Locksmiths was designated an essential service, continuing to operate during the stay-at-home orders. How are you doing? How are the store and your employees?
I am happy to tell you that my staff and I are all well. None of us acquired the virus. As for the store, while we remained open throughout the lockdown, our sales have plummeted. When customers ask me if business is bad, I reply, "If my sales were to double, then business would be bad." Keeping the store open has given us a purpose. I am deeply concerned about the businesses that have been closed and how any retail business in the area will survive. It will be difficult, but we will persevere.
2. The store is commemorating its 73rd anniversary this year as the oldest retailer still operating in the Flatiron District. In what ways do you feel this level of longevity may have helped you and your hardware store team be prepared for this challenging time?
After 73 years, and as the owner for 33 years, we have weathered many crises. The store has survived fire, inflation, recessions, storms, blackouts, steam and water line explosions, 9/11, and changing neighborhood demographics. We have learned that there are times when profits and sales should not be our primary goal. That is true now. I am truly touched when people thank me for being open and helping them in any way possible. While we have weathered many changes and catastrophes in the past, this pandemic is of a different nature. We will need the entire community, business owners, residents, landlords, and property management companies, to ensure that the neighborhood's character remains.
3. For customers who visit your location now, how has the business devised social distancing strategies for shoppers on your premises? Please share some of your protocols with us.
Through the end of May, we did not let people enter the store. They were able to order by phone or order at the entrance. As always, we offered free local delivery or delivery by mail. As of June, we are allowing customers to enter the store. We will be following the protocols of New York Forward.
Should a customer not want to come in, we will still take orders by phone or at the front door. There are signs reminding people to wear masks and maintain social distance. Our floors will be marked every eight feet. Cleanings will be conducted twice a day on all high touch areas such as credit card machines, registers, door handles, counters, bathrooms, etc. For contact tracing purposes, we will also maintain a log of people coming into the store, which will be voluntary for customers. The number of people allowed in the store at any time will also be limited. We have a written plan that all employees must read and understand. We want to have the safest shopping and working environment possible during these times.
4. You've proclaimed on social media that your store has "almost everything you need, and we always offer friendly, expert advice and service. Whether it's hardware, a locksmith, J&M is here to help you get the job done." You also offer notary public services. What are some of the most requested essential items purchased by customers at your store at this time? And are you providing any special offers to consumers?
The vast majority of the items sold during the lockdown were COVID-19 related. Disinfectant spray, hand sanitizer, masks, gloves, wipes, bleach, paper towels, and toilet paper were all in high demand with little supply. We were able to maintain a good stock on these items. From the beginning of the pandemic, we limited the number of product customers could purchase. This enabled more people to buy what they needed and avoided hoarding. This is not how the big box stores acted and that is one of the many ways we differ from them.
In terms of special offers, we waived the minimum purchase on credit card sales for our free local delivery service. Currently, we are trying to team-up with other local merchants. With each purchase at the store, customers are given a special offer from another retailer in the Flatiron District. We are strongly encouraging our customers to shop locally. With the opening of Phase One, we are giving away free LED bulbs to customers who spend $15 or more. And when Phase Two starts, we will have another special offer. We want to let our customers know we appreciate their patronage and their friendship.
5. What advice would you like to offer neighboring businesses, as well as residents of the Flatiron community at the moment?
The lockdown is temporary. The repercussions from it will be formidable and long-lasting. Residential and commercial landlords and tenants will have to work together or we will all suffer. Each of us, as individuals and businesses, need to recognize the importance of supporting local businesses, especially the small businesses that give the Flatiron District it's unique charm. If we want to preserve the neighborhood and not have empty storefronts, we need to support local merchants. More than price, there is a value to buying flowers at the florist, shoes at the shoe store, greeting cards and office supplies at the stationery store, and yes, hardware at the hardware store. These local merchants do more than sell products. They give advice. They know you by name. They are there when you need them. They employ local people. They pay local taxes. They make this neighborhood the place you want to live in or work at. Now is the time for the people of the Flatiron District to help them and their employees. Shop local. A smile looks better on a face than on a box.