Michael T. Cohen, President of the Tri-State Region at Colliers International & Chairman of the Board of The Flatiron Partnership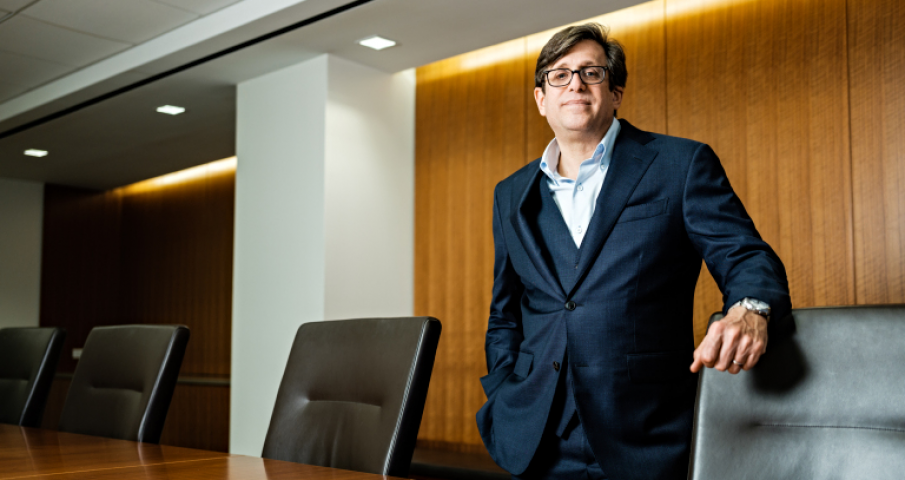 Meet Michael T. Cohen, President of the Tri-State Region at Colliers International and Chairman of the Board of the Flatiron/23rd Street Partnership. A native New Yorker and graduate of the University of Pennsylvania, Cohen became the Partnership's Board Chair in June. Says Cohen about the Flatiron District, "From tourism, job growth, retail, office, and residential, this part of town is as hot as a pistol!"
1. Congratulations on being named Chairman of the Board of the Flatiron/23rd Street Partnership. You're also President of the Tri-State Region at Colliers International, a global commercial real estate firm. Briefly tell us about your role at Colliers.
At Colliers, my key roles are business development, servicing my clientele, and overseeing the three million-square-foot portfolio of properties my partners and I own in Manhattan. Essentially, I help run a company within a company.
2. As a third-generation member of a prominent New York City real estate family, which owns property in the Flatiron District, what drew you to also go into the real estate business? And, what do you continue to find rewarding about it?
I learned the real estate business from my father at the dinner table and on family vacations. What continues to excite me about real estate is that it's always changing. I'm always facing new challenges and opportunities. In various ways, the real estate business is far different than when I started. You must continuously adapt.
3. How did you originally become involved with the Flatiron/23rd Street Partnership?
Colliers manages numerous properties within the borders of the Partnership, and when our seat on the Board was vacated, I thought it was an excellent opportunity to re-engage with neighborhood politics, as I had first done in the 1980s when I served on Community Board No. 2.
4. How would you describe the Flatiron District's current real estate climate and which trends do you see in the near future?
I'm lucky to be taking over as Chairman of the Board when the area's good fortunes are on the ascent. Jeff Bezos just bought an apartment overlooking Madison Square Park, which unto itself speaks volumes. We have tremendous economic momentum, and I look forward to more of the same.
5. In addition to your involvement in the real estate industry, you're a Tony Award-winning producer for A Gentleman's Guide to Love & Murder, which won Best Musical in 2014. You've also been an investor for a number of hit Broadway shows, including Hamilton and Wicked. Tell us more!
While real estate is my vocation, Broadway is my avocation. As a native Manhattanite, I have a half-century experience seeing what does and does not work on Broadway. The first time I saw Gentleman's Guide, I thought it would win a Tony, so I agreed to be a co-producer on the show. And it did win me a Tony. I've also been successfully investing in other profitable productions thanks to my friends in the industry and fellow Board members at the Roundabout Theatre Company–which doesn't mean I haven't had a few clunkers. But far and away, Broadway has been both fun and profitable for me.
6. What advice can you offer to those who are interested in pursuing a career in NYC real estate? And, on (or Off) Broadway?
Real estate is a term which subsumes a great many activities in a variety of industries. For example, real estate encompasses asset classes, including residential, hospitality, office, retail, and industrial. And within each asset class, there's development, project management, financing, leasing, investment sales, and other service lines. My advice for anyone considering real estate as a career is to figure out which aspect of the business is going to take advantage of their skills and personality, and which will be the most interesting for them.
For Broadway, proceed with caution. Broadway is one of the few industries that still raises money from people who consider themselves to be lucky just to get their investment back. The measure of a show's success is whether you "recouped," meaning, whether the producer was able to return your original investment. I don't know of any other industry wherein breaking even is considered successful. There is a saying about Broadway, "You can't make a living, but you can make a killing!"
7. When you're in the Flatiron District and it's time to grab a bite, where do you like to dine in the neighborhood? Do you have a go-to dish?
The owner of the Park Avenue Seasons is a dear friend of mine, a great operator, and the menu changes four times a year, so there's always something new and delicious to try. And you can't beat breakfast at The Smith.
8. What do you consider a "must-see" or "must-do" here in the neighborhood?
One "can't miss" for New Yorkers and visitors alike: dinner at Cosme. The restaurant was recently named best restaurant in the U.S. on the "2019 Worlds 50 Best Restaurants" list, and Cosme's Chef Daniela Soto-Innes was named 2019's "World's Best Female Chef".
9. What's your favorite building or architectural element or detail in Flatiron? 
The Flatiron Building. There's a reason it's so famous and iconic. I love looking at the pie-shaped corner and thinking about how unusual and spectacular it is.
10. Finally, choose three words to describe the Flatiron District. 
Exquisite. Vibrant. Sought-after.
Photo Credit: Commercial Observer