Maria Gelashvili, Owner & Head Designer, Flowers By Blooming Affairs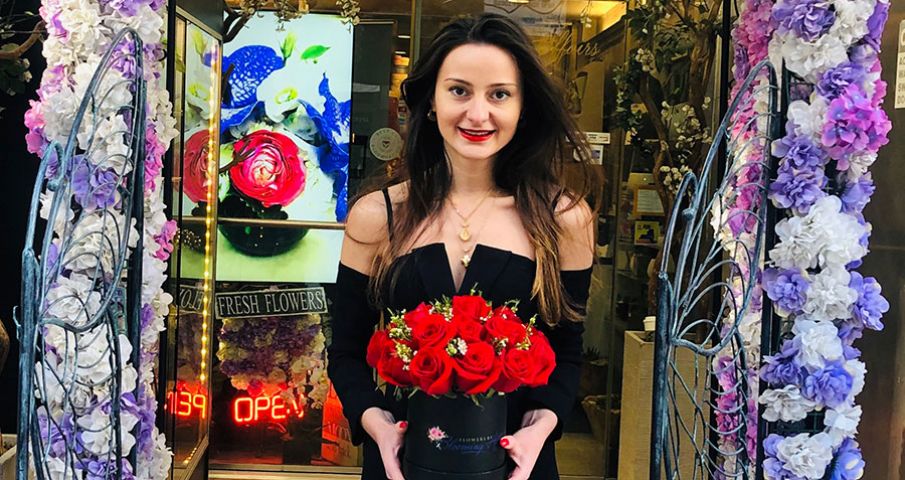 Meet Maria Gelashvili, Owner & Head Designer of Flowers By Blooming Affairs, a "new-fashioned flower shop" at 925 Broadway, between 21st and 22nd Streets. "We make sure we give our clients an exceptional floral experience," says Gelashvili, who begins her day at 6 am. "We have to get fresh flowers every day!"
1. Flowers by Blooming Affairs has been in the Flatiron District for nearly two decades, and you and your family became owners two years ago. What has made the business so successful over the years? Have you made changes to the business? 
Flowers By Blooming Affairs is a family-operated business. My husband and I have made a lot of positive changes. Our neighbors and returning customers always comment on how different the store is compared to how it was years ago.
2. What do you offer at Flowers by Blooming Affairs?
We provide flowers for all occasions, whether it be weekly arrangements for lobbies and offices or arrangements for corporate events. We also offer discounts for companies and incorporate European floral design methods.
3. Valentine's Day is fast approaching. What are your recommendations for the occasion?
Blooming Affairs can guarantee many different arrangements for Valentine's Day. Whatever the customer wants, we are able to meet their vision. It's one of our biggest days of the year, and we always make sure we are fully prepared for anything. Red roses are the most popular during this holiday. We come up with creative ways to incorporate them, so designs don't become repetitive.
4. Do you have a favorite flower or flower arrangement?
My favorite flower is pink ranunculus, and our favorite arrangement goes by the name "Vogue." I love soft pastel colors. Purple and pink are our store's theme colors.
5. What led you to owning a small floral business?
We love adventures and we think business is an adventure. It's fun and rewarding, but sometimes it is frustrating. However, we are so grateful and happy that we are in one of the best neighborhoods in New York City. Our customers are very nice and supportive in every way. Flowers By Blooming Affairs is improving daily, and we enjoy being here.
6. Is there any advice you can share with others interested in floral design?
I always say in order to become successful in anything you do in this life, you have to use three things: your hands, your mind, and your heart. That is the formula for success.
7. Switching gears, when it's time to grab a bite to eat, where do you like to go in the area?
There are so many places to eat within the vicinity of our store. Maison Kayser right next door, Obicà Mozzarella Bar Pizza e Cucina, and Mari Vanna. Our kids enjoy Shake Shack in Madison Square Park.
8. What do you consider a "must-see" or "must-do" in the community?
Definitely the Flatiron Building is my favorite building to see, and Flowers By Blooming Affairs is the second.
9. What's your favorite building or architectural element in the neighborhood?
Looking at the Flatiron Building every morning makes me happy. It holds so much history and beauty.
10. Finally, choose three words to describe the Flatiron District.
Historical. Modern. Energetic.
Photo Credit: Flowers By Blooming Affairs