Luca Di Pietro, Founder of Tarallucci E Vino & Feed the Frontlines NYC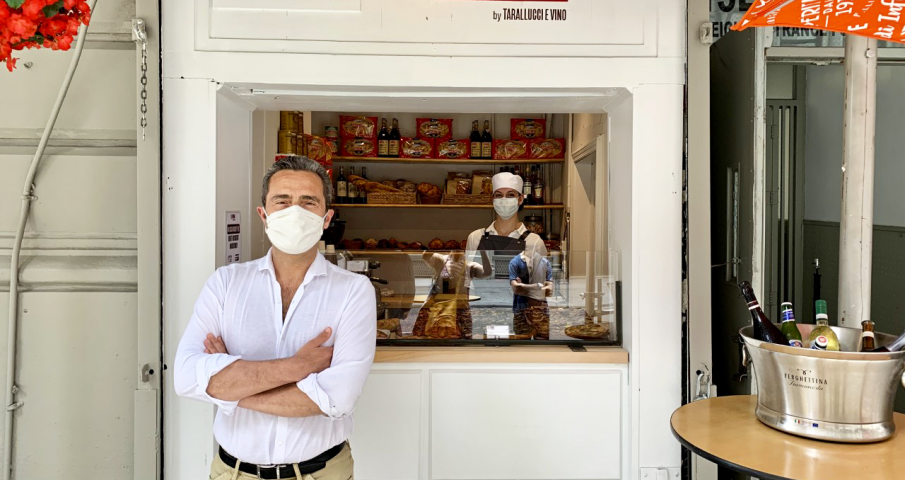 Meet Luca Di Pietro, Founder of Tarallucci e Vino NoMad at 44 East 28th Street and four other Tarallucci locations in Manhattan. Di Pietro is also the Founder of Feed the Frontlines NYC, an initiative that has been providing meals for medical personnel and individuals experiencing food insecurity. If you're in the position to do so, consider contributing to this initiative. Donations support New Yorkers, and the workers, supply chain, and restaurants that feed them.
The NoMad location has yet to reopen, but the Union Square, Upper West Side, and East Village locations have reopened with outdoor patio dining. Also, Di Pietro recently opened a new addition to his restaurant business, Il Forno, a take-out window serving the community at 15 East 18th Street.
1. First of all, how are you and your family? 
We are doing well health-wise. It has been an incredibly challenging time, with the coronavirus and the protests tied to the horrific murder of George Floyd. We keep on going though.
2. At the peak of COVID-19, you founded Feed the Frontlines NYC, an initiative to provide meals for medical personnel saving lives during the crisis. The initiative later expanded to also deliver meals to those experiencing food insecurity and homelessness. Briefly describe how your initiative came about, including your daughter Isabella's role in creating its website?
When Mayor de Blasio ordered all restaurants to close except for take-out and delivery, I made the painful decision to close four of our five Tarallucci e Vino locations. This meant laying off 95 of my 102 employees. A friend reached out that week to ask if she could buy meals from Tarallucci e Vino to help the business, and have them delivered to healthcare workers battling the virus. She facilitated the first delivery to the NYU Langone ER on March 19th. The nurses who met my wife and me when we delivered their dinner that night were so grateful. It was clear how tired they were, and how much this food meant to them. So, I thought this might be a way for us to do something useful during the crisis while also keeping the lights on at Tarallucci e Vino and keeping my people on payroll.
That night, I asked my daughter Isabella, who had just been kicked off her college campus, if she could build a website for us to start collecting funds for more hospital deliveries. She pulled it together with one of her classmates in 18 hours. The generosity we saw from the start, as soon as the website went up, was incredible. And Isabella has brought together several of her classmates and friends to work on the initiative since then. They have been incredible.
3. Healthcare workers have affectionately called you and your team the "lasagna guys." Please describe the types of meals prepared for this program. What has been the response from those receiving your meal deliveries?
Yes, people love our lasagna! We try to keep things varied–from pesto-marinated chicken with roasted fingerling potatoes to orecchiette pasta with sausage and broccoli rabe to a variety of paninis made on freshly baked bread. The response has been incredible. I believe in serving food that I myself love to eat–food that's comforting, nourishing, and reminds me of my mother's kitchen in Abruzzo, Italy. Whether it's been COVID-19 nurses or veterans living in supportive housing, I think people have loved the food so much because it provides them with a sense of really being cared for, beyond the basic nutrition food can provide.
4. To date, your campaign has raised $1.6 million to deliver 121,000 meals to over 65 hospitals and 8 shelters and supportive housing residences. Please share your thoughts on this outpouring of generosity to help those in need. What do you believe was the key to the success of this initiative?
We were overwhelmed by the generosity of our friends and customers from the moment we first launched Feed the Frontlines NYC. I think people recognized right away that contributing was a way to make a concrete impact at a time when everyone had just begun sheltering in place, feeling helpless/anxious, and they understood that it was a win-win. They could help feed their healthcare heroes while supporting local businesses that make our city so great. I think we were able to raise money so quickly because people saw the immediate impact. We were sharing photos and stories with our friends and family, and on social media, so people could see for themselves. It's been heartening to see how generous New Yorkers have been. I often think back to a healthcare worker that we delivered to who said that people always say New Yorkers are mean, but the generosity of New Yorkers during this crisis proves we are not. We've been so grateful for the support, and we just hope we'll be able to sustain it even as public attention shifts, and people start to forget that hungry people and restaurants still need their support.
5. Because of your meal delivery program, you were able to rehire more than 80 of your employees that you previously were forced to lay off. How did your employees react to returning to work and getting involved in this community effort?
Surprised that I called them back in. They were also excited to be able to help feed people on the frontlines of the crisis. Many restaurant workers residing in hard-hit communities could see the devastating effects of the pandemic firsthand. For my staff, being able to keep working while helping was quite fulfilling.
6. What advice would you like to offer businesses in the food industry? Any advice for residents of the Flatiron community?
We are relieved of the latest changes to the Paycheck Protection Program (PPP) loans. This will give restaurants some hope to reopen. Rents are still an issue. As you know, the Flatiron area has quite high commercial rents and we hope landlords will also be able to get some relief so that they can be more flexible with tenants. As far as reopening goes, every business will need to be rational and really consider who their customers are. A business that mostly works with office employees will have the added uncertainty of whether offices will reopen right away or continue working remotely through the summer.
Tarallucci e Vino is committed to remaining a part of the Flatiron area and serving our neighbors, which is why we opened our new take-out window. We named it Il Forno–the common name for the neighborhood place where Italians buy their morning pastries, bread, and focaccia. We wanted to create a safe way for people to enjoy the simple, delicious food and drinks our neighbors know us for while featuring the amazing work of Chef Alessandro Fortini, who has been working seven days per week preparing thousands of cookies and bread for frontliners and hungry New Yorkers. We are open from 9 am to 8 pm for Alessandro's fresh pastries, breads, panini, focaccia, and Roman-style pizza, along with coffee and drinks. We hope Il Forno can be a bright spot on 18th Street, between Fifth Avenue and Broadway, and bring some comfort and life to the neighborhood at a time when it's so desperately needed.