Lior Yanay, Retail Operations Director, Milk Bar
Meet Lior Yanay, Director of Retail Operations at Milk Bar's NYC Flagship located at 1196 Broadway and 29th Street. The brand's menu created by a diverse culinary team includes cake truffles, cookies, pies, and customers can create their own treats. "We strive to provide a guest not only an amazing product," says Yanay, "but also an experience to remember."
1. You were part of the launch team for Milk Bar's NYC flagship debut in NoMad on the ground floor of the Ace Hotel in 2019. As Director of Retail Operations at the award-winning bakery since 2021, tell us about your role and what aspect of the job excites you the most.
My role is to oversee day-to-day operations across all our bakeries. We have a team of extremely talented leaders who manage the bakeries, and we constantly work together on pushing the bar higher. It's gratifying to be part of such a great brand that doesn't only sell delicious desserts, but also cares so much about the experience and satisfaction of both its guests and its employees. This role requires you to understand what happens on the ground, and have the ability to see the bigger picture.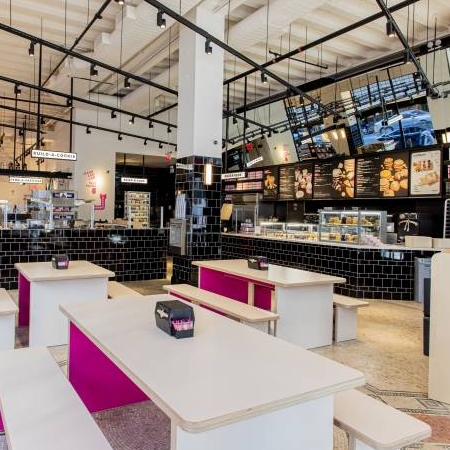 2. The bakery got its start in 2008 with its first location in the East Village, and nearly 15 years later the brand has been described as "one of the most exciting bakeries in the country" by Bon Appétit magazine. What do you think sets Milk Bar apart? And what inspired the flagship location in NoMad?
There's always a nostalgic element when you go to Milk Bar. It could be with the soft serve flavor, Cereal Milk, which tastes just like the leftover milk from a bowl of cereal you had as a child, or the NoMad flagship bakery, which has design cues from a high school cafeteria and allows you to build your own adventure cake or cookie. We work hard with our teams on finding out what the guest is looking for and how we could surprise them without any expectations.
3. Milk Bar's tempting menu items include cakes, cake truffles, cookies, pies, soft serve ice cream, shakes, and bread bombs. What are Milk Bar's bestsellers and what's your personal favorite?
You really can't go wrong with the Milk Bar Pie and the Birthday Cake. Both are amazing and delicious, and definitely everyone's favorite treats. I personally love our Blueberry & Cream Cookie, which tastes like the top of a blueberry muffin. It's delicate and sweet and a really good treat, especially when warm!
4. When it comes to gifting, Milk Bar is a perfect spot to pick-up a surprise treat for a loved one. What are your go-to giftable sweets? For Valentine's Day, what do recommend for the occasion?
Our cakes are a safe bet. You can choose between Birthday and Chocolate Birthday, which are on the menu all-year-round, and you'll always have one to two seasonal cakes.
For Valentine's Day, our amazing culinary team came up with a Red Velvet Cheesecake Cake, which not only looks lovely, but tastes exactly like what you'd expect from a Valentine's Day cake. This year we also have our own take on chocolate, which we call Fudgy Frosting Squares. It's a variety box with three flavors: Birthday White Chocolate, Cereal Milk Chocolate, and Fudgy Dark Chocolate.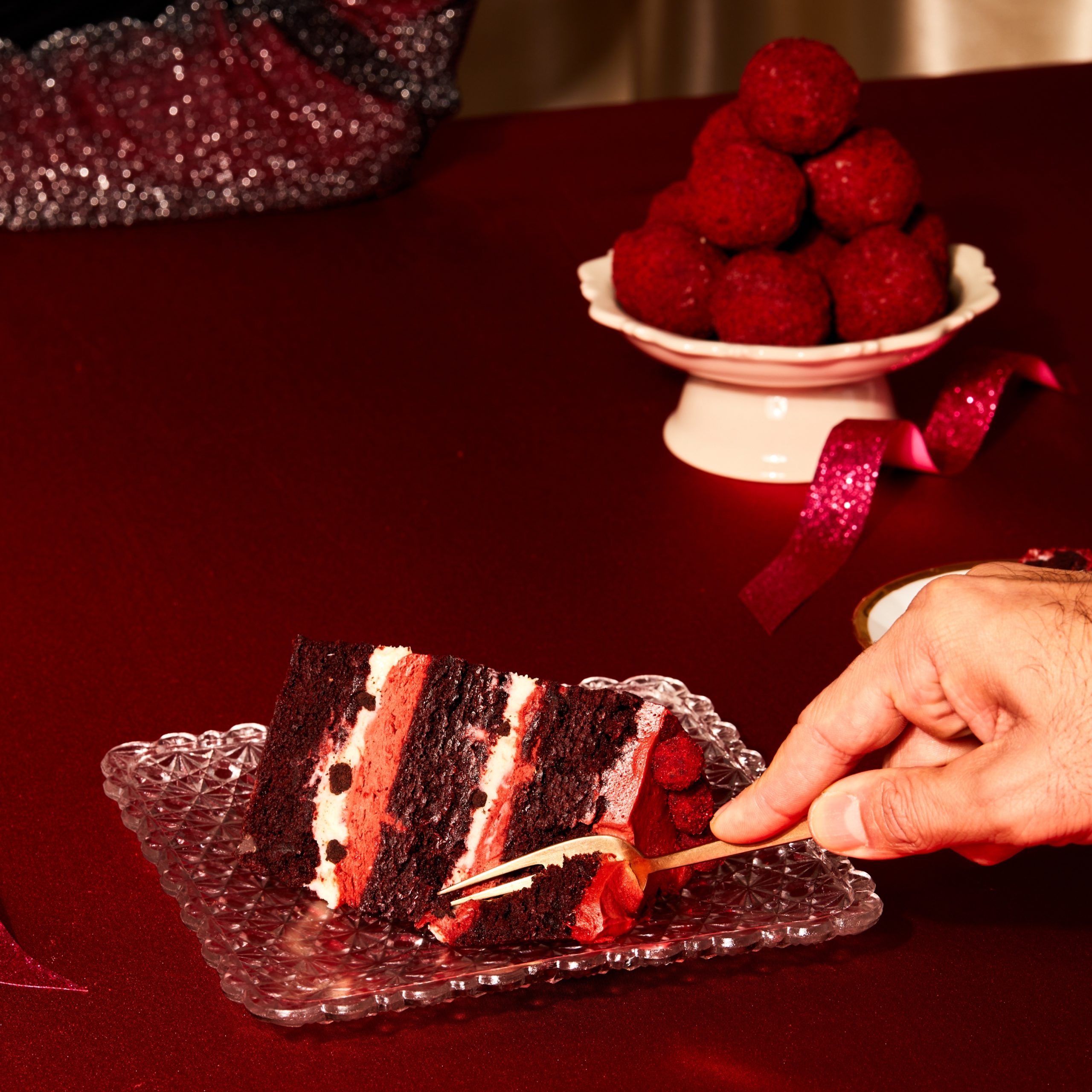 5. Besides featuring a bakery, the store also has stations where customers can create their own treats, a disco-ball decorated classroom, and a grab-and-go market. Tell us more about the experience at the flagship.
The NoMad Flagship was planned and built with the mindset of inviting the guests to spend more time and choose their own adventure within the bakery. They can go with a Build-A-Cake or Build-A-Cookie Experience, where they would work with a baker to design and build their own treat, go to a classroom, to work with a talented teacher and learn how we make our delicious birthday cake and truffles, or just spend some time in our mini mart, and maybe send a postcard at no cost to a friend, or get one of our merchandise items. It's really about the guest and what they're looking for on their visit.
6. Before your arrival at Milk Bar, you earned an undergraduate degree in business administration. You were also a barista and coffee operator in Israel. What led you to pursue the retail/hospitality industry?
My grandparents used to have a restaurant, and from a young age, I enjoyed running around in kitchens and on the floor. I always knew I didn't want a traditional 9-to-5 job, and the food and beverage industry provides something that is more challenging and exciting. I'm also a true believer that food can connect us all, no matter where we come from—it's not called 'breaking bread' for nothing!
7. What do you love most about Flatiron/NoMad? When you're not at Milk Bar, how do you like to spend your time in the neighborhood?
I love how quickly it develops and how different it gets every single day. It's becoming a hustling and bustling area, and as more places open, it just attracts more attention.
I truly enjoy getting a cortado at Seven Grams Caffé on 28th Street and Madison Avenue, or an amazing Shakshuka Danish at Bourke Street Bakery on 28th Street, between Madison and Fifth Avenues. My lunch would either be from Sweetgreen or Num Pang—both on Broadway, and on nice days, I'll try to eat in Madison Square Park.
8. Finally, choose three words to describe the Flatiron and NoMad Districts.
Place to Be.
Thumbnail & Header Photo Credit: Lior Yanay