John Meadow, Founder and President of LDV Hospitality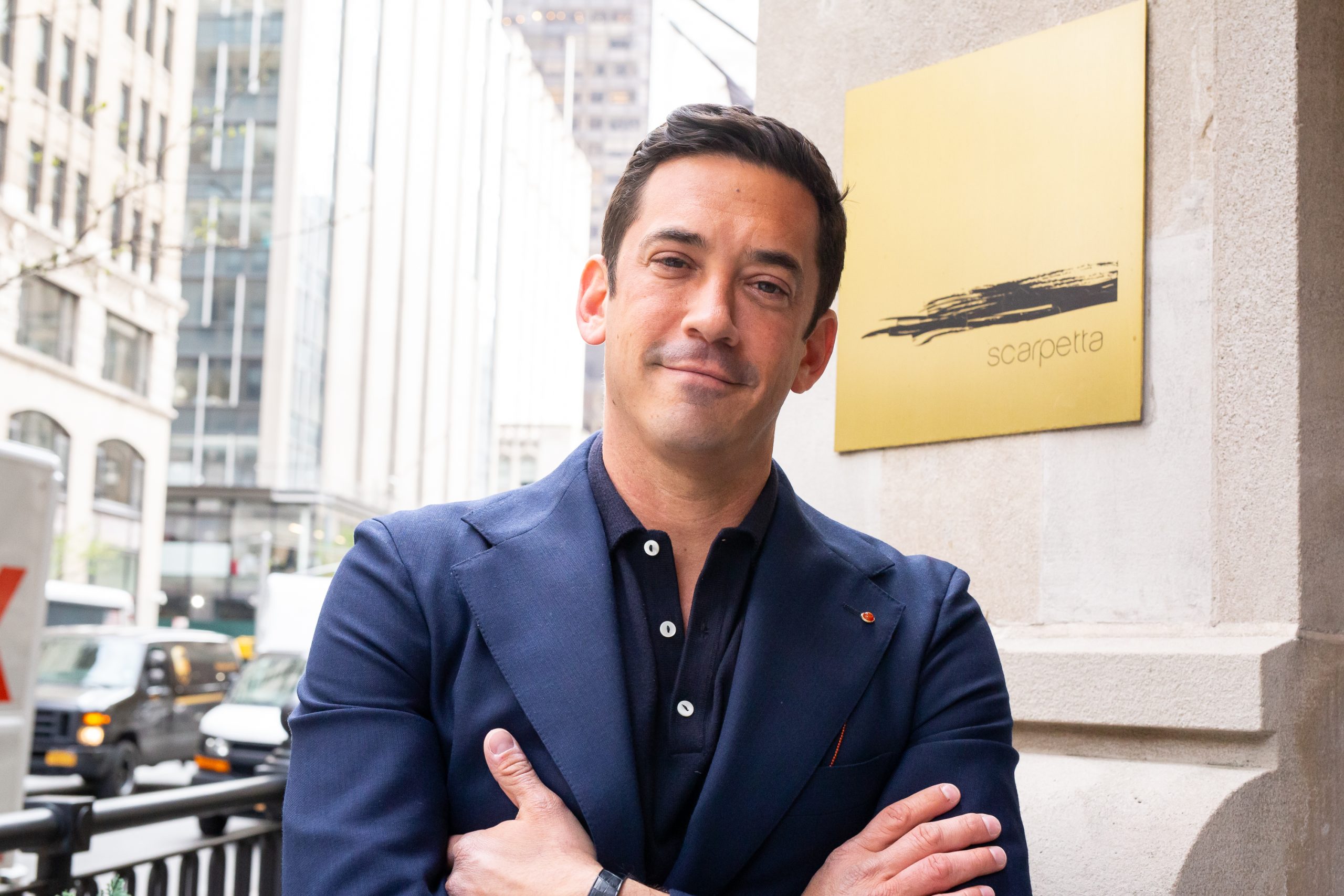 Meet John Meadow, Founder and President of LDV Hospitality at 130 West 25th Street, near Sixth Avenue. The team's mission is "to channel our passion for genuine hospitality into creating charming restaurant and bar experiences." One of their signature dining destinations is Scarpetta at 88 Madison Avenue, between 28th and 29th Streets, and where, says Meadow, "our spaghetti personifies the restaurant and us as a group of people as a whole: simple, amplified, elegant, goodness."
1. You once said that LDV Hospitality stands for "'La Dolce Vita' in Italian because it is about an everyday charming sweet life." Tell us more about the company that you created in 2008, its mission, and your role as president.
The dream of la dolce vita was something I was enthralled by, even as a child. When we opened the first Scarpetta in 2008, we had to name the company something so it was the natural fit. As we have grown from one independent restaurant to an international company with 25 restaurants and bars across 10 cities, the mission has evolved into hotel placemaking by offering charming food and beverage experiences through our exceptional team of impassioned hospitality professionals.
For me, personally, I focus on creating new restaurants and nurturing my team. My greatest satisfaction comes from watching my team grow, with a decade plus of experience at this point, they truly are family to me and their growth and success is mine and vice versa.
2. Scarpetta, your signature dining destination at 88 Madison Avenue, between 28th and 29th Streets in NoMad, is part of the LDV portfolio. What led to the restaurant's launch in 2008?
In 2005, I signed my second lease in New York's Meatpacking District. I opened an American throwback restaurant there, Gin Lane. I loved that restaurant, but it failed miserably. I needed a second act there in order to clean it all up, so modern Italian was a different and natural fit. The name, Scarpetta, refers to the familial phrase of fare la scarpetta, which means 'make like a little shoe' and mop up the last drops of a wonderful dish with a piece of bread. It represents the genuine indulgence in sharing a meal with friends and loved ones.
3. The restaurant is also a participant in the Green Dining Destination initiative led by the Flatiron NoMad Partnership and the Madison Square Park Conservancy in collaboration with the Green Restaurant Association. Share with us Scarpetta's decision to get involved and why other eateries should consider doing the same.
As an industry, we create an extraordinary amount of water, land, and air pollution, and we have an obligation to put forth an effort to improve this. By becoming a Green Certified Restaurant, we follow a series of protocols in order to do so. When we get 20 restaurants in the neighborhood to sign up, Flatiron and NoMad can become the nation's second Green Dining Destination. This will garner excitement and attention from environmentally conscientious dining guests and most importantly, foster pride amongst our staffs as they can become part of a concerted effort to make the world a better place.
4. Speaking of dining out, from July 18th through August 21st marks the 30th anniversary of NYC Restaurant Week. At this time, what's your favorite Scarpetta dish and recommendations?
I am a great believer in Restaurant Week and the civic communal opportunity it represents. My two favorite Scarpetta dishes that I recommend for Restaurant Week are our Yellowtail Crudi and our signature spaghetti dish.
5. You're also a native Californian, studied at Cornell's School of Hotel Administration, and engaged in hospitality at Flatiron's Eleven Madison Park, as well as serving as Beverage Director at The Plaza, the iconic Midtown Manhattan hotel that you grew up wanting to own one day. What inspired you to pursue a career in hospitality?
I wish I was a native Californian, then I would be more relaxed! I was born in Northern California, but my New Yorker parents dragged me back to the Northeast as a baby. The upside in that was that I was always exposed to old world hospitality, and developed a love for it at an early age. I was always smitten by the romantic notion of people getting dressed up to be a part of something aspirational, a communal dinner party with a bunch of strangers, yet a common experience for an evening. After an Easter brunch at age 6, I told my mother my dream was to own the Plaza Hotel one day. While I do not see that in the cards for me, my pursuit of bringing people together by creating genuine restaurant experiences has come to define my journey in life and I am very satisfied with it.
6. When you're taking a break from the operation of LDV Hospitality and Scarpetta, how do you like to spend your time in Flatiron and NoMad and what do you love most about these vibrant communities?
I absolutely love Madison Square Park. It represents a perfect harmony between nature and man's civic duty. I frequently walk around the park and then the surrounding streets, observing the cast iron architecture. The whole area personifies my dream of classic New York alive for today, and I feel grateful to be a part of it.
7. Finally, choose three words to describe Flatiron and NoMad.
Iconic. Vibrant. Timeless.
Header & Thumbnail Photo Credit: Briana Balducci