Hyunjoo Lee, Owner, Chelsea Nails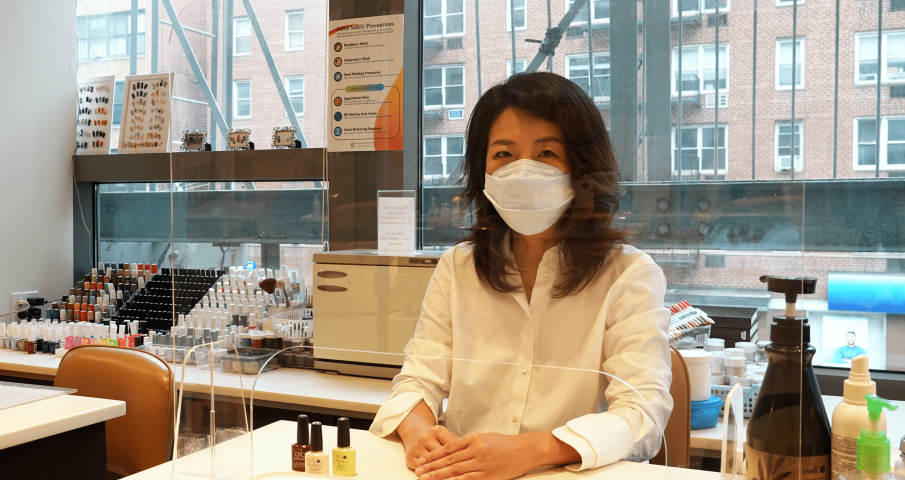 Meet Hyunjoo Lee, owner of Chelsea Nails, located at 100 West 23rd Street, between Sixth and Seventh Avenues. "It's nestled on the most beautiful street in Manhattan," says Lee about the sunlit salon that she purchased in 2016. With the recent resumption of the personal care industry in New York City, Lee now welcomes customers with safety protocols and a special offer worth up to $10 off their next visit. You can book your visit online here.
1.Briefly describe Chelsea Nails and your role there. What aspect of the job excites you most?
Chelsea Nails has been in this place for 30 years now. That's why we can occupy Chelsea Nails in Chelsea. Some workers have been working here for over 10 or 20 years. I bought this salon in 2016 and was excited when I finally found something in this area. Also, we meet diverse people here every day. They all come in tired, but go out happy and refreshed, which makes us most excited about this business.
2. The personal care industry such as nail, hair, and tanning salons were able to resume business during Phase 3 that began in New York City in mid-July. What was your immediate reaction upon hearing this news? 
Honestly, we expected that we could open in Phase 2, but we couldn't. You can imagine how much we were disappointed by the news. We're running a small business. If we stop working, all our workers have to stop, too. Our family and some technicians couldn't just sit still, so we regularly came and grabbed the trash in front of the building and wiped every surface in the store. Yes, that's how we waited for the good news from the government.
3. What safety precautions did you implement in order to responsibly welcome back guests and staff into the salon?
Sanitizing. Sanitizing. Sanitizing. We follow every single protocol of the CDC (Centers for Disease Control and Prevention). For example, checking temperatures, keeping a customer log, employee log, cleaning log, and, of course, we do cleaning whenever a single service is done. We have harmless certified sterilizing light to ensure all spaces are free from the virus and germs.
4.  Your licensed nail technicians provide a vast selection of nails enhancements and other treatments at Chelsea Nails. Tell us more about your services and some of your recommendations for customers during the upcoming holiday season?
Yes, we have a vast selection of services including manicures, pedicures, nail extensions, waxing, and massages. Our highly skilled technicians will make your nails look perfect. Most of our customers already know what they want. We do as they tell us. We are confident in our services.
5. Why are you proud to call Flatiron/Chelsea the home of your business? What do you love most about the area? 
This area shows the real Manhattan, I think. All different people come and go in this vibrant area. This busy and vivid atmosphere gives us huge energy to live on. That's what I love most about the area. I wish all of this comes back soon.
6. Outside of Chelsea Nails, what are your favorite things to recommend in the neighborhood?
The Flatiron Building. I saw it in a movie when I was in South Korea. It was very impressive to me. It was like the one symbol of Manhattan. People might recall other buildings or scenes for this city, but to me, the Flatiron Building was the one that I remember for this city.
7. What advice would you like to offer other businesses in the personal care industry as we navigate the challenges of the pandemic? Any advice for residents, returning workers, and visitors to the community? 
In this challenging moment, I have struggled in the last seven months. We are enduring hardships now, but I know we can survive if we don't give up our hope.

Chelsea Nails, 100 West 23rd Street, 2nd Floor Open Monday through Saturday, 10 am to 8 pm, (212) 924-6245, Online Booking.