Holly Leicht, Executive Director of Madison Square Park Conservancy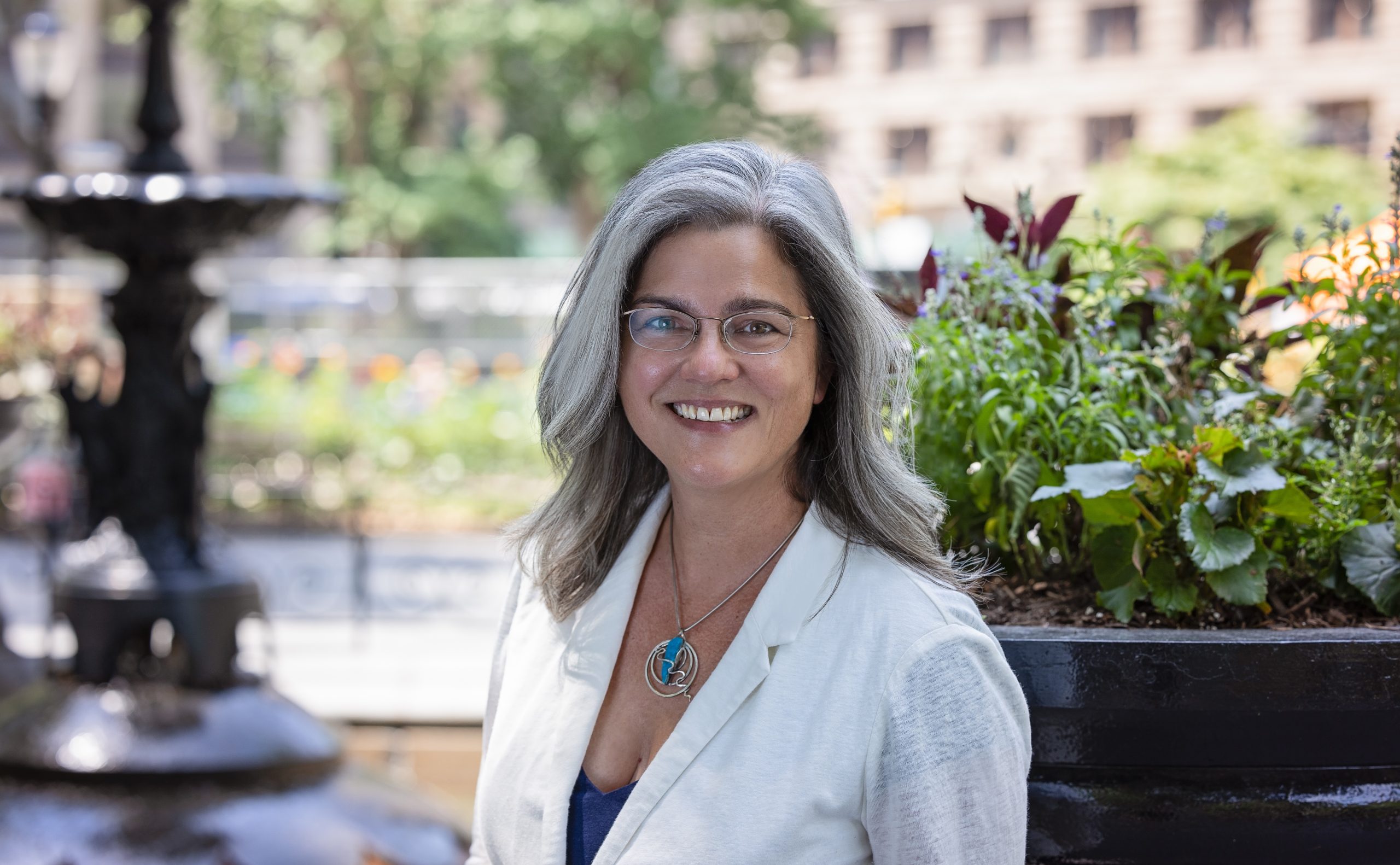 Meet Holly Leicht, the newly appointed Executive Director of the Madison Square Park Conservancy, located at 11 Madison Avenue, between 24th and 25th Streets. The Conservancy's mission is "protecting, nurturing, and enhancing" Madison Square Park, says Leicht, "thanks to the generous support of our community."
1. Congratulations on becoming the newly appointed Executive Director of the Madison Square Park Conservancy. Tell us about the Conservancy's mission and your role involving this green space that has been public land since 1686.
Thank you! I feel truly honored to be a steward of this unique park. Many people don't realize that Madison Square Park is one of only a few NYC parks that privately raises 100% of its operating expenses–that's where the Conservancy comes in. Though hard to imagine now, Madison Square Park was in dreadful condition as recently as 20 years ago, when neighborhood residents and businesses founded the Conservancy to restore the park to its historic–and current–splendor.
2. You're a champion of parks and open spaces and have extensive leadership experience in urban planning, preservation, and development initiatives, which includes serving as Executive Director of New Yorkers for Parks. Share with us your vision for the Conservancy.
Through my various jobs, I've visited parks of all sizes and types in every borough, and what is universally true is that parks build community. When you take your kid to the playground or your dog to a dog run, you instantly become part of a micro-community within your larger community. After the isolation of the pandemic, we need to find ways to reconnect with each other and revitalize our neighborhoods and city–and I see Madison Square Park playing a critical role in bringing back businesses and rebuilding community. My goal is to further integrate the park and the surrounding neighborhood as a model of urban resilience and sustainability, both economically and environmentally.
3. What's your favorite area inside Madison Square Park, and what do you like to do within its 6.2 acres?
Madison Square Park is small but mighty–I like to say it punches way above its weight. We're the only Level II arboretum in Manhattan, we're a certified American public garden, we commission public art by world-famous artists–not to mention we're home to the original Shake Shack and the city's best dog run.
My favorite thing to do in the park is to find a quiet spot on one of the benches lining the pathways and just watch the passersby. This place makes people happy–you can see it on their faces. Even if they're just walking through, you can tell their day was made a little better.
4. Speaking of activities, what are some of the Conservancy's current and upcoming public programming scheduled for the park?
Too many to include here, so please check our website and follow us on social media! Some highlights include our current art exhibition "Landscape and Memory" by Cristina Iglesias, which is on the Oval Lawn through December 4. I love this piece so much. It's a series of bronze fountains that recall Cedar Creek, which ran through the park until it was buried beneath modern-day infrastructure.
Our horticulture team has a super busy fall. They're hosting Plant Giveaway on November 9, a two-day symposium November 16-17 on the challenges of maintaining and supporting our urban parks' workforce, and the family-friendly Leaf Fest on November 19.
And mark your calendars for our annual Holiday Tree Lighting on December 7. Did you know Madison Square Park was the site of the first illuminated public Christmas tree in the nation? Eat your heart out, Rock Center!
5. You also grew up in St. Louis, Missouri, and earned an undergraduate degree from Yale and a J.D. from Northwestern University's Pritzker School of Law. What inspired you to pursue a career in public service?
My mom was the consummate volunteer, and she regularly took me to her meetings and volunteer events when I was a kid. I think those experiences, as well as going to a socio-economically diverse elementary school, left a deep impression on me at a young age that the world isn't an equitable place, and the opportunities I've had were not to be taken for granted.
I'm really lucky that my parents could afford to send me to the college of my choice, and Northwestern offered me a full scholarship to law school. This gave me the freedom to pursue my passion for historic preservation, which led me to New York City for a legal fellowship at the Municipal Art Society. From there, honestly, the city took the reins. My career has been totally shaped by what I've seen and learned in New York City, and I hope in some small way, I've been able to help shape the city in return.
6. When you're taking a break from the operation of the Conservancy, how do you like to spend your time in Flatiron and NoMad? What do you love most about these vibrant communities?
I'm less than two months into my tenure at the Conservancy, so I'm still in the delightful phase of sampling everything these amazing neighborhoods have to offer. I walk between Grand Central Terminal and our office at 11 Madison Avenue every day, and I've fallen in love with the architecture along Madison Avenue and NoMad's side streets. The neighborhood feels slightly European, with its many cafés, design stores, small shops, and sidewalks bustling with residents and workers alike. It has a magical feel. You never know what gem you might stumble on, like the Church of the Transfiguration. Their Tuesday lunchtime concerts are on my to-do list.
As for go-to spots, breakfast and cocktails are my favorite indulgences, so I'm relentlessly pursuing the area's best egg-and-cheese sandwich and best Old Fashioned (not at the same time!). So far, I can't stop thinking about the New York Edition's Old Fashioned–and, though it's not breakfast, the Stracciatella pizza at Marta.
7. Finally, choose three words to describe Flatiron and NoMad.
Everything you need!
Header & Thumbnail Photo Credit: Rashmi Gill Photography