George Calderaro, Director of the Tin Pan Alley American Popular Music Project
Meet George Calderaro, Director of the Tin Pan Alley American Popular Music Project. "We are building," says Calderaro, "a dynamic community of American popular music enthusiasts and supporters to share the history of the people, events, and songs of Tin Pan Alley, as well as support music and cultural literacy, inspire current and future artists and musicians, and the public at large."
1. Congratulations on the Tin Pan Alley/West 28th Street Co-Naming at the northwest corner of Broadway and 28th Street earlier this month. As founding director of the Tin Pan Alley American Popular Music Project, share with us your integral role in the launching of this historic event.
I first learned that Tin Pan Alley was the birthplace of American popular music on West 28th Street when I moved to the area in 2015 and joined the board of the 29th Street Neighborhood Association. They were working on an expansion proposal to the Landmarks Preservation Commission for the Madison Square North Historic District, which included Tin Pan Alley. Like many people, I'd always heard of Tin Pan Alley but did not know that the first sheet music publishers and popular songwriters were on 28th Street, that the buildings were unprotected from demolition and under-recognized. When I learned of this, I went to work to help protect the buildings, and have since been compared to "a dog with a bone." Recognition of Tin Pan Alley through co-naming of the street was always a long-term goal to increase awareness of this global cultural landmark.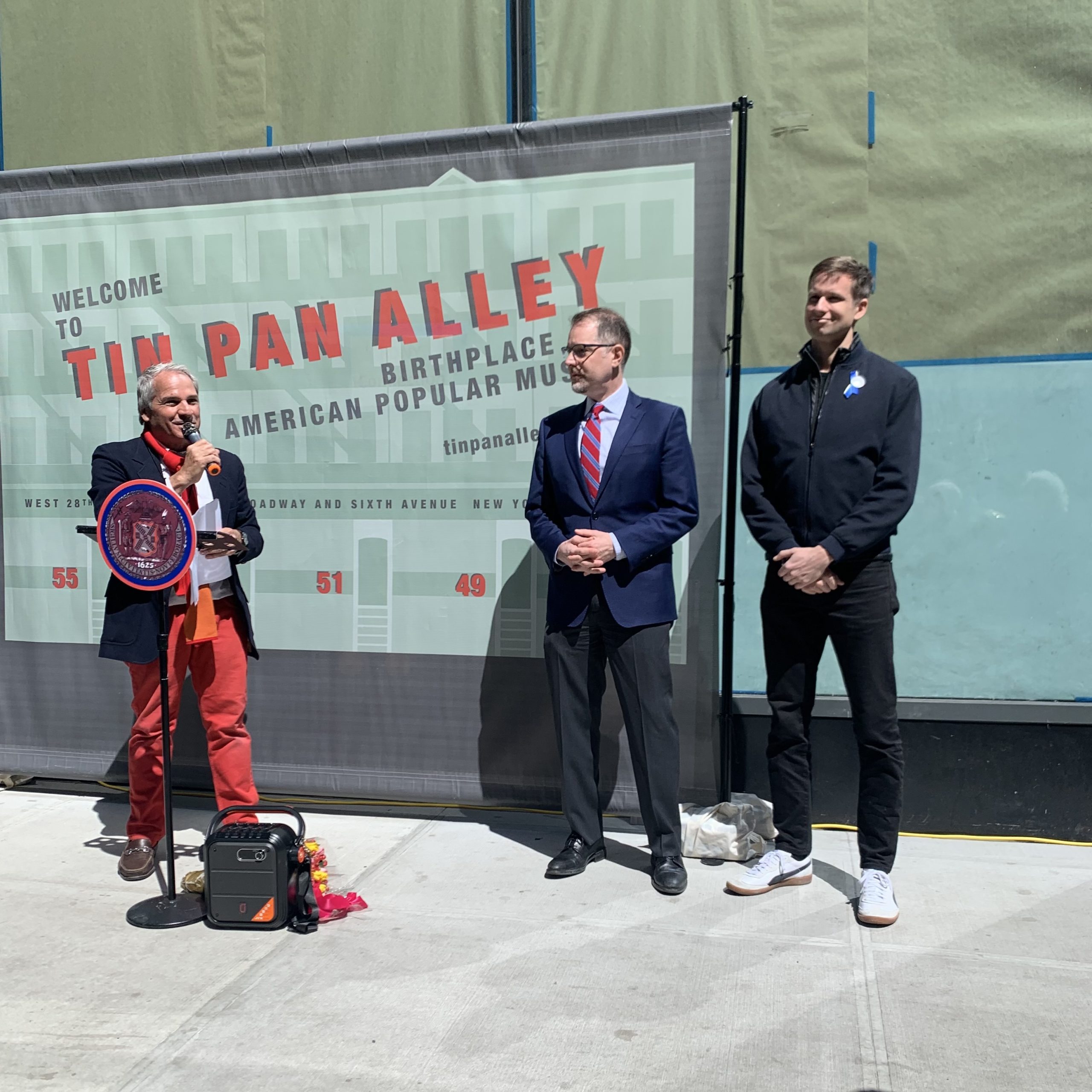 2. Briefly tell us about the Tin Pan Alley American Popular Music Project and your role as volunteer Director. What aspect of your role excites you the most?
Following more than six years of work by me and a dedicated committee—not to mention decades of efforts by other groups—we succeeded in achieving landmark designation of 47-55 West 28th Street. At that point, there was such a moment to commemorate and continue the legacy of Tin Pan Alley that we created the Project to share the diverse history of the people, events, and songs of Tin Pan Alley. I especially prize the values of multiculturism and, frankly, the scrappiness of these young talents with various backgrounds determined to share their talents with the world in new ways. I find it incredibly rewarding to share the stories of New York City and American cultural history with people who have no idea of the vast legacy in our midst. When people first learn of it, they are rightfully awestruck.
3. In 2019, the Landmarks Preservation Commission designated five historic buildings associated with Tin Pan Alley. Why is it important for the public to remember the region's history and the significance of its preservation for future generations?
The significance of Tin Pan Alley as a cultural landmark cannot be overstated. On these very streets and in these very buildings, American popular music and the modern music industry were created largely by innovative Jewish and Black immigrants to New York. Their unprecedented creative output changed the nation's cultural history and legacy. Tin Pan Alley is also an important indicator of the Flatiron District's history as the cultural and entertainment center of New York at the turn of the 20th century. The entire neighborhood brimmed with theaters, cabarets, hotels, and entertainments venues often in distinctive edifices that remain today.
4. You once said that "American popular music is recognized globally as a defining element of our culture and cultural history." What are some of your personal favorite songs from the Tin Pan Alley era?
I have to confess that I favor the songs that reflected and changed history. Irving Berlin, the godfather of Tin Pan Alley, wrote the truly moving "God Bless America" in 1918 in appreciation of his adopted country. Liora Michelle beautifully sang the song and its stirring introduction at the street co-naming. Another unofficial national anthem is "Lift Every Voice and Sing" by J. Rosamond Johnson and his brother James Weldon Johnson who write it as a poem in 1900. The song is now under consideration by Congress to be the nation's first National Hymn. The first song to sell a million (and eventually five million!) copies of sheet music was "After the Ball" by Charles K. Harris in 1892. It was later incorporated into "Show Boat," the first modern American musical, to represent the music of the whole era. History abounds on Tin Pan Alley!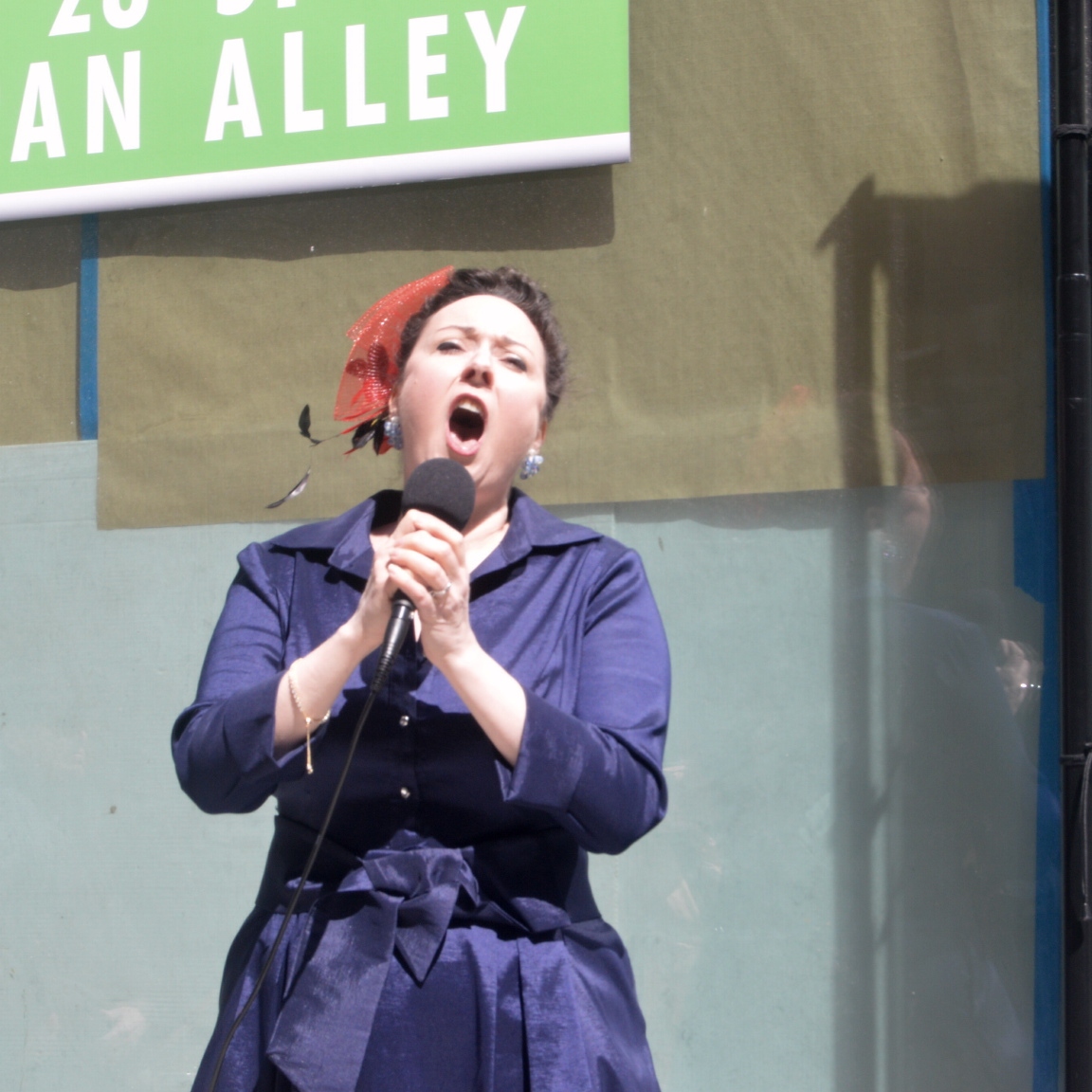 5. In addition to your role with the Tin Pan Alley project, you're also currently Director of Outreach Programs at Columbia University's School of Professional Studies. What inspired you to pursue a career in community relations and historic preservation?
I have been very fortunate to have spent my entire professional career in nonprofit cultural and educational institutions. In this work and active civic life, I have been able to share important work and stories that educate and hopefully inspire.
6. When you're not in Tin Pan Alley area, how do you like to spend your time elsewhere in the neighborhood?
I love the neighborhood! Like many New Yorkers and visitors, I alway stop by Fishs Eddy, the truly distinctive emporium which, in true community spirit, is even hosting a lecture/benefit for the Tin Pan Alley Project! I also love to stop in at the shop/gallery Maison 10 to check in on proprietors Tom and Henri and the ever-changing inventory of art and objects whose sale supports 10 charities. I regularly visit Madison Square Park with my dog Romeo (we are proud sponsors of the new dog run!). And Poster House is a regular stop for inspiring exhibitions that reveal under-known artists and movements, a shared mission of the Tin Pan Alley American Popular Music Project come to think of it!
7. Finally, choose three words to describe the Flatiron & Nomad District.
Diverse. Distinctive. Irreplaceable.
Header & Thumbnail Photo Credit: Mary Ann Lopinto