Founder-Chef-Baker Paul Allam, Bourke Street Bakery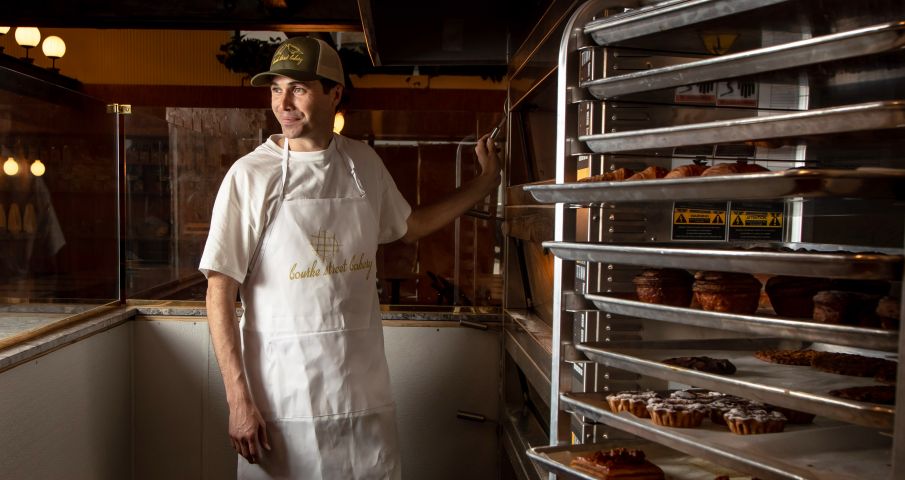 Meet Paul Allam, Founder-Chef-Baker at Bourke Street Bakery, located at 15 East 28th Street, between Madison and Fifth Avenues, in the Flatiron District. "We feel a bakery should be a welcoming place, a part of the community," says Allam, who initially opened Bourke Street Bakery in his hometown of Sydney, Australia in 2004. "We really believe that good food and community are essential ingredients for a better life."
1. At Bourke Street Bakery your day begins at 4 am. Describe your role there and how your day unfolds.
It's dark and cold and quiet…it's feels like the whole world is asleep…It's peaceful here. I fire up the ovens and put my favorite music on. It's pretty peaceful till 7 am when we open the doors and the regulars come in for coffee. I have two other wonderful bakers working with me now who have learned the Bourke Street way, so I share the load with them.
2. You've defined your Flatiron café as an Australian bakery with an American twist of "service food but very relaxed and casual." Tell us more.
We are an all-day bakery café. We don't take shortcuts with our food and only buy the best ingredients we can lay our hands on. Most of our food is handmade and takes a long time to make. We serve breakfast, lunch, and everything in between. We are very serious about food. We are milling grains for our sourdough breads and making all our pastries, cakes, and cookies from scratch. What's most Australian about us is that we are crazy about coffee. Australians are fanatical about coffee and it's a huge part of what we do. We also make sandwiches and soups and seasonal plates. Despite having strong food values, we are always very relaxed and friendly with our service.
3. What bakery items do you recommend to customers during this holiday season?
You must try our limited edition fruit mince pies–they are irresistible! Also, our gingerbread people. We have a great quince and strawberry jam on the shelf at the moment. I love quince. Also, our chocolate sauce makes a great gift!
4. You began your career as a savory chef. What led you to pursue a career in artisanal baking, and what's the best advice that you can offer to those who are interested in pursuing this profession?
I became a trained chef when I finished school and starting working in restaurants in Sydney, Prague, and London. I got a chance to work with some wonderful chefs who prioritized the highest quality produce and real artisan techniques, and I got to make sourdough with one of the chefs I worked for, her name was Alex Herbert. I just loved it. I always loved working with my hands and there is something meditative about making sourdough–it's such a long process. The way we make it often milling the grains and mixing and shaping and resting with long fermentation and high hydrations. It's a handmade product and there are so many factors that you have to get right. I like that no two loaves are 100% the same. It's so satisfying when the loaves come out blooming and baked well. It's a gift for me.
5. You, your wife Jessica, and children relocated to New York. As a Sydney native, what you do find most appealing about Flatiron (personally and professionally)? What do you miss about your hometown?
Jess and I are both loving being in NYC. This neighborhood is especially lovely–what is most appealing is our wonderful customers! Many live in the neighborhood or work close by. They are so warm and polite, and very grateful that we've opened. They love our coffee and food and often come back sometimes several times a day–that is very heartening for me. It's always great when I make something and see people enjoying it and coming back for more. What I miss most about Sydney, apart from my family and friends, is having a garden. In Sydney, we had chickens and fresh eggs every day and fruit trees and a veggie garden and a pizza oven in the backyard. That was pretty special.
6. You have also authored three books: Bourke Street Bakery: The Ultimate Baking Companion, All Things Sweet: Unbeatable Recipes Recipes From the Iconic Bakery, and The Bread & Butter Project: How to Make Perfect Bread. Do you plan to publish more culinary books? What do you find rewarding about writing on this subject?
Sure, I'd love to write one about Bourke Street Bakery: The New York Recipes, sharing all the new dishes we're making and baking here.
7. Switching gears to your life outside of work–how do you like to spend your time away from the bakery?
Before I had three children, I spent every spare minute or cent eating, reading, or traveling. Now I spend most of my free time with the kids (often still eating, reading, and traveling!). They do accompany me to lots of great restaurants and have wonderful and varied appetites, so food is a big part of my life when I'm not at the Bourke Street Bakery. I play a lot of basketball, soccer, and tag with the kids. I bake and cook and play chess with them. They keep me endlessly entertained and worried–depending on what's going on!
8. As a lover of food, are there some standout dishes in the neighborhood that you make a point to enjoy (other than your own)?
We've had fantastic meals at Atoboy. I love their food! The chefs are very talented and the service is excellent.
9. What do you consider a "must-see" or "must-do" hidden gem in the community?
Kalustyan's is a hidden gem for me as I'm always running there for magical ingredients–it's like an Aladdin's Cave for a chef.
10. Finally, choose three words to describe the Flatiron District.
Historic. Creative. Convenient.
Photo Credit: Gary He