Dr. S. David Wu, Baruch College President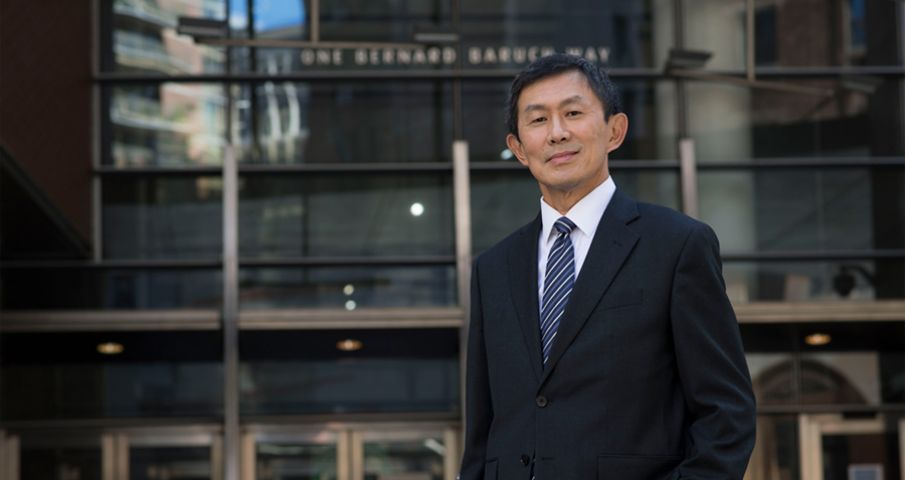 Meet S. David Wu, PhD, President of Baruch College, one of the world's leading and affordable institutions of higher education, located at 55 Lexington Avenue (at 24th Street) in the Flatiron District.
1. Congratulations on becoming Baruch College's eighth President and the first Asian American to serve as President of a CUNY college. You were also recently named on City & State's 2020 Power of Diversity 100 list of influential Asian Americans in New York politics and policy, and City & State's Education Power 50 list of higher education leaders.  What are your thoughts on achieving these milestones?
I am humbled and honored to have been chosen as Baruch's eighth president and the first Asian American to lead a CUNY college. Baruch is a remarkable institution that has truly distinguished itself by delivering the highest-caliber, most rigorous academic programs at an affordable price to a historically underrepresented population. Recently, Forbes magazine published an article called "Elite Colleges that You Can Actually Afford," and they cited the ranking that looks at the most selective colleges around the country and compared the actual cost of attending them. Baruch is ranked No. 1 in the country as the "Elite College You Can Actually Afford," I think that is quite remarkable.
I am also proud to join the CUNY family who has a long history of success in educating students from all echelons of society, many of whom have become Nobel Laureates, Fulbright Scholars, Barry Goldwater Scholars, and pillars of society that contribute to all aspects of New York and beyond.
To be acknowledged among such prominent and impressive New Yorkers on City & State's lists is a tremendous honor. It is incredibly humbling to receive these recognitions, and to be acknowledged among movers and shakers in New York, and among my esteemed colleagues in higher education—chancellors, presidents, deans, and innovative influencers. Forty years ago, I traveled from my native Taiwan to New York as an international student. After receiving my doctorate and spending 30 some years in academia, to come home to this great city and state to lead a prestigious institution that plays such an important role in American higher education is a dream come true for me. I am thrilled.
2. Briefly describe the responsibilities of your role as President serving more than 18,000 students attending Baruch's three schools: the Austin W. Marxe School of Public and International Affairs, the George and Mildred Weissman School of Arts and Sciences, and Zicklin School of Business. What aspect of this job most excites you?
As President, I am the chief executive responsible for delivering the core mission of Baruch College—providing an inclusive, transformational education in the arts and sciences, business, and public and international affairs to students from New York and around the world, and creating new knowledge through research and scholarship. I oversee a cabinet comprised of the College's senior leadership team who are responsible for all aspects of the College's education, research, and day-to-day operations. In my role, I report to the CUNY Chancellor, and am bound by the governance of the Board of Trustees. However, the aspect of the job that excites me the most is the impact and transformation we engender on each student. This is particularly meaningful at Baruch as we often serve the underprivileged, immigrants, and underrepresented minorities. The transformation from a college education is profound and path-changing.
3. In response to the coronavirus pandemic, you immediately convened a task force at the College to cope with the crisis. Tell us more about this effort.
The global pandemic, ironically, opens a rare window of opportunity for colleges and universities to take a fresh look at what we do and why we are doing it, and to challenge ourselves to reimagine what is possible. We recognize that the road to recovery is bumpy, but it is likely to take us to a "new normal," which could lead to a fundamental paradigm shift in higher education. It is for this reason that, before even assuming my official duties as President, I set up a "Task Force for the Future." The idea is not only to contemplate our place in the "new normal," but to help guide the paradigm shift in a way that is beneficial to our students and to our communities. I charged the Task Force to use this crisis to put Baruch on a path to lead, to envision a transformation that allows us to deliver our mission with better quality, more flexibility, to assure the health and safety of our people, and to help hard-hit communities in New York City in the recovery from COVID-19. The Task Force is charged to map out a multi-stage "reopening" plan for the coming year that is sufficiently flexible and adaptable to CUNY, NYS, and NYC policies, while positioning the College for long-term growth.
In the meantime, I have been writing blogs and op-ed pieces to reimagine higher education in the "new normal" and encourage others to weigh-in on constructive dialogue. My goal is to share ideas, research, and perspectives that impact the campus community, higher education, and society at large.
4. During the current fall semester, Baruch's courses will be offered through distance learning, an exclusive online learning program due to the pandemic.  What has stood out to you as the university and student body adapted to this change?
This fall we are teaching 98% of our classes in an online format. The rest are classes that are being taught in a hybrid mode, given some classes such as laboratory and studio classes require some in-person instruction. Interestingly, our enrollment has increased by over 4.5% this fall, with over 19,500 undergraduate and graduate students matriculated. Our faculty and staff have worked tirelessly all summer to get us ready to deliver high-quality instruction and student services in the online format. What has stood out to me as the student body has adapted, is their perseverance and technological sophistication. Our students are truly prepared to lead in this new world.
5. Baruch is also one of the most ethnically diverse student bodies in the country. Students speak more than 110 languages and have roots in more than 160 countries. What's one of the fondest memories that you can recall as an international student arriving in New York City from Taiwan 40 years ago.
One of the fondest memories I have when I arrived in New York City 40 years ago is the dynamic energy of the City, and its great cultural diversity. I often say that you can feel the "electricity" in the air. A city where dreams can come true, and where you can find every type of food, music, and art that the world has to offer. I can still feel that excitement and sense of possibility even today.
6. Since then, you've become a distinguished scholar whose career has included serving as Provost and Executive Vice President of George Mason University in Fairfax, Virginia. Can you offer any advice to those individuals who may be interested in pursuing a professional path in academia?
I would say the most important characteristic of an academic career is a sense of wonderment, intellectual curiosity, and an eagerness to share that with others. There is a great joy in pursuing something you love, while opening the door to a whole new world for generations of students. I am a strong believer of high-quality, rigorous education as that truly unlocks the human potential. For someone who truly believes in the mission, it is an incredibly fulfilling profession. In academia, there are many jobs and professional opportunities that varying levels of education can prepare you, from having a bachelors' degree, a master's, or doctoral degree. Of course, I would also encourage people to look at Baruch College, which is truly a gem.
7. Baruch College has been a beloved institution since its founding in 1847 as the Free Academy and America's first free public college. What do you enjoy most about working on this campus?
First of all, the Flatiron location has so much history, and Baruch itself is rich in history. And yes, Baruch originated from the Free Academy, which pioneered a set of different ideas about higher learning—a scholastic "experiment" focused on educating individuals from all backgrounds and social classes with the highest academic standards. This is a radical departure from other higher education institutions in 1847.
I also appreciate the architectural aspects of Baruch's historic linkage to New York. The original Free Academy building was built in 1849 in the style of the Gothic town halls of the Netherlands on land that was sparsely developed. Baruch's Neumann Library occupies the Lexington Building, on East 25th Street, which was built in 1895 as the power station for the Lexington Avenue cable-car line. By the way, East 24th Street was once "Old Stable Row' boasting the "largest dealer of horses in the world."
Not far from my office and my residency, I see the iconic Flatiron Building, one of New York's oldest original skyscrapers. My wife and I enjoy the neighborhood a great deal since we moved in mid-July.
8. Outside of the campus venue, what do you consider a "must-see" or "must-do" hidden gem in the community?
On East 20th Street, I know that people often walk by the birthplace and childhood home of the 26th President of the United States Theodore Roosevelt–who I understand was the first U.S. president to be born in New York City. I heard there is also a wonderful museum, and we look forward to visiting after the site reopens.
9. When it's time to grab a bite to eat in the area, where do you like to outdoor dine or grab takeout in the neighborhood and why? What's your favorite go-to dish?
The neighborhood is teeming with restaurant choices—featuring nearly every ethnic cuisine—and many are open now. We are still exploring—or eating—our way through the neighborhood, but I discovered a wonderful Italian restaurant offering Sicilian cuisine, a top-rated Japanese vegetarian restaurant, a tasty thin-crust pizza place, and we just experienced a remarkable Indian "dosa" dinner the other day. I'm enjoying this food tour of Flatiron and welcome suggestions!
10. Finally, choose three words to describe the Flatiron District.
The Flatiron District is the perfect home for Baruch College–we share the same descriptive words: Vibrant, Historic, and Welcoming to everyone.