Deborah Koenigsberger, Store Stylist & Owner, Noir et Blanc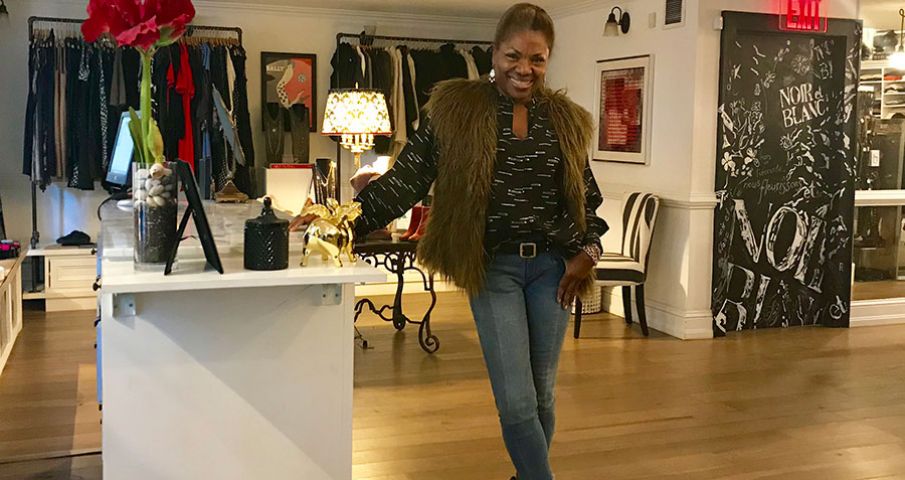 Meet Deborah Koenigsberger, store stylist and owner of Noir et Blanc, a French-inspired boutique, located at 7 West 25th, between Broadway and Sixth Avenue. "The key to the success of the store is our unmatched customer service over these many years, and the fact that I scour the shows in Europe to bring back little known brands," says Koenigsberger. A few doors down at 11 West 25th Street, Koenigsberger also wears her hat as Founder and award-winning CEO of Hearts of Gold, a nonprofit organization whose mission is to help homeless mothers and their children. "Last month, we raised the highest net amount of dollars ever for the organization. We netted over $870,000 to continue this vital work."
1. You're fluent in a number of languages and initially considered a career as a United Nations translator. But your passion for fashion and modeling directed you to become a retail entrepreneur. Three decades ago, you opened the boutique Noir et Blanc. Tell us more.
Retail has changed SO much since I opened Noir et Blanc in 1989. We don't just sell clothing but we style each woman, and that goes a long way with our clients. We give her the personal attention she needs to feel beautiful and confident in the pieces she purchases. In addition, I'm a stickler for detail and quality, so the collections we carry are well thought out and curated to create the best wardrobe she could have. My store manager, Karen, who has been with me for over 20 years now, and I constantly brainstorm about new ideas we want to incorporate in the collections and the store in general to keep things fresh.
2. On social media you've stated that the retail fashion business is an evolving industry and that "networking is a great way to meet new customers." How has networking helped you as a small business owner? 
The value of networking cannot be overstated. Personally, I belong to a networking group, which I joined about four years ago, and it has helped my business tremendously. I've met other stylists and individual clients that I would have not come across in my normal everyday life, which has proven to be invaluable. It has opened new avenues for us.
3. Your concern about the plight of the homeless in Madison Square Park during the 1990s led you to become the Founder and CEO of Hearts of Gold. This not-for-profit organization will celebrate its 25th anniversary in 2019. Describe Hearts of Gold and your role there as well as some of your recent achievements and plans for the future. 
My role at Hearts of Gold (HoG) is Founder and CEO, but I literally do everything and I am extremely hands on. Some of our recent achievements are the success of our HoG Learning Center, giving away our 1,000th backpack this past August during our Annual Back-to-School Backpack Giveaway and Block Party, and the graduation of several of our moms from our new initiative, the Career Development Program.
4. Over the years, Hearts of Gold has gained support from a number of high-profile individuals, including Grammy and Oscar winning singer and songwriter Stevie Wonder, Academy Award winner Susan Sarandon, and Emmy winner and Today co-anchor Hoda Kotb. How has their participation and those of others helped Hearts of Gold's mission? 
The participation of high-profile individuals never hurts as we all know and in HoG's case, it has helped us to tell our story. Individuals like Marcia Gay Harden, Stevie Wonder, who was my inspiration for starting the charity, Rhonda Ross, and others have lent their name and support. This speaks to the ability of our story to reach out and touch. The fact that they support us legitimizes our work.
5. Is there any advice you can share with others who are interested in both social services and owning a business?
My advice to any entrepreneur is to do what you LOVE. Find your passion and exploit it to the maximum. Look for all the ways it can pay your bills, but also help someone else who is NOT as fortunate as you. It's not so hard to do, and in the end, you will never regret that decision. Finally, get yourself a mentor or a coach who hears you and can help you to navigate the bumps that you are sure to encounter along the way.
6. You're engaged in a busy work schedule, and you're a wife and mother, too. How do you maintain work-life balance? 
Maintaining work-life balance is all about time management. Fortunately, I have an amazing husband and two pretty terrific boys, so that's been hugely helpful. This is not to say that I don't get overwhelmed, but when I do, I check out. Traveling is my absolute favorite pastime! It gives perspective to everything and clears my head.
7. Switching gears to when you're not working, where do you like to dine in the area? And, what's your go-to dish? 
My two favorite places to dine in the area are ABC Kitchen and Hillstone. While very different from each other, each one is always an enjoyable, delicious experience with excellent service! The Miso Glazed Atlantic Cod at Hillstone is my fave and the Mushrooms, Parmesan, Oregano, and Farm Egg Whole Wheat Pizza at ABC Kitchen is delish!
8. What do you consider a "must-see" or "must-do" here in the neighborhood?
Must-see and do in the neighborhood? Walk the side streets! The area has exploded and there is so much to discover! I love all the creative new shops and restaurants that are constantly popping up! 
9. What's your favorite building or architectural element in the area? 
All these years later, my favorite building remains the Flatiron Building. It's genius and it represents my 'other home' to me.
10. Finally, choose three words, okay four, to describe the Flatiron District. Historically rich! Fashionable! Yummy!