Dawn Delikat, Executive Director, Chief Curator at Pen + Brush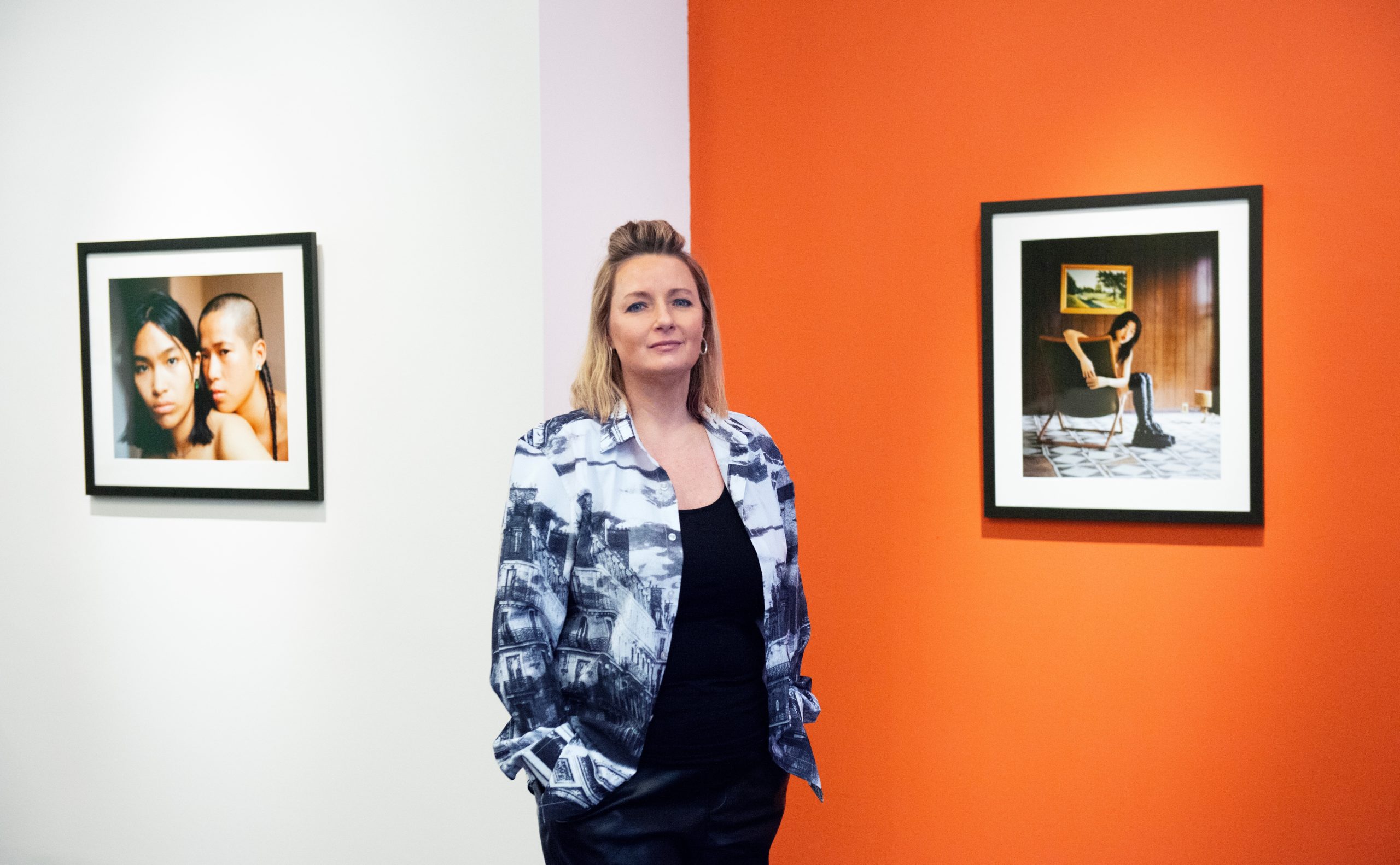 Meet Dawn Delikat, Executive Director, Chief Curator at Pen + Brush, a publicly supported non-profit that showcases the literary and visual work of women, non-binary, and female-identified transgender artists and writers located at 29 East 22nd Street.
1. Tell us more about the Pen + Brush and its mission.
Pen + Brush (P+B) puts all of its resources into incubating, mentoring, and putting forth museum-quality exhibitions and high-quality, consumer-ready publications for our artists and writers. P+B is a 129-year-old not-for-profit that, since its founding in 1894, has dedicated itself to safeguarding the work of contemporary women, woman-identified, and non-binary artists and writers. We are an artist-first, community-first, people-first organization, we believe art (and literature) speaks truth to power and have always fought to empower the voices of suppressed and oppressed women, woman-identified and non-binary artists. We also know that art history is most truthful, most accurate, through the eyes of many over the eyes of few. So, our programming, like our writer's circles and collaborations with artist and writer groups, embodies our belief that art should be judged by the quality and impact of its content, not by the gender or identity of its maker.
Our entire premise is built on the idea that great art, disruptive art, and important voices should never be snuffed out because of systemic biases on gender. We put forth work that society would be lesser for having not seen/heard. As such, we present a unique "strike before the iron gets hot" value opportunity for collectors. Seventy-five percent of every sale goes directly to the artist when you purchase a work of art from P+B. That is true patronage/matronage of the arts. Collectors who fall in love with a work they see at P+B, get to watch, in real time, as their purchase positively impacts the artist. Not to mention, we've helped launch some impressive artists in the past, so there is a good chance their work will escalate in value. So now, you've helped establish an equitable price point for an artist, helped a non-profit continue its work, and effected the artist's upward trajectory in real time. All while making a likely 'profitable' investment.
2. Describe your roles as Executive Director and Chief Curator. What aspect of the jobs excite you the most?
The most exciting part of both roles is how rooted they are to this mission driven work at P+B. I've dedicated my life's work to amplifying the voices of women and non-binary artists and writers, and so getting to do that through every aspect of my work is undoubtedly the most fulfilling part of my job.
Leading P+B through the pandemic brought new financial and logistical challenges that has also allowed for real growth.
3. In honor of Women's History Month and International Women's Day on March 8th, what programs are planned for at Pen + Brush?
I always say that at P+B, everyday has been International Women's Day for 129 years and counting. Our exhibitions, publications, and workshops are always about cultivating and making space for women's voices.  Of course, the elevated attention to women's voices and accomplishments that March brings is still always welcomed and appreciated, but we are holding out for 365 days a year for this to be the norm.
This year on March 8th, we launched a new writers' workshop series with our colleagues at the NY Writers Coalition titled – RESPITE, which is a generative creative writing workshop with the intention of helping you relax and release. Led by NY Writers Coalition Artistic Director, UGBA (Ungrateful Black Artist), this will be a bi-monthly series open to writers of all genders at all levels.
4. You earned undergraduate and graduate degrees in art history. You also were a Pen + Brush intern under the leadership of former Executive Director Janice Sands. What inspired you to choose a career in the arts?
For me, the history of art is the most intense, beautiful, and democratic map of life that we have. The arts have an endless capacity to offer us a respite from our daily lives or take us more fully into who we are collectively and as individuals, while offering a chance to understand each other's lived experiences, perspective, circumstances, challenges, and triumphs. Artists have always held up a mirror to the world that all at once reflects it, subverts it, and expresses it through their fingerprints even when it was being used as propaganda. A voice being misunderstood or being denied space was something I felt compelled to take on as it's just counter to what free expression inherently offers. So, I always knew that I needed to be firmly working to support and advocate to even the playing field. P+B is that boots on the ground, fighting the fight every day organization that I wanted to work for.
5. For those aspiring to work in the arts, what professional advice can you share?
I think while telling someone to follow their passion is cliché and perhaps even sounds mushy, but I do feel it's true. Though it's also critical that once you gain a sense of where that passion lies, you need to come to understand how that can filter into a career path. If you are at an early stage of your career or studies and not yet clear on what area of the arts you would like to pursue, I think it's important to try to gain real work/internship experience from the inside of a variety of options. For example, try working in a commercial setting versus a non-profit, a large institution like the Met vs. a small institution like P+B, or an academic setting and so on…not only will you gain work experience, but also insights into career paths within those various sectors that might be a good fit for you.
Be open and dedicated to learning the existing landscape of the field, even if you find the systems problematic, learn from them before you can understand how to contribute to it in a more inclusive or progressive way or even how best to subvert it. Know the rules before you break them as the saying goes. Even the parts that may seem more mundane, like entry-level work, or administration, they all serve a purpose and are tools that you will need to gain experience in order to serve your larger passion and ultimately to serve the art and culture. Always be on the lookout for mentors who are willing to really help you grow.
6. When you're taking a break from Pen + Brush, how do you like to spend your time in Flatiron and NoMad? What do you love most about these vibrant communities?
I am in love with Madison Square Park and the Conservancy's public art program. The current installation on view by Shahzia Sikander is extraordinary and not to be missed. When in the park, who can resist a classic Shake Shack lunch or dessert. I also love the cart in the park with the breakfast eggs wraps. Juice Press on 22nd Street and the Salt & Pepper deli on 23rd Street are lunch staples at P+B. I really enjoy the fresh perspectives offered through the exhibitions at Poster House on 23rd Street. Barbounia on Park Avenue South and 20th Street, fun cocktail menu and the most delicious hummus fresh bread.
7. Finally, choose three words to describe Flatiron and NoMad.
Electric. Surprising. Home.
Header & Thumbnail Photo Credit:
Installation view of The Ripening at Pen + Brush, New York
Bird Piccininni, courtesy Pen + Brush, New York