Connie Chung, Co-Founder & Chef, Milu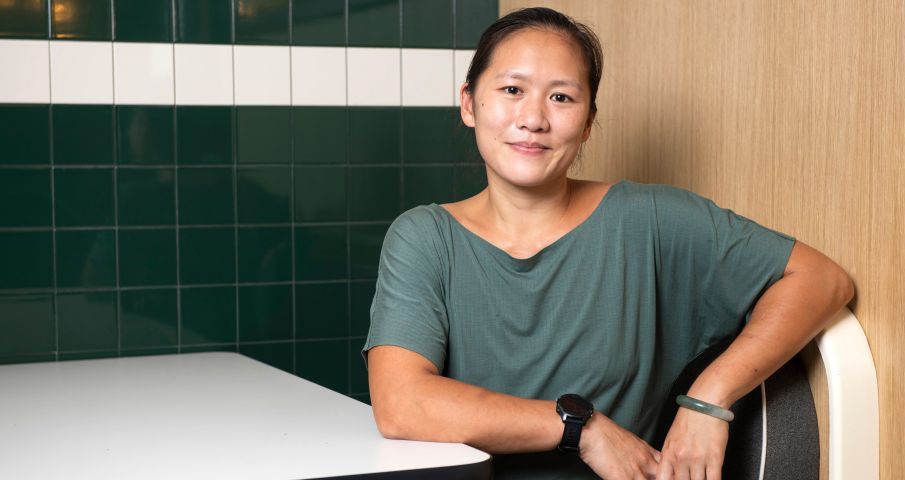 Meet Chef Connie Chung, who co-founded Milu, a fast-casual Chinese restaurant, with business partners Vincent Chao and Milan Sekulic. Located at 333 Park Avenue South, between 24th and 25th Streets, Chung says the restaurant finds its "culinary inspiration from traditional Chinese dishes, as opposed to Chinese American dishes." Milu made its debut in the fall of 2020 and has since earned rave reviews from Eater New York, The New Yorker, and Grub Street and landed spots on Condé Nast Traveler's "the best new restaurants in New York to eat in now" and Eater New York's "15 Exciting New Restaurants Open in Manhattan."
1. Briefly describe Milu and your roles as Chef and Co-Founder. What aspect of your job excites you most?
Milu is a casual restaurant serving modern Chinese cuisine. As Chef and Co-Founder, I develop the menu and oversee daily operations. The most exciting part of my job, by far, is being able to have more control over the menu than ever before in any previous job. There are obviously constraints within the cuisine/concept of the restaurant but this is the first instance where, creatively, I have final say over the menu.
2. Tell us about your proudest moment at Milu.
On our opening day, we were welcomed to the neighborhood with overwhelming support. So much so that we were wholly unprepared for it! We were not staffed to be so busy and, to top it off, we ran out of food and had to close early. It was a humbling moment, from a kitchen and operational perspective. It's never nice to have to turn people away. But at the same time, it was a wonderful moment to know that people were interested in what we were doing. What's even better is people came back after all that, which is amazing!
3. What are your menu recommendations, and what makes these dishes a "must-try"?
For lack of a better word, our "signature" dish is the Mandarin Duck. Duck is my favorite protein, so I knew it had to have a place on the menu. We do duck leg confit so you get all the richness and flavor of duck meat with nice, crispy skin. And then we serve it with duck fat rice, an indulgent alternative to plain white rice. If you're looking for something lighter, the salmon is really great, and pretty unique. We poach the salmon in soy, so it's always moist and tender. And we serve it with broccoli dressed in a yuzu cilantro vinaigrette which is really bright and refreshing.
4. When developing a new dish, what are you passionate about in its creation? Where do you draw inspiration from?
In general, I try to pick a specific dish from traditional Chinese cuisine, such as Hainanese chicken rice or Cantonese steamed whole fish, for inspiration for the flavor profile. But when it comes to execution and technique, I pull a lot from my background in Western kitchens, like duck confit or slow poached fish. But at the end of the day, the most important thing is for the dish to be delicious. Not just, "yeah that's good" delicious, but in your face, "wow that's good, I want more" delicious.
5. Milu opened its doors in October 2020. What was your experience like opening a restaurant during the pandemic?
It definitely had its challenges but there were also some pluses. Obviously, volume of business was drastically reduced from the original intention, so we had to pare down everything, including the menu. We also had to get creative and try to create other outlets for revenue, like our pantry section. But as a positive, we were lucky enough to hire some really talented individuals who were quite suddenly unemployed due to the multiple restaurant closures. And while having fewer customers than originally intended is never good from a business perspective, it did give us an opportunity to iron out a lot of opening snafus and early growing pains with the reduced volume. Almost like a several months-long soft opening!
6. You were a line cook at Eleven Madison Park, and then became Director of Culinary Projects for Make It Nice Hospitality, the team that oversees development for EMP and NoMad restaurant. What major lessons did you take away from these experiences?
Organization and structure are incredibly helpful tools. Restaurant life is full of unexpected challenges–when your vendor shorts you a product you really need, when a party of 10 guests arrives 5 minutes before closing. There's only so much you can do for such occasions. But all of that will be much less challenging if you are properly organized. A good prep list goes a long way.
7. You also earned an undergraduate degree in chemical biology. What led you to pursue a culinary arts career and is there any connection with your background in science?
I think I was about in my junior year when I realized that chemical biology wasn't for me. I started cooking at a relatively young age, helping at least once a week with family dinner. In college, my roommate and I would throw dinner parties for our friends, not necessarily for any given occasion, just for fun. And we both really enjoyed it. I think that is what really inspired me to pursue a restaurant career. I think chemistry and cooking do have a lot in common–putting things together in different ways to create something new, to oversimplify. But maybe, I think, it was my underlying interest in cooking that pushed me to pursue chemistry rather than the other way around.
8. For those aspiring to become a chef, what professional advice can you offer?
Pay attention to everything around you. Listen to what you are told and what you are taught, of course, but also, look at what's going on around you. If you can pick up what your station partner is doing, without being directly taught or told, you will be that much more valuable, and learn that much faster. Also, don't just blindly do what you are told. Ask why. Not to challenge, but to understand the reasoning behind each task.
9. You chose to open Milu in the Flatiron District. What do you enjoy most about the neighborhood?
Honestly, this is the only neighborhood I have ever worked in in NYC so it's kind of like "home" to me. Obviously, Madison Square Park is awesome and I love all of the programs that go on there. I still remember the art installation that was up when I first moved to NYC– the one where there were sculptures of a man all over the park and the surrounding buildings. Very cool. But there's also just so much in the area–shops, restaurants–all you want and need!
10. When you're not in the kitchen, how do you like to spend your time?
With my family, for sure. I spend so much time in the restaurant, and my husband works in a kitchen as well. So the little time that we have off at the same time is very precious to us.
11. Besides having a meal at Milu, where else do you like to grab a bite to eat in the neighborhood? Do you have a go-to dish?
I used to absolutely love getting a Cuban at Sophie's Cuban Cuisine on 23rd Street. So bummed that that location closed. So good, and that green sauce! I also love Bourke Street Bakery on 28th Street. All their baked goods are incredible!
12. Finally, choose three words to describe the Flatiron District.
Energetic. Eclectic. Fun.
Milu, 333 Park Ave South Between East 24th Street and East 25th Street, (212) 377-6403, @eatmilu, Open Monday – Saturday, 11 am – 9 pm
Photo Credit: Evan Sung.