Christina Cho Yoo & Ming Thompson, Co-Founders of Atelier Cho Thompson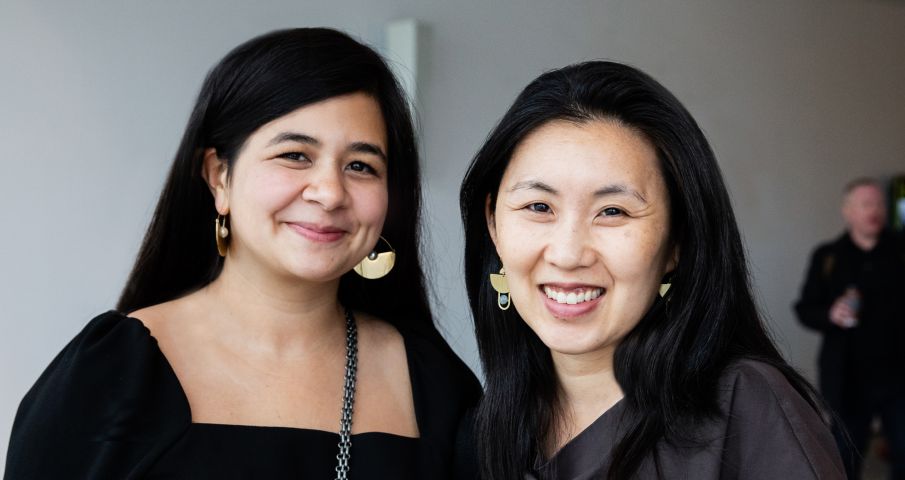 Meet Christina Cho Yoo and Ming Thompson, Co-Founders of Atelier Cho Thompson, this year's winner of the Flatiron Public Plaza Holiday Design Competition presented by the Flatiron/23rd Street Partnership and Van Alen Institute.
Atelier Cho Thompson's art installation will appear on the Flatiron North Plaza at the intersection of Broadway, Fifth Avenue, and 23rd Street as the centerpiece of the Partnership's "23 Days of Flatiron Cheer" program and will be on display from November 22rd through January 2nd. The design's interactive story wall, made of backlit papers hung on a grid, invites visitors to share responses to the prompt: "I dream of a world where together we can…." The resulting narratives will become a patchwork of voices documenting this challenging yet hopeful moment.
1. Congratulations on being selected as this year's winner of the Flatiron Public Plaza Holiday Design Competition for your interactive concept titled Interwoven. What was your reaction upon hearing the news?
CC: We were surprised and excited. When we learned about the other invitees and their designs, we felt even more honored to be considered alongside such amazing firms doing such innovative, meaningful work that not only expanded the scope of what architects do but also who we design for.
MT: This year's group of finalists all share an interest in architecture's potential to have social impact and create hopeful shared experiences for our communities.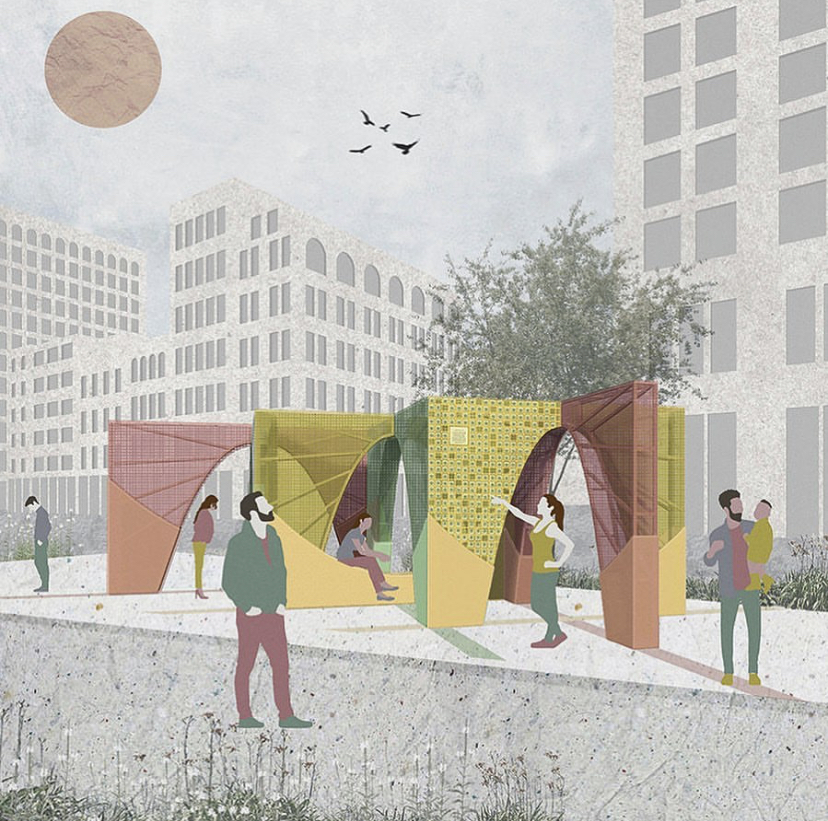 2. Interwoven will appear on the Flatiron North Plaza at the intersection of Broadway, Fifth Avenue, and 23rd Street. You've indicated that your installation "offers a platform for stories and dreams of our future." Tell us more and the inspiration behind your design.
MT: We began with the idea of interweaving; after almost two years, we are all returning to the public spaces of our cities, where our paths and lives will intersect. Our earliest sketches showed criss-crossing arches inspired by agricultural structures and garden trellises. Drawing from the intersecting angles of the site, we explored how we could interweave parabolic arches to create a robust structure and welcoming, dynamic form.
In all of our work, we try to build community around design. We aim to use design to address community issues, like in our Design Brigade program, but we also aim to directly engage people in creating shared design solutions and vision for the future. From the beginning, we wanted to have a story wall component, where people could contribute hopes and ideas to a collage. We were lucky to connect with Youth Fellows from the People's Bus NYC project to create a prompt for those stories.
CC: I've always loved the idea of America as a tapestry of different people because that metaphor implies that all the elements in the cloth retain their identity and need to bend a little to weave together. For better or worse, this pandemic has connected people across the world through a shared experience unlike anything most of us have experienced in our lifetimes. Through the sadness and challenges that we have faced, our installation looks for the silver linings and urges us forward to a more hopeful future as we realize how much we craved connecting with each other in public space.
3. The installation is outfitted with interactive components, including archways activated by color-coded light and musical sensors, a hammock, and benches. What do you hope the public's takeaway will be when experiencing your installation?
MT: Interwoven reacts to human input, and that reinforces the idea that all of us should have the power and the agency to shape our built environment. The architecture of our city isn't stagnant; it's alive, ever-changing, and shaped by the actions of all who wish to have their voices heard. In the words of Elizabeth Alexander in the National Monument Audit, "Our built environment is in motion; it always has been in motion." From our streets to our neighborhoods to our cities, we can all play a role in shaping that motion.
CC: The sensor-activated lighting and musical effects reinforce the idea that people connecting and working together can produce unexpected, beautiful results. We invited musicians to come up with original compositions or to play pieces that responded to the prompt: We possess a fundamental desire to connect with each other through shared experiences and to celebrate our differences. Interwoven offers a platform for stories and dreams of our future. We've faced isolation and we've seen political, socioeconomic, ethnic strife of all sorts. In light of these isolating, trying times, we're wanting to convey a message of hope, as we've realized how interconnected we are and how much we crave connection with each other like never before.
4. You're the co-founders of Atelier Cho Thompson (ACT), an award-winning multidisciplinary design and concept company with offices in San Francisco and New Haven. ACT is also certified as a Women-Owned San Francisco Local Business Enterprise and is a member of the Female Founders Collective. Briefly describe your company, your roles, and what led to your business partnership in 2014?
MT: Christina and I had a dream of creating an architecture firm that went beyond buildings. We have sought to find and build a more humane vision of architecture, one built around the human body and around building community around design.
CC: Ming worked in museums and had a graphic design business prior to architecture school. I was a structural engineer who loved gardening, making furniture, and exhibition design. We believed that architecture had to serve both those with and without a lot of money and resources. We believed design could give agency and a voice to people who typically did not feel like that had those things. Ming and I both yearned for a broader definition of architecture that we could not find in a firm, so we created it.
5. You were classmates at Harvard's Graduate School of Design. What led you to Cambridge, and later, your pursuit of architecture?
MT: I'm from a small town in Appalachia, and I grew up in my parents' wildly creative restaurant in a dairy barn. For my whole life I have simply loved making things, and it was only when a college friend towed me to an architecture class that I discovered that I could make a whole career, a whole life out of that love of making. Since that first moment, I have loved the challenges of architecture, of solving problems, of taking an idea from concept to execution, and of working within and finding opportunities in constraints. We just happened to be assigned desks together in our first year of grad school. After long nights of models and drawings, our friendship was born.
CC: I worked as a structural engineer at Arup prior to architecture school. Working for many years on the California Academy of Sciences by Renzo Piano eventually pushed me over to the other side, i.e., architecture. I loved how the architect could be involved in overseeing everything from the exhibition design to designing the entire building itself, managing many different consultants towards a common goal, teaching people about sustainability through the building design, and surmounting technical challenges of designing a rainforest dome and aquarium in one of the most seismic areas in the world. The possibilities are vast as an architect, and I love that we can be visionaries, pushing the boundaries of what the built environment can be and who it is built for.
6. Speaking of architectural style, Flatiron/NoMad is known for its distinctively-designed properties and public spaces. What's your favorite building or architectural element here in the neighborhood?
MT: I love the view from the Flatiron Plaza––the Chrysler Building in the distance, the ornamented façade of the Flatiron Building, the Metropolitan Life Clock Tower, the new glass towers. It's the layering of history made visible.
7. What do you like most about Flatiron/NoMad? When you're in the neighborhood, how do you like to spend your time?
CC: I live in San Francisco, so it's been a while since I've been in the neighborhood, but I do want to check out Cote Korean Steakhouse/Undercote, abcV, (a vegetarian place by Jean-Georges who never disappoints), and Sugarfish, melt-in-your-mouth sushi I first had in LA. When I'm there soon, I'll make a requisite visit to Shake Shack and probably pick up a LEGO set for my kids at the LEGO store. For work, I'll probably stop by ABC Carpet & Home. Gotta get a little something for my stomach, something for my kids, and then something for work.
8. Finally, choose three words to describe the Flatiron District.
MT: Vibrant. Layered. Interwoven!
CC: Active. Gastronomic. Varied.