Christian Nimand Jansen, Director of Nutrition, Dr Smood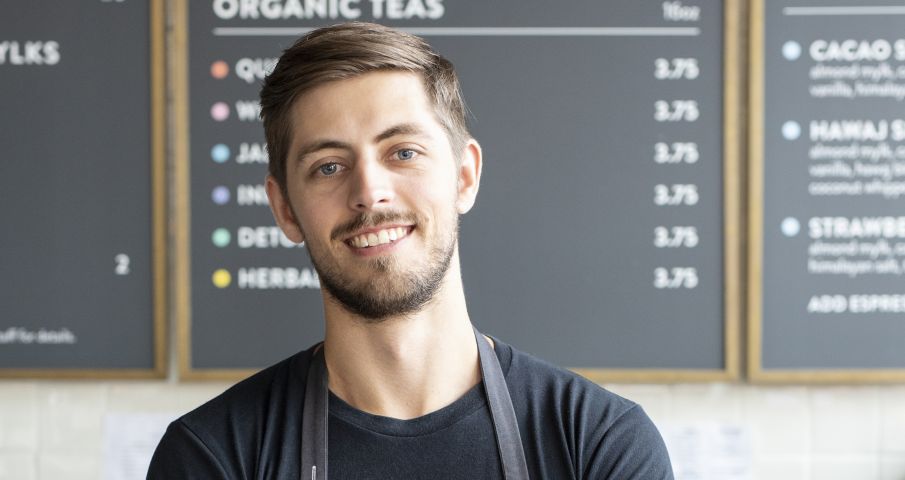 Meet Christian Nimand Jansen, Director of Nutrition at Dr Smood, an organic cuisine café located at 1151 Broadway, between 26th and 27th Streets, in the Flatiron District. "For people who have busy schedules and need healthy food on the go," says Jansen, "Dr Smood can provide the fast casual experience with the healthiest food possible." According to the recent health and wellness trends report At the (Healthy) Heart of New York City issued by the Flatiron Partnership, the health and wellness industry has grown significantly in the district. Here, Jansen shares his expertise on Dr Smood's approach to nutrition, his favorite foods, and maintaining his work-life balance.
1. Briefly describe your position as Director of Nutrition at Dr Smood.
I'm involved in the R&D (research and development) and product creation from ideation to launch in our stores, which includes internal nutritional education and staying up-to-date with the latest research.
2. Dr Smood was founded by Danish businessman René Sindlev and his wife Patrizia, who wanted to create cafés with organic and healthful cuisine backed by real nutrition science. What led you to work with the Sindlevs? And can you share with us the meaning behind the company's name?
I met René back in Denmark while finishing my studies in 2014. It was actually during the first tasting of our Performance Bread, where he also shared his vision of this new concept, of what was to become Dr Smood: Smart Food (Smood). It's the dream of moving away from highly processed fast food and essentially create the healthy "fast food" of the future, which revolves around wholesome certified organic ingredients, all sourced from the best farms.
3. Dr Smood's food menu consists of health benefits linked to six moods: Power, Beauty, Immunity, Detox, Energy, and Health. Tell us more.
The moods are meant to guide and simplify what to choose, depending on what you're "in the mood" for. For example, if you're looking for higher protein content, you go for the Power mood. If you're feeling under the weather or simply want to keep your immune system in high gear, you go for the anti-inflammatory foods from the Immunity mood. It's important to note that nutrition is very complex and even though each mood has specific characteristics, there will always be many benefits since nutrients have multiple functions within the body.
4. What are some of your favorite Dr Smood items? Do you have any new items you're working on that you'd like to share?
If I had to chose one item that I could eat every day, it would be our avocado toast with wild salmon, the matcha latte made with our cashew mylk and a ginger-lime booster. Without getting too nutritional, I feel those give me the best all-round protein, fat, and fiber for satiety, it's easy to digest and the L-theanine found in matcha gives a mental focus boost. The ginger-lime also helps with digestion and to reduce any inflammation. And it doesn't hurt that it tastes amazing too.
We're currently working on some more hearty grain and salad bowls for our winter menu, which allows for more lunch and dinner options, along with Dr Smood-styled baked goods for those with a sweet tooth to compliment their coffee.
5. You've earned a college degree in global nutrition and health. What initially led you to consider a career in nutrition? What's the best advice you can offer to those who are interested in pursuing a career in nutrition?
I grew up playing tennis and golf on a rather competitive level, which led me into a very active lifestyle in my late teens. I think it's a natural process, that you start learning about the role food and nutrition plays in order to train and recover more efficiently. I quickly realized that just scratching the surface of nutrition and physiology wasn't enough for me, and got very hooked on the science behind food.
My best advice for anyone wanting to study nutrition is staying up to date with relevant research and put ego or beliefs aside. It's so easy to be biased and subjective, which can lead you to be very narrow-minded or force your own reality to fit the actual science or lack of science. I would recommend that you stay open and be prepared to be proven wrong on what you read or heard.
6. What do you think are the biggest misconceptions about nutrition? Any wacky nutritional myths you'd like to clear up? What do you do to keep up to date with your profession?
The more I learned, the more I realized how much we still do not understand completely in the nutrition field. I see a lot of trends surfacing and many people giving in to such trends in order to stay relevant.To be honest, I think that people should be hesitant to follow anyone's advice, whose blindly claims that they have the one true answer to all your lifestyle diseases or issues. I try to follow those that are considered expert researchers in each of their fields and more often than not, they stay humble and honest about the fact that we actually know very little about the full picture of nutrition and health.
In the end, it's never a one size fits all and rather than trying to debunk a myth, my best advice is to find what works for you and then stay consistent and be patient. I've always had the best results when either having specific goals, short- or long-term or some kind of accountability partner in the form of a coach or friend to be part of my journey from point A to B.
If veganism, keto, fasting, bulletproof coffee, celery juice, Weight Watchers, etc. works for you and you can commit to it long term as a lifestyle, I don't see anything that should prevent you from doing it. Obviously, some might be more overall effective than others, and simply adding butter to your coffee probably won't make you reach a weight loss goal. Just don't try to be a breatharian (living on air and light alone). I'm pretty confident that won't go well for you.
7. Switching gears to your life outside of work–how do you like to spend your time away from Dr Smood?
When I lived in Denmark, I coached tennis while studying, which kept me pretty active. I had amazing colleagues and a great community, so most of my time was spent between the club and staying active. I lived in Miami for a couple years while we opened up the first Dr Smood there. It allowed me to have an active outdoor life with tennis, golf, scuba diving, and enjoy a bit of the Miami nightlife. I'm still adapting to New York City with the much faster pace, so my day pretty much starts with a CrossFit class at 6.30 a.m., which I feel is the best way to get a head start on the day. I'm not a morning person, but after a long day of NYC pace, I'm not sure that I'm an evening person anymore either. To unwind at home, I do binge some TV shows with my fiancée or spend time on my PS4.
8. When it's time to grab a bite, where else do you like to dine in the neighborhood? Do you have a go-to dish?
I mostly eat home-cooked meals and get orders from Thrive Market for shelf stable products like nut butters, almond/oat mylk and bars or Misfits Market for fresh veggies that were too "ugly" and didn't fit the requirements for the "beautiful" supermarket veggie aisles.
My breakfast is usually eggs and a smoothie at home, lunch is an avocado toast or tuna wrap and dinner is grains, greens and wild salmon, chicken, or some kind of veggie patty. I pretty consistently eat the same things, but I'm not fanatic and must admit that Shake Shack does make a pretty good burger.
9. Outside of your venue, what's a "must-see" or "must-do" hidden gem in the community?
Giving credit to my Danish heritage, the bakery Ole & Steen recently opened up in the area and they do make a very good strawberry tart and bake great rye bread, which reminds me of home.
10. Finally, choose three words to describe the Flatiron District.
Culinary. Innovative. Community.