Benjamin Cadena, Founder, Studio Cadena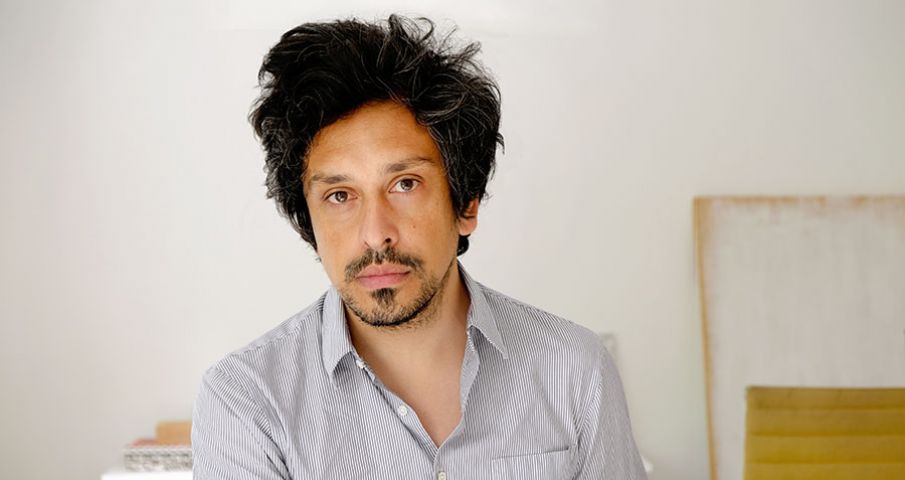 Benjamin Cadena, Founder of Studio Cadena and Winner of the 2018 Flatiron Public Plaza Holiday Design Competition 
Meet Benjamin Cadena, Founder of Studio Cadena and winner of this year's Flatiron Public Plaza Holiday Design Competition. Cadena's installation, Happy, will be on display on the Flatiron North Public Plaza from November 19th through January 1st. "I hope that the installation helps highlight the continued importance of public space in cities," says Cadena.
1. Congratulations on being selected as this year's winner of the Flatiron Public Plaza Holiday Design Competition for your installation, Happy. What was your reaction upon hearing the news? 
I was very, very happy.
2. Tell us about Happy. What was your inspiration for the installation and its name?
The idea for the design was to create an installation that could project a sense of warmth that we often associate with happiness–to induce a feeling rather than simply provide an image or a function. Although it exists as a temporary folly in the City, I also saw it as an opportunity to inscribe a small pocket of public space in the City which, by filtering the surrounding context, could create a warm space within. The name itself is aspirational and seeks to conjure an ideal or ambition that we all share. 
3. What do you hope will be the public's takeaway when experiencing the artwork?
More than a hundred years ago, across the street in Madison Square Park, the Rocking Chair Riots helped spark a discussion about public space in New York that continues to this day. We need to continue to carve out and design quality spaces accessible to all within the City. Also, my broader ambition is quite simple: I hope they smile.
4. In addition to your work with Studio Cadena, you're also an Adjunct Assistant Professor at Columbia's Graduate School of Architecture, Planning and Preservation. What inspired you to study architecture, and what advice do you have for those who may also be interested in the field?
With both my parents being architects, architecture has always been part of my life in one way or another. I initially sought a different path studying economics as an undergraduate and briefly worked in finance before drifting back into the world of architecture. It's a very rich and multifaceted creative field where you get to shape the world we live in, but it takes a lot of work and dedication. My advice for those interested in the field is to learn as much as you can by going to lectures, events, and exhibitions where you can get a sense of what the profession might entail and see if it's a world that you can fall in love with as I did.
5. A number of your designs can be found in South America, including your homeland of Colombia. What does your continued presence there mean to you?
It's where I grew up, so there will always be a part of me that is connected to Bogotá. I think there is great opportunity, too, for younger architects to build there and get more responsibility early on in their careers, which can be a challenge in places like New York. It's also a place where there is still much to be done to have real impact on communities. I hope to continue to find work there.
6. In addition to being an award-winning architect, you co-founded talk20, a series of lectures and public forums organized in cities around the world. Tell us more. 
Talk20 was a great project that started in graduate school and lasted for about a decade in many cities around the world and still continues to live on. It was a live magazine that brought together architects, artists, and other creatives in different cities to share and showcase their work with a live audience. I've continued to be engaged in shaping and contributing to New York's creative community by organizing events like 24x24x24 this summer at Storefront for Art and Architecture and a series last year called New Local, which brought together designers, leaders, entrepreneurs, and policymakers to exchange and generate ideas to shape the future of cities.
7. Your award-winning design and architecture studio is based in Brooklyn. When you cross the East River, where do you like to go to grab a bite to eat in the Flatiron District? And, what's your go-to dish?
Every time I find myself around Flatiron, I love to just wander into Eataly to browse around their stalls and invariably come out with more food than I should eat. I always end up with some gelato on the way out. On special occasions, I would say not to miss Cosme for some quality Mexican food. 
8. What do you consider a "must-see" or "must-do" here in the neighborhood?
Obviously, the Flatiron Building is the must-see landmark, but in the summer, Madison Square Park is a great place to sit on the grass on a sunny day. If you like ping pong, it's also great to head over to SPiN for a drink and a game. 
9. What's your favorite building or architectural element in the area?
The Flatiron Building by far. It encapsulates the architectural ambitions of the City.
10. Finally, choose three words to describe the Flatiron District.
Fun. Classic. Happy.
Photo Credit: Studio Cadena