Allison Nye, VP of Operations at Birchbox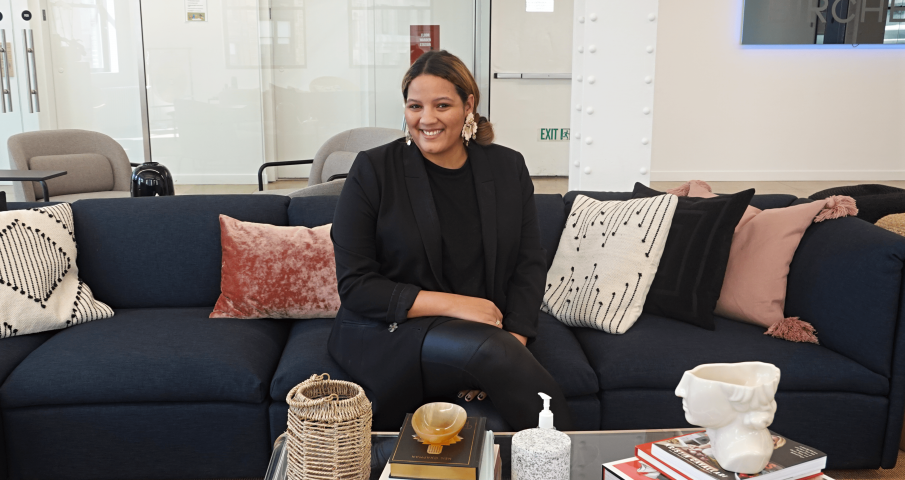 Meet Allison Nye, VP of Operations at Birchbox, an online retailer that offers a box of curated beauty samples on a monthly basis to more than 1 million subscribers. The e-commerce business is headquartered in the Flatiron District at 16 Madison Square West on Broadway between 24th and 25th Streets.
1. Birchbox's motto states, "We are more than beauty & grooming." Tell us more about your mission, and what sets you apart from other e-commerce businesses in wellness and beauty. 
Birchbox is 100% tailored for the casual beauty consumer, someone who is not obsessed with beauty or grooming, but who values the utility and enjoys the discovery. When a customer becomes a subscriber, they immediately fill out a beauty or grooming profile in order to receive personalized samples to try. Once they find a product they love, subscribers can purchase full-size versions on our website and feel great about the transaction instead of worrying that their investment will end up unused in their product graveyard.
2. Briefly describe your role as VP, Operations. What aspect of your job most excites you?
As VP of Operations, I oversee Operations, Customer Operations, Retail, and People & Culture. I collaborate with the leadership team to create company goals, set strategy and innovation for the future, and foster an environment where our people enjoy spending their time.
I definitely get excited by problem-solving and building efficiencies, but my ultimate passion lands with the people. I am impressed and motivated by our team's level of creativity, their candidness, and their ability to execute or pivot based on business needs. As a leader of People & Culture, I support and maintain our open-door culture where all questions and ideas are welcome, and all expectations are clear so we can continue to foster our unique environment of exceptional employees.
3. Birchbox was co-founded by two women, Katia Beauchamp and Hayley Barna, and you are a member of a mostly female leadership team. How has this shaped the culture at Birchbox?
I believe that a strong culture is shaped by a leadership team who isn't afraid to ask questions, be candid, and be challenged. I found these qualities in Birchbox when I first joined the team in 2014. Our female leaders instilled an artful balance of confidence and transparency that allowed me to feel safe to ask questions, advocate for change, and approach all levels of leadership for guidance throughout my career.
What I appreciate most about the culture at Birchbox is that this is just our norm. The culture originated by our co-founders has lived on through the years of Birchbox, which keeps me inspired to this day.
4. March marks Women's History Month, and Birchbox is actively involved in the gender equality movement. For example, Birchbox's Female Founder Collective and Women Take Tech initiative in partnership with the Flatiron School. Tell us more about these projects and how they came to be.
As a women-founded business, we've always felt it was really important to support our community beyond the box. Since the beginning, we've intentionally focused on featuring women-founded beauty brands and highlighting women in our community of customers across our website, email, social channels. A few years ago, we started feeling like it wasn't enough to just talk about the amazing women who are part of the beauty community. We wanted to take it a step further, so we created a program called the Future Starts Now Fund to empower our customers. A handful of times each year, we pick one winner and give them $5,000 to put toward a dream of theirs. Nine winners later, we are in our third year of running the Fund and applications are live now for March's Women's History Month-themed award!
In addition to the Fund, we also make it a point to partner with women-founded businesses as frequently as possible. Katia Beauchamp, our co-founder and CEO, and fashion designer Rebecca Minkoff became friends while being judges on a TV show a few years ago. When Rebecca came to us with the idea to partner with her network, the Female Founder Collective, to bring attention to some of the women-run businesses that are members of the FFC, it was a no- brainer. A lot of the women-run companies we partner with are recommended to us through the network, but we also reach out to companies we come across and get a lot of cold emails too. It's really important to us to give women access to our platform and community– we have to support each other and lift each other up, regardless of whether it's going to drive sales for us or not.
5. Getting back to beauty, what are some of the most requested Birchbox products among customers, and what items do you personally consider to be must-haves?
This is my favorite part to talk about. In addition to our subscription service, we get great reviews on our Birchbox Discovery kits. These kits are curated by our merchandising team and are an affordable way to try out new products. These kits are some of my favorite things to purchase from Birchbox because I definitely self-identify as a casual beauty customer. I am busy and do not have time to find what products work the best for me, so I spent the majority of my life with the same, limited, beauty routine.
My all-time favorite, cannot live without product is Arrow Boost Color Enhancing Lip Balm. If you haven't tried it, the time is now! It is the perfect blend of a hydrating lip balm while adding just a hint of color that I feel comfortable wearing all day long. Prior to my subscription, I never knew I needed this product and now I have one in my purse, my desk drawer, and in my makeup bag.
My go-to hair product is Beauty Protector Protect & Detangle. As a curly girl who likes to style and put heat on my hair, I am constantly looking for products to hydrate and protect. This product smells delicious and it has so many benefits in one bottle. It hydrates, works as a heat protector and adult detangler to protect my curls from breakage and damage between haircuts.
6. In 2018, Birchbox unveiled a partnership with Walgreens, which rolled out dedicated Birchbox spaces in select locations. What were the reasons behind launching an in-store shopping experience, and how have customers responded?
We decided to partner with Walgreens because it was an incredible opportunity to learn from a very established retailer. Walgreens brings so much retail expertise and we are excited for the opportunity to innovate, test, and learn about what customers want when shopping for beauty/grooming in an offline environment.
I believe there is something special about experiencing a digital brand in a physical way, but one thing we were mindful of was creating stores that were equally useful as they were enjoyable. We are still in pilot mode, but we are excited that the customer response has been overwhelmingly positive both in utility and experiential qualities of our brand.
7. What's the best advice that you can offer to those who are interested in pursuing a career in retail and customer operations?
It starts with the customer–be obsessed with learning from them and make sure to stay connected.
In my experience, the operational parts of the job seem bigger in the beginning, but rarely change over time in your career. I leaned on my managers to coach me through the operational responsibilities, but I had to develop my own customer insights through my own experiences so I could bring my personal perspective when it came to strategic innovation.
As I started to develop and grow in my role, I had to protect that touchpoint to the customer so I didn't lose my capability to create the right experiences for them. I feel inspired when I am around our customers. They are more engaged and dedicated to the success of our brand, and I want to build something that they will love and continue to love.
8. Birchbox opened its corporate headquarters in the Flatiron District in 2013. What makes Flatiron such a great fit for the BB team, and what do you enjoy most about working in this neighborhood?
The energy! The people who work at Birchbox are fast-paced, active, and motivated by new things, and there is always something to see and do in the area from pop-up activations in front of the Flatiron Building to educational installations in Madison Square Park.
9.  When it's time to grab a bite to eat in the area, where do you like to dine in the neighborhood? What's your go-to dish?
maman for caffeine. Trattoria Italienne for happy hour. Tacombi for esquites and egg tacos. Eataly for everything and anything.
10. Finally, choose three words to describe the Flatiron District.
Energetic. Convenient. Dynamic.