Shop Local for the Holidays in Flatiron & NoMad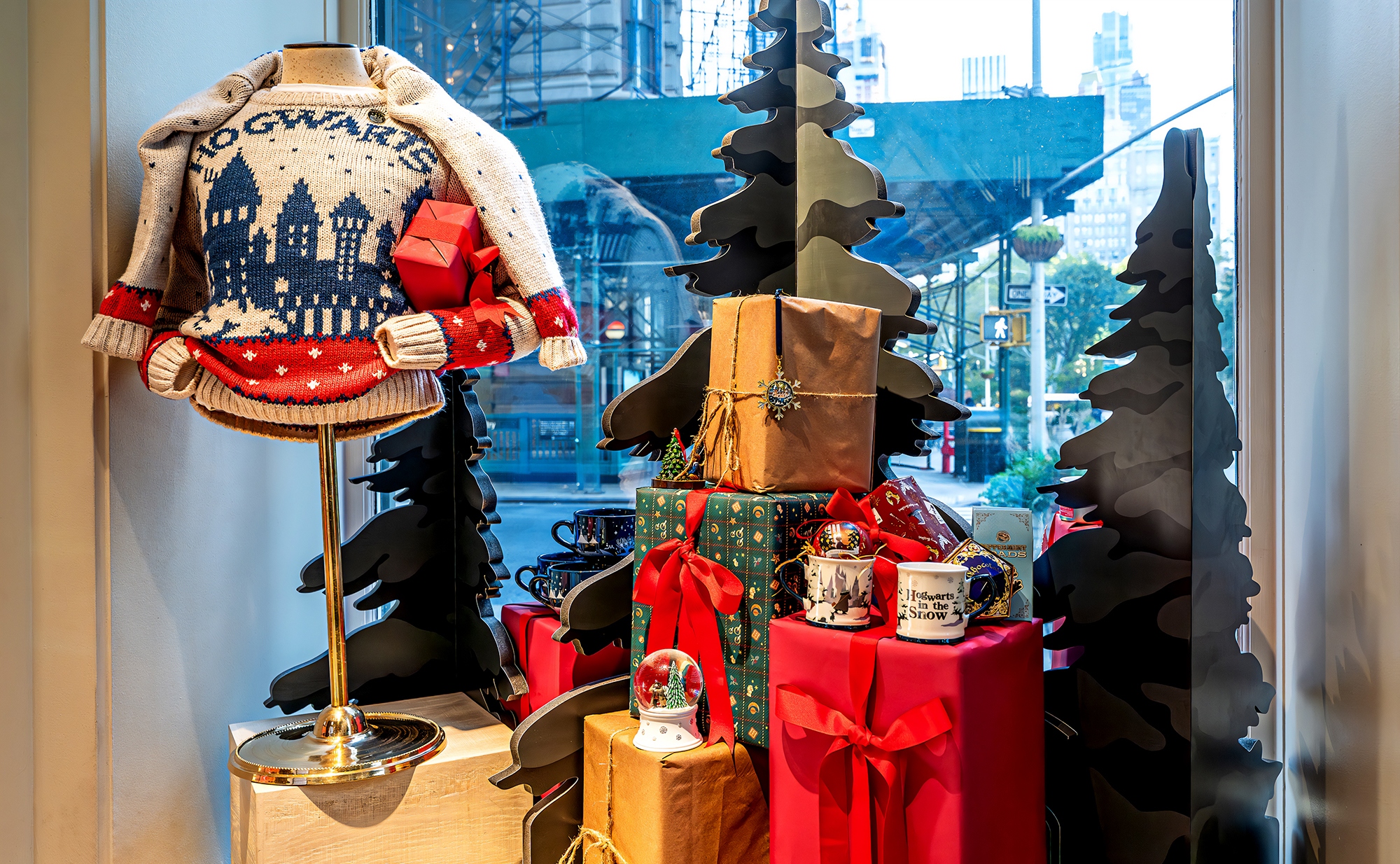 Find gifts for everyone on your list in Flatiron & NoMad! We've put together a gift guide with a wide variety of ideas from children's toys to men's and women's apparel, bestselling books, and cameras.
Apparel
Alo Yoga, 164 Fifth Avenue, (347) 394-2770, @aloyoga
Alo Yoga offers men's and women's activewear including, tops, pants, leggings, shorts and sweatpants, as well as yoga essentials such as mats & blocks.
Club Monaco, 160 Fifth Avenue, (212) 352-0936, @clubmonaco
Gift chic pieces from Club Monaco which offers stylish clothing for men and women from business casual to weekend wear.
Jacadi Paris, 911 Broadway, (332) 345-8208, @jacadi_officiel
For kids, gift Parisian-inspired children's clothing and shoes from the fashion boutique, Jacadi Paris. Explore the Holiday Gift Shop for toddlers and kids.

Johnston & Murphy, 200 Fifth Avenue, (212) 242-1636, @johnstonmurhpy
Johnston & Murphy offers a selection of shoes, apparel, and leather goods for men and women. Shop men's blazers, wallets, and scarves, and women's boots and jackets this season.
Knot Standard, 19 West 24th Street, (646) 512-9770, @knotstandard
Gift custom menswear and womenswear at Knot Standard. Featuring luxury fabrics and personalized style advice, shop for suits, skirts, pants, and matching sets.
Peter Manning NYC, 933 Broadway, (800) 564-1227, @petermanningnyc
Shop for high-quality men's clothing for shorter heights, including casualwear from pants, shirts, and jackets.
State & Liberty, 176 Fifth Avenue, (929) 944-1211, @stateandliberty
State & Liberty offers men's clothing designed for athletes. Gift athletic fit clothing made with lightweight performance fabrics, including dress shirts and suits, jackets, and accessories.
TTH Vintage Boutique & Noir et Blanc Style Cooperative, 40 West 25th Street, (212) 206-1174, @tthvintageboutique & @noiretblanc_
The upscale resale boutique offers a curated selection of gently used vintage, new, and used men's and women's clothing as well as home décor items. Net proceeds support the non-profit, Hearts of Gold, that supports homeless mothers and their children. Noir et Blanc is a contemporary, French-inspired boutique offering fashion-conscious apparel, shoes, and accessories.
Thursday Boot Company, 48 West 21st Street, 2nd Floor, (917) 261-6911, @thursdayboots
Head over to Thursday Boot Co. to shop high-quality boots for men and women that are comfortable, durable, and stylish. Plus, quality leather jackets and accessories like belts and wallets.
Todd Snyder, 25 East 26th Street, (917) 242-3482, @toddsynderny
Todd Snyder carries craft menswear such as apparel, shoes, and accessories. Shop the gift guide and choose from sweaters, boots, leather wallets, and gloves.
YEOHLEE, 12 West 29th Street, (212) 244-8635, @yeohleeny
An award-winning fashion designer, YEOHLEE, sells sustainable, zero-waste clothing for all ages and sizes. Shop a selection of women's tops, pants, skirts, dresses, one-of-a-kind pieces, and accessories.
Retail
10/10 Optics, 50 Madison Avenue, (212) 510-8183, @1010optics
At 10/10 Optics, gift stylish sunglasses from brands such as Ray-Ban, Tom Ford, and Prada.  
Aesop NoMad, 1165 Broadway, (646) 476-7737, @aesopskincare
The luxury skincare brand Aesop is offering their Resonant Gestures collection of Gift Kits this holiday season. Shop a selection of five unique Gift Kits: Majestic Melodies, Heartful Harmonies, Tuneful Textures, Fabulous Forms, and Rousing Rhythms.
bodē nyc, 182 Fifth Avenue, (212) 206-9400, @bodenyc
bodē nyc offers original hot yoga, HIIT, Vinyasa, and Yin Yoga classes. Gift a first timer a 1-week welcome class package.
Foto Care, 41 West 22nd Street, (212) 741-2990, @fotocarenyc
For professional or amateur photographers, Foto Care offers cameras, lenses, film, and essential accessories.
Herman Miller, 251 Park Avenue South, (212) 318-3977, @hermanmiller
Upgrade your office or home with comfortable ergonomic chairs, the iconic Eames lounge chair, standing desks, lighting, and décor from the innovative furniture design brand, Herman Miller.
J & M Hardware, 19 East 21st Street, (212) 673-6050
Find gifts for the home improvement pro. J&M Hardware offers expert advice to help you find the right gift whether it's equipment or tools. Plus, an assortment of winter gear, including quality gloves and socks.
Jung Lee NY, 25 West 29th Street, (212) 257-5655, @jungleeny
At Jung Lee NY discover gifts from unique housewares from glass vases to scented candles, diffusers, pillows, and throws.
Le Labo, 14 West 29th Street, (Inside Ace Hotel), (212)-532-7206, @lelabofragrances
Discover the perfect scent for your loved one at Le Labo, purveyor of fine fragrances, candles, and bath & body products. Gift a signature perfume like Rose 31 or create a personalized, unforgettable scent.
Lovesac, 927 Broadway, (646) 590-7502, @lovesac
The furniture store offers high-quality bean bag chairs, sectionals, and accessories. Shop their Black Friday event and enjoy up to 35% off.
MAISON 10, 4 West 29th Street, (646) 590-1291, @maisonten
The concept boutique highlights products from talented designers and artists across ten categories from beauty to well-being. Shop eclectic items as well as jewelry, skincare, and home goods.
MALIN + GOETZ, 1141 Broadway, (347) 967-4100, @malinandgoetz
MALIN + GOETZ is inspired by the diversity, inclusivity and energy of city living. Designed for every skin type, tone and gender, MALIN + GOETZ offers high-quality, easy-to-use skincare, fragrance, and candles that fit into your modern lifestyle. Shop their Holiday by Design gift sets here.
Memories of New York, 206 Fifth Avenue, (212) 252-0030, @memoriesofnewyork
Find the perfect souvenirs for gifts from Memories of New York. From "I Love NY" t-shirts to snow globes and keychains, these gifts encapsulate the Big Apple. Grab an NYC-inspired ornament and a 2024 calendar!
Rëzo Salon, 226 Fifth Avenue, (917) 409-0292, @rezosalon
Rëzo Salon specializes in all curl types and promotes perfect hair balance and shape. Gift hair care products, including Curl Manifest Shampoo + Conditioner and Curl Manifest Hair Serum. 

The Ritz-Carlton New York, NoMad Spa, 25 West 28th Street, (212) 404-8430, @ritzcarltonnewyorknomad
Enjoy a serene oasis at The Ritz-Carlton New York, NoMad Spa. Receive a complimentary gift when you receive The Method Facial (90 Minutes) or The Rose Quartz Remedy (90 Minutes). For more information please visit here or call (212) 404-8430.
Rizzoli Bookstore, 1133 Broadway, (212) 759-2424, @rizzolibookstore
For book lovers, shop bestsellers as well as photography, cooking, fashion, and design books. You can also gift a 6-month or 1-year book subscription. The bookstore also carries art sets for adults and children, beautifully designed journals, and puzzles.
SHOP @ The Jewelry Library, 1239 Broadway, Suite 801, @thejewelrylibrary
SHOP offers a monthly curation of contemporary and vintage jewelry for men and women. The holiday shop, open through December 21, features sparkly jewelry, handmade ornaments, books, cards, candy, and more unique gifts for the season.
sundays nail studio, 51 East 25th Street, (646) 998-5711, @sundays_studio
Shop for non-toxic, vegan, and cruelty-free nail polishes at sundays nail studio. Explore best sellers and boxes & kits.
WTHN, 20 West 22nd Street, (646) 558-9846, @wthn
Shop for wellness and de-stress gifts at the acupuncture studio WTHN. Gift an acupressure mat set, a rose quartz eye mask, and herbal supplements.
Food & Beverage
Bourke Street Bakery, 15 East 28th Street, (718) 744-4803, @bourkestreetbakerynyc
The Australian-founded bakery bakes delicious in-house breads, pastries, and cakes. Gift a signed cookbook, All Things Sweet: Unbeatable Recipes from the Iconic Bakery.
Devoción, 25 East 20th Street, (718) 285-6180, @devocionusa
At Devoción, gift coffee beans sourced from hand-selected farms in Colombia such as house and limited-edition blends. Also, gift Devoción branded merch like to-go tumblers and mugs.
Eleven Madison Home, 11 Madison Avenue, (212) 889-0905, @elevenmadisonhome
The Michelin-starred plant-based restaurant Eleven Madison Park offers gifts for the home chef, from pantry staples to kitchen essentials. Shop their Gift Boxes, including the Granola Trio featuring Apple Cranberry, Cherry Pistachio, and Chocolate Hazelnut.
Gumption Coffee, 940 Broadway, (646) 822-2648, @gumption_nyc
Gift a variety of bean blends such as latte, espresso, and decaf from the Australian coffee company Gumption. For the new coffee enthusiast, buy the Coffee Bean Trio featuring 12oz of the Go with Greatness blend, 12oz of the Goodness Galileo Blend & 12oz of a single estate. Pair with an Aeropress Coffee Maker and Gumption Bean Tumbler.
Hawksmoor NYC, 109 East 22nd Street, (212) 777-1840, @hawksmoornyc
Gift a cookbook from the award-winning British steakhouse. Hawksmoor: Restaurants & Recipes includes favorite recipes and stories from the restaurant team. All proceeds go towards the charity Action Against Hunger.
Lady M Confections, 1178 Broadway, (212) 452-2222, @ladymcakes
Celebrate the season by gifting a Festive Delights Advent Calendar from Lady M Confections. Miniature holiday boxes open to reveal an elegant custom ornament as well as an assortment of exclusive candies and artisanal crêpe biscuits from Lady M Bon Bon.
maman, 22 West 25th Street, (646) 476-7660, @_mamannyc_
French-American café and bakery maman offers tasty baked goods, breakfast, and lunch. This holiday season, gift a It's Beginning to Look a Lot Like Christmas Box which includes 8 or 12 cookies, 1 petite tea cup ornament, 1 glass ball ornament, 1 toile ornament, 1 croissant ornament, and a morning at maman candle. More festive ideas include a Bakers Box featuring 8 or 12 cookies, a cookbook, wooden spoon, and 2 tea towels. For the coffee or tea lover, gift a stainless steel Maman Tumbler.
Milk Bar, 1196 Broadway, (347) 974-4975, @milkbarstore
Founded by Christina Tosi, Milk Bar creates unique, decadent treats. Shop their bestselling desserts or seasonal favorites. For the aspiring baker, gift one of Christina Tosi's cookbooks, such as Milk Bar: All About Cookies.
Wine & Spirits Market, 676 Sixth Avenue, (212) 206-7900, @wineandspiritsmarket
Find a new and notable bottle of wine, spirit, or sake great to share with loved ones from Wine & Spirits Market.
Zaytinya, 1185 Broadway, (212) 804-9070, @zaytinya
For the aspiring chef, gift The Zaytinya Cookbook by José Andrés that will feature 150 recipes. Pre-order your copy. Also, gift Zaytinya branded olive oil available for purchase at the restaurant.
Experiential
Cheryl Rubin Studio & Gallery, 28 West 27th Street, Suite 403, (917) 859-1482, @cherylrubin
Give the gift of local artwork this season. Cheryl Rubin Studio & Gallery showcases the work of Flatiron & NoMad artist Cheryl Rubin who creates contemporary abstract paintings. Shop her artwork online. Studio & Gallery visits available by appointment.
Empire State Building, 20 West 34th Street, (212) 736-3100, @empirestatebldg
Take a short walk north from the Flatiron Public Plazas to explore the iconic Empire State Building. Once there, head to the 86th Floor to experience a one-of-a-kind open-air observatory offering 360° views or go higher up to the 102nd Floor to take in floor-to-ceiling window views across NYC and beyond, great for taking frame-worthy photos. Purchase tickets here.
Fotografiska Gift Shop, 281 Park Avenue South, (212) 433-3686, @fotografiska.newyork
The NYC location of the renowned Swedish photography museum, offers a ground-floor gift shop featuring photography books, posters, apparel, and exhibit-related gifts. Gift a museum membership for a year and your loved one will receive access to exhibitions, special events, and programming.
Harry Potter New York, 935 Broadway, @harrypotterny
At Harry Potter New York shop the wizarding world for gifts such as personalized wands, sweets from the confectionary, and apparel.
LEGO Store, 200 Fifth Avenue, (212) 255-3217, @lego
For kids, LEGO offers themed and exclusive sets featuring Disney, Harry Potter, and Star Wars that spark creativity and imagination. Also, shop LEGO apparel and accessories.
National Museum of Mathematics Gift Shop, 11 East 26th Street, (212) 542-0566, @momath1
The MoMath gift shop has creative & fun gifts for kids including puzzles, toys, games, and children's books.
Pen + Brush Gift Shop, 29 East 22nd Street, (212) 475-3669, @penandbrushnyc
Shop paintings, apparel, publications, and photographs from Pen + Brush, the 128-year-old visual and literary arts nonprofit.
Poster House Gift Shop, 119 West 23rd Street, (917) 722-2439, @posterhousenyc
The perfect guest at any party, the Poster House Shop's Penguin Cocktail Shaker stands tall amongst standard mixology tools to set your bar collection apart. While you peruse a handpicked selection of unique gifts, grab a drink in the Café des Affiches or visit the newly unveiled exhibition, Art Deco: Commercializing the Avant-Garde.
Premier Indoor Golf, 1 East 28th Street, 3rd floor, (646) 657-0174, @premierindoorgolf
For new or longtime golf lovers, buy an e-gift card to Premier Indoor Golf so your loved one can practice or play a full round.
The Ritz-Carlton New York, NoMad, 25 West 28th Street, (212) 404-8400, @ritzcarltonnewyorknomad
Experience a holiday staycation with a loved one or your family by reserving a festive package at The Ritz-Carlton New York, NoMad. This luxurious experience includes an overnight stay in a Club Level Suite, in-room décor by luxury florist, FLOWERBX, access to a MarieBelle New York tasting at their flagship location, Santa's Elves turndown, and a welcome bottle of Moet & Chandon. For more information, please visit here.
SOUK Yoga Studio, 12 West 27th Street, 2nd Floor, (929) 459-8938, @souk.studio
SOUK is a contemporary yoga studio centered around connection and community. Whether looking to begin or deepen your practice, buy your loved one a gift card to use towards classes. With every gift card purchase, you'll receive a credit.
Swingers Crazy Golf, 35 West 29th Street, (646) 661-3509, @swingersus
Enjoy mini golf, tasty street food, and cocktails in a theatrical space unlike any other at Swingers. Gift your friends or family a Sunday Set which includes, unlimited crazy golf for 2 hours, bottomless drinks for 2 hours, street Food to the value of $25, dessert with street food voucher, and a reserved table.
Header & Thumbnail Photo Credit: Harry Potter New York