Flatiron NoMad Partnership Announces Interactive Installation 'Control No Control' as Centerpiece of 'Winter Glow' Holiday Program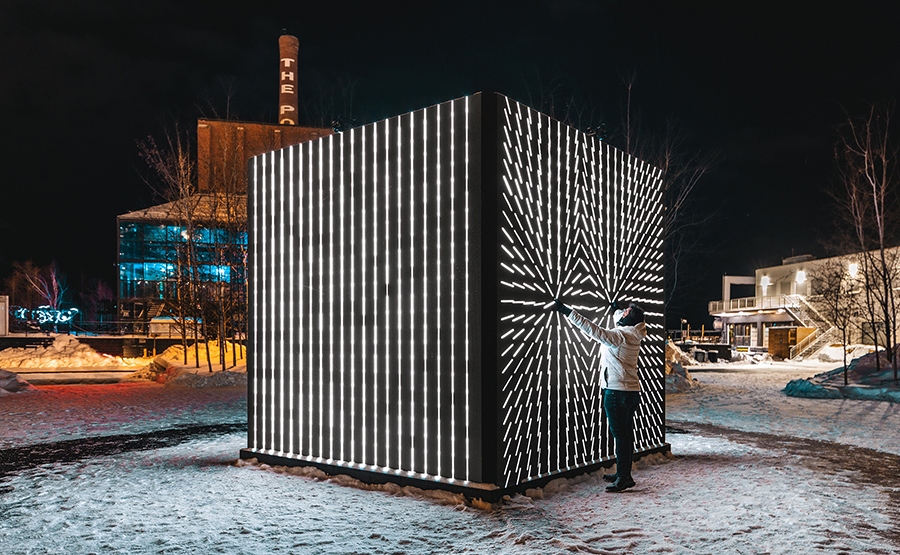 – Giant LED cube, created by digital art studio Iregular, reacts to touch, allowing participants to create unique patterns and sounds together –
– CLICK HERE for video showcasing Control No Control's interactivity –
– CLICK HERE for images of Control No Control –
NEW YORK, NY – The Flatiron NoMad Partnership today announced it will present the New York City debut of Control No Control – a large-scale interactive installation by digital art studio Iregular – on the Flatiron North Plaza at Broadway, Fifth Avenue, and 23rd Street, as the centerpiece of its new Winter Glow holiday programming. Presented in partnership with the New York City Department of Transportation's Art Program (NYC DOT Art), Control No Control will be on view from November 30, 2023, through January 1, 2024, creating a highly visible landmark in the heart of Manhattan's vibrant Flatiron and NoMad neighborhoods this winter.
The luminous installation will interconnect with Winter Glow, the Flatiron NoMad Partnership's three-week series of interactive, pop-up programming that invites New Yorkers and visitors to celebrate the season through light, art, games, music, and dance. The inaugural Winter Glow series will kick off with a parade on November 30 at 4:30 PM, led by Bond Street Theatre, in which all are welcome to participate by marching in their most "glowy" outfits.  The parade will conclude in the Flatiron North Public Plaza where Control No Control will be officially unveiled. The full Winter Glow schedule of family-friendly activities will be announced the week of November 13 and will be available at flatironnomad.nyc.
"As we prepare to celebrate the holiday season in Flatiron and NoMad, we are proud to announce Control No Control as the focal point of our festive Winter Glow programming," said James Mettham, President of the Flatiron NoMad Partnership. "The bright, captivating, and playful installation will light up the plaza and bring New Yorkers and visitors together, making it the perfect seasonal centerpiece for our district."
"Our work is incomplete without public interaction. The challenge for us is thus to always find ways to attract the crowds and encourage them to engage no matter where we are in the world," said  Daniel Iregui, Founder of Iregular. "After 13 years, we are finally testing this out in New York City, where pace of life is unrelenting and audiovisual stimuli is omnipresent, and we are very excited for this to happen beside none other than the iconic Flatiron Building."
"Public art brings our public spaces to life, and this interactive installation will captivate and delight crowds this holiday season," said NYC DOT Commissioner Ydanis Rodriguez. "I thank the Flatiron NoMad Partnership and the art studio Iregular for building community through engaging artworks like Control No Control."
Conceived for big open spaces, Control No Control is a large-scale interactive installation in the form of a minimalistic geometric structure. Created in 2011 in Montreal for Igloofest, it has since been presented over 35 times around the world.
Control No Control is a big LED cube that reacts to everything that touches it and every movement performed on its surface. Streamlined patterns and generative sound emerge as interaction occurs. Allowing 48 people to participate at the same time, the experience is extremely intuitive, leading to quick audience engagement and prolonged interactions.
A sort of socio-digital experiment, the piece explores the relationship between participants and interactive installations. It tests the artwork's ability to intrinsically "instruct" and delegate the final audiovisual result to the audience that ends up gaining control of the piece. After presenting it many times across continents and cultures, Control No Control revealed that people all over the globe tend to behave the same way around the cube, and all seemed to spend a lot of time engaging. This in turn suggests the ability for the artwork to influence the public as well, highlighting the back-and-forth blurred nature of the control relationship.
–
About the Flatiron NoMad Partnership
The Flatiron NoMad Partnership, formed in 2006, is a nonprofit organization and business improvement district that serves the businesses, people, and places that help make Flatiron and NoMad two of Manhattan's most iconic and authentic destinations. Home to a range of retailers and employers, cultural and educational institutions, and a thriving residential community, the district is a center of activity. The Partnership serves as a dedicated steward and supporter of public life in the district by maintaining a clean and safe environment; spearheading area improvement projects; and marketing and championing the diverse business and retail options in this vibrant and historic neighborhood.
About Iregular
Iregular is a Montreal-based digital art studio that creates audiovisual installations, large-scale sculptures, architectural projections, and scenographies with a focus on interactive and immersive experiences. The studio has a catalog of over 50 interactive works and has toured more than 30 countries.
At the crossroads between art and technology, these artworks experiment with geometry, light, sound, mathematics, algorithms, communication protocols, and artificial intelligence. Iregular also develops its own proprietary technologies.
The studio works with the infinite and random combinations produced by interactive systems that the audience influences and transforms. The goal is always to spark curiosity and wonder through a dialogue between the public and the living artwork, an experience that varies with each different personal point of view. Interaction is at the core of it all. It is only the relationship between the people and the piece that finalizes the artwork and gives it meaning.
Iregular was founded in 2010 by Colombian Canadian digital artist Daniel Iregui.
About NYC DOT Art
The New York City Department of Transportation's Art Program (NYC DOT Art) partners with community-based not-for-profit organizations and professional artists to present temporary public art on NYC DOT property throughout the five boroughs for up to eleven months. Artists transform streets with colorful murals, dynamic projections, and eye-catching sculptures. A variety of public spaces serve as canvases for temporary arts, including sidewalks, fences, triangles, medians, bridges, jersey barriers, step streets, public plazas, and pedestrianized spaces. Since 2008, NYC DOT Art has produced over 400 temporary artworks citywide. For more information, visit www.nyc.gov/dotart.