Support Hispanic and Latinx Businesses in Flatiron & NoMad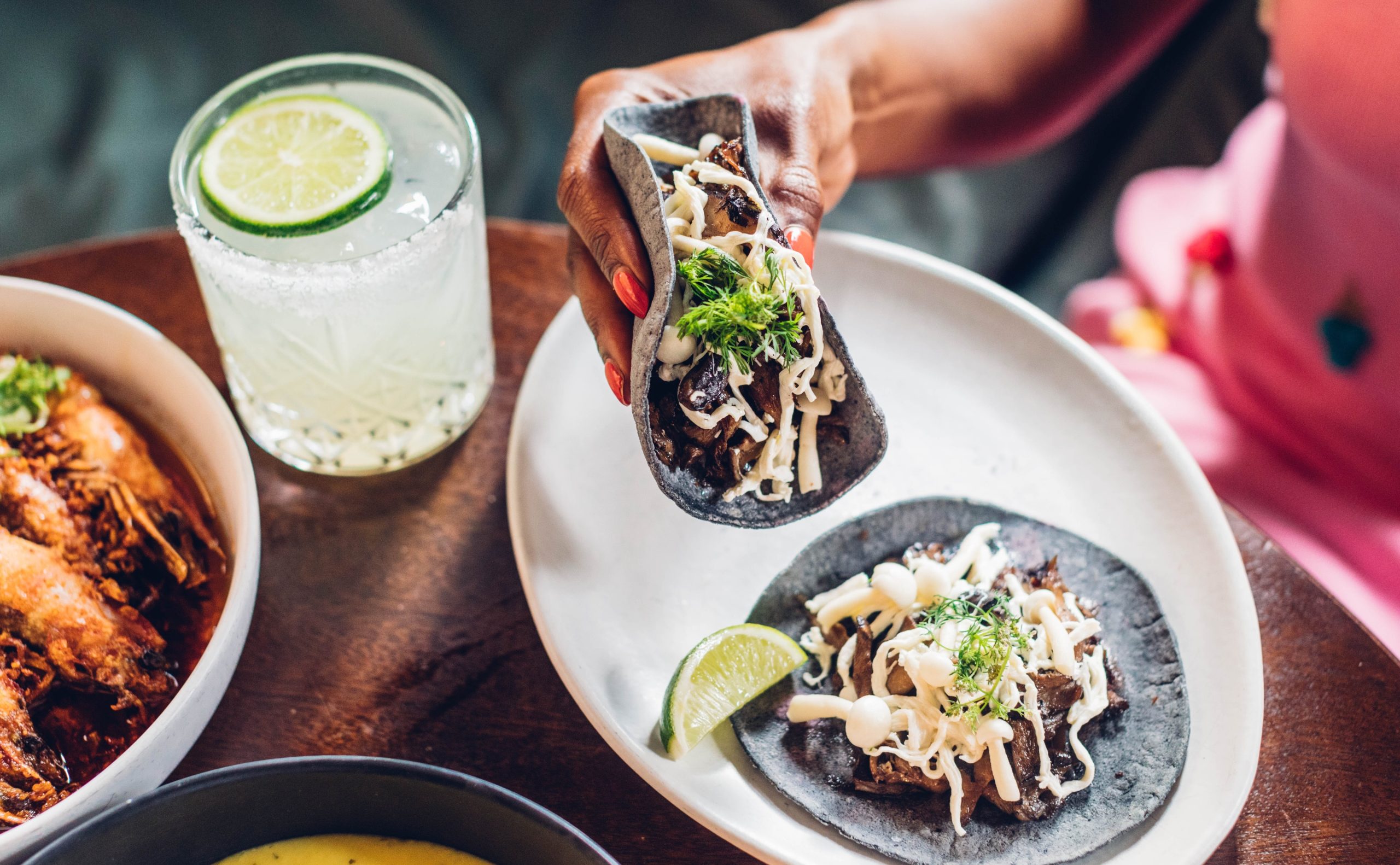 National Hispanic Heritage Month is observed from September 15 through October 15. We recognize and honor the histories, cultures, and contributions of Americans whose ancestors came from Spain, Mexico, the Caribbean, and Central and South America. To celebrate local Hispanic & Latinx businesses, we've created a roundup of Flatiron & NoMad spots to support.
:3 Coffee, 29 West 21st Street, (347) 418-2906, @3coffeeroasters
:3 Coffee is a 100% family-owned Colombian coffee shop that roasts all of their beans in small batches for the highest quality coffee. Enjoy a classic cup in a light-filled space and pair with a homemade pastry such as Pandebono, cheese-filled bread.
The Bazaar by José Andrés, 35 West 28th Street, (212) 804-9070, Reservations, @bazaarbyjose
Spanish chef and humanitarian, José Andrés, has several restaurant concepts, including his latest, The Bazaar located in The Ritz-Carlton New York, NoMad. The Bazaar is a sensory culinary experience led by Chef Andrés' interpretation of the cultural interaction between Japan and Spain in the 17th century, and is open for dinner Tuesday – Saturday. Additional neighborhood restaurants by Chef Andrés include, Zaytinya and the rooftop bar Nubeluz.

Casa Carmen, 5 West 21st Street, (917) 540-5600, Reservations, @casacarmennyc
Led by acclaimed Chef Carmen Ramirez Degollado, Casa Carmen is an upscale restaurant with a focus on authentic Mexican flavors and traditions. Chef Ramirez Degollado began her culinary career in 1972 when she opened "El Bajío" in Cuitláhuac, Mexico City. Today, Casa Carmen has two locations – Tribeca and Flatiron with a dinner menu featuring shareable plates, main courses, sides, and desserts.
Cómodo, 23 Lexington Avenue, (212) 475-1924, Reservations, @comodonyc
Cómodo, a Latin American restaurant led by husband-wife team, Executive Chef Felipe Donnelly and Wine Director Tamy Rofe, offers dishes inspired by Chef Donnelly's Colombian roots and childhood spent in Spain, Brazil and Mexico. Cómodo is within the Freehand New York Hotel and serves breakfast, lunch, dinner and weekend brunch in a rustic-chic interior.
Cosme, 35 East 21st Street, (212) 913-9659, Reservations, @cosmenyc
Founded in 2014 by Chef Enrique Olvera, owner of Pujol in Mexico City, Cosme creates contemporary, delicious Mexican cuisine. The upscale restaurant features dinner and brunch made with local and seasonal ingredients from the Hudson Valley and surrounding area, as well as a robust cocktail program.
Devoción, 25 East 20th Street, (718) 285-6180, @devocionusa
Devoción was launched in 2006 by Colombian-born Steven Sutton, offering some of the freshest coffee. By working directly with hand-selected farm partners in Colombia, Devoción's quick export process has sourced beans, roasted and served, just 10 days after leaving origin. Enjoy a tasty cup in a beautiful, plant-filled atmosphere.
Latin American, 29 West 26th Street, (212) 689-2570, @latinamericanres
The restaurant serves delicious Latin American cuisine, including Dominican specialties in a cozy ambiance. Stop in and enjoy breakfast, daily specials, sandwiches, and sides.
Los Tacos Hermanos, 65 West 30th Street, (917) 265-8154, @lostacoshermanosnyc
Los Tacos Hermanos in NoMad offers flavorful tacos, quesadillas, burritos, and bowls great for an on-the-go lunch or dinner in the neighborhood.
Mamazul, 1155 Broadway, (212) 500-6988, Reservations, @mamazulnyc
Mexican restaurant Mamazul opened in earlier this year and offers a culinary journey through the diverse regional tastes and heritage of Mexico. Mamazul is open for breakfast, brunch, lunch, and dinner.
OL'DAYS, 1165 Broadway, (917) 261-5250, Reservations, @oldaysusa
The inviting farm-to-table café, OL'DAYS, was established in 2014 by sisters, Martina and Juliana Fracchia, and longtime best friend, Camila Basigalup, in Buenos Aires, Argentina. Inspired by their family traditions of hospitality while growing up in Bella Vista, Corrientes, the trio opened OL'DAYS, offering a range of delicious plates.
Rëzo Salon, 226 Fifth Avenue, (917) 409-0292, Book Appointment, @rezosalon
Rëzo Salon was founded in 2018 by Nubia Rëzo, master hairstylist, curl specialist and educator with 40 years of experience in the hair industry. Born and raised in Colombia, Nubia moved to the U.S. in 1975 before training with top brands. In 2011, Nubia developed and introduced the signature rëzoCut, celebrating all curl types and hair textures. 

SOL Mexican Cocina, 220 Fifth Avenue, (212) 621-7671, Reservations, @solcocina
SOL Mexican Cocina first opened in 2009 in Newport Beach, California serving up coastal-inspired Mexican cuisine offering fresh Baja-style cooking. Today, SOL has several locations across the country, including in Flatiron. Explore the menu and stop by to enjoy your next lunch, dinner, happy hour, or weekend brunch, including three curated tequila flights.
Sophie's Cuban Cuisine, 664 Sixth Avenue, (646) 484-6045, @sophiescubancuisine
Manuela Matos opened Sophie's Cuban in 1997. Today, her three daughters – Sofia, Patricia, and Mila Luna run the business with ten locations throughout Manhattan and Brooklyn, including in Flatiron. Savor authentic Cuban cuisine for lunch and dinner, from entrees to hot sandwiches and empanadas.
Tacombi, 30 West 24th Street, (212) 242-3491, Reservations, @tacombi
In 2006, Dario Wolos founded Tacombi in Playa del Carmen as a beach side taco stand rooted in his vision to share Mexican hospitality through restaurants and products, while investing back into Mexican communities. Today, Tacombi has more than a dozen locations in New York City, Miami, and Washington, D.C serving tasty dishes. Additionally, Wolos established The Tacombi Foundation, a nonprofit organization that aims to advance Mexican communities through food accessibility, education, and employment.
Tortazo, 1123 Broadway, (212) 920-3722, @tortazo_
The fast-casual Mexican restaurant in NoMad was founded by Chef Rick Bayless, 7-time James Beard award winner. Enjoy authentic, bold Mexican cuisine from flavorful tortas to fresh salads. Tortazo is open for lunch, dinner, and weekend brunch.
If you'd like to be added to the article, please email us here.
Header & Thumbnail Photo Credit: Cómodo via The Infatuation