Catering Options in Flatiron & NoMad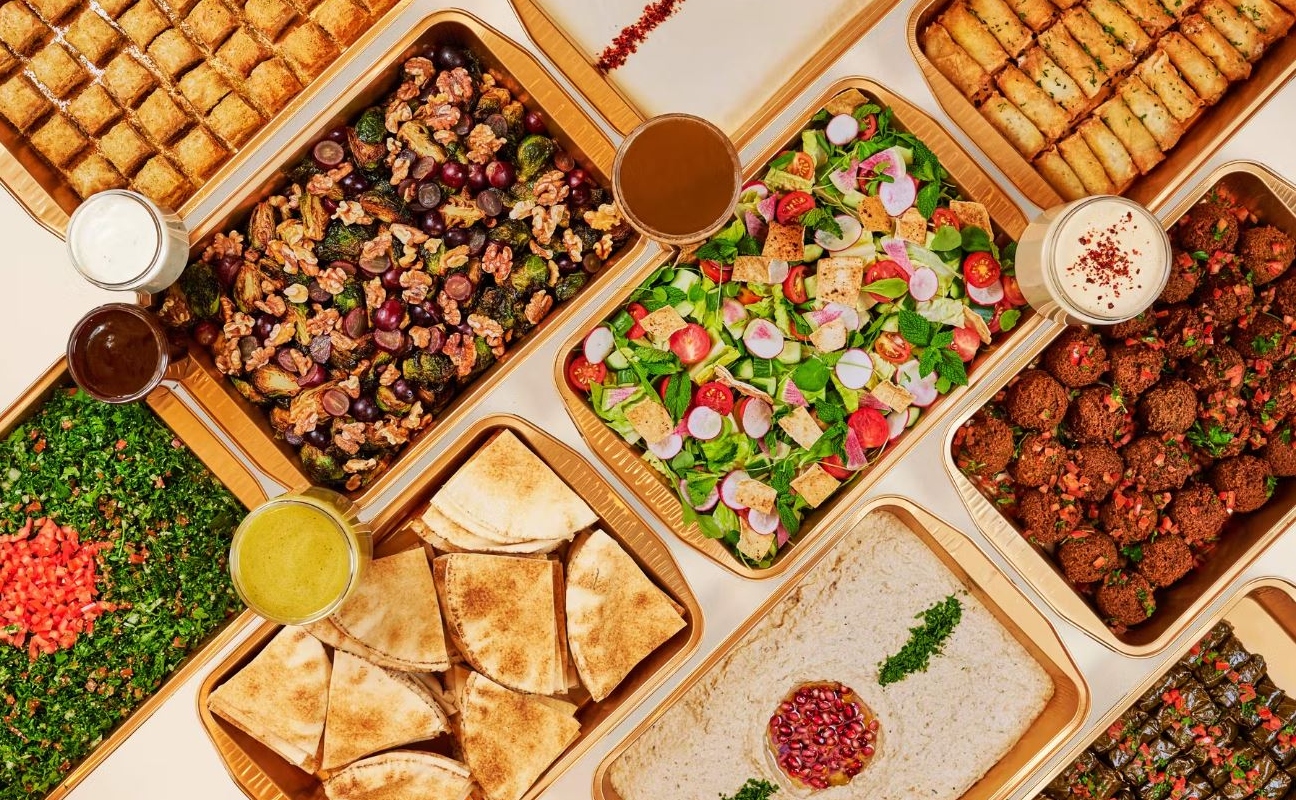 Looking to cater your next event or business meeting? Flatiron & NoMad is filled with numerous restaurants that offer catering, whether small or large-scale, fast casual or formal. Explore our roundup to find catering options that work best for you. Want to receive more local catering recommendations? Email us here.
Café & Bakery
Black Seed Bagels, 1188 Broadway, (332) 900-6050, @blackseedbagels
The bagel shop combines Montreal and NYC bagel baking techniques to serve delicious bagels. Cater your next breakfast or lunch meeting with delicious platters, bagels & spreads, fresh fruit, and baked goods.
Bourke Street Bakery, 15 East 28th Street, (718) 744-4803, @bourkestreetbakerynyc
Established in Australia, Bourke Street Bakery in NoMad bakes in-house delicious cakes, sandwich and croissant platters, and sausage rolls great for catering an office breakfast or lunch. Place your order online.
Dominique Ansel Workshop, 17 East 27th Street, (212)-901-1015, @dominiqueanselworkshop
Fresh from their pastry kitchen, Dominique Ansel Workshop offers a creative menu of pastries, croissants and savory dishes. In addition to a variety of hot and iced drinks, check out their menu items available for catering and contact info@dominiqueanselworkshop.com for inquiries.
Lysée, 44 East 21st Street, @lysee.nyc
Founded by Chef Eunji Lee, Lysée is a pastry boutique influenced by French and Korean cultures. For your next event, cater stunning and delicious desserts from Lysée. Contact order@lyseenyc.com to learn more.

maman, 22 West 25th Street, (646) 476-7660, @_mamannyc_
French-American café and bakery, maman bakes delicious pastries, including their famous nutty chocolate chip cookie and serves all-day breakfast, sandwiches, soups and salads. Cater your next small or large event with seasonal food offerings great for an office meeting or private party. Order online for pick-up or delivery.
Patisserie Chanson, 20 West 23rd Street, (929) 423-8880, @patisseriechanson
The modern European cafe and bakery in Flatiron offers catering for a variety of private events, from a brunch to an afternoon tea. Inquire here for more details.
Seven Grams Caffe, 76 Madison Avenue, (212) 779-0777, @sevengramscaffe
Serving gourmet coffee and house-made baked goods, Seven Grams Caffe offers catering for your next small or large event. Options include pastry platters, loaf cake platters, cookie platters, vegan scone platters, and coffee boxes. Order online for pick-up or delivery.
Zucker's Bagels & Smoked Fish, 40 East 23rd Street, (212) 228-5100, @zuckersbagels
Zucker's makes daily handmade kettle-boiled bagels and deli classics. Explore the catering menu for your next breakfast or lunch event with platters, salads, boxed options, and desserts. Email flatironcatering@zuckersholdings.com to place your order.
Fine Dining
BLACKBARN Restaurant, 19 East 26th Street, (212) 265-5959, @blackbarnrestaurant
Upscale, farm-to-table restaurant, BLACKBARN offers customized catering for weddings, corporate events, celebrations and non-profits. Partnering with Mario Rivera of MR Hospitality, BLACKBARN can cater your event whether a few dozen guests to a few hundred ensuring a memorable occasion. Request a quote for more information.
Eataly, 200 Fifth Avenue, (212) 229-2560, @eatalynewyorkcity
Whether hosting a multi-course dinner or a breakfast office meeting, Eataly has a range of catering options for your event. Email ny-catering@eataly.com to place your order.
ilili, 236 Fifth Avenue, (212) 683-2929, @ililirestaurants
Lebanese restaurant, ilili, has drop-off catering and full-service catering for special occasions, including weddings, corporate events, and private dinners. Submit a catering request form.
Mangia NYC, 22 West 23rd Street, (212) 647-0200, @mangia_nyc_official
For over 40 years, Mangia has catered a range of events across NYC. Catering options include corporate and private events and feature prix-fixe menus, bar service, event staffing and planning. Order online.
Mark's Off Madison, 41 Madison Avenue, (646) 838-8300, @marksoffmadison
Serving delicious Italian fare and NYC classics, Mark's Off Madison has a range of catering services for home, office, and large private events. For more details, email susan@marksoffmadison.com.
Sarabeth's, 381 Park Avenue South, (212) 335-0093, @sarabethsnyc
Enjoy American classics with catering from Sarabeth's. Customizable catering options available for your next private event. To order, email greta@rmbrestaurants.com.
SOL Mexican Cocina, 220 Fifth Avenue, (212) 621-7671, @solcocina
Offering coastal Mexican cuisine packed with flavor, SOL Mexican Cocina can cater private and corporate events. Choose from plated course dinners and add-on drink packages.
Fast Casual
Avocaderia, 245 Fifth Avenue, (929) 447-5488, @avocaderia
Avocaderia is the destination for scratch-made, wholesome salads & bowls, plus smoothies, toasts, guac, and more. Whether you're feeding your office team, convention guests, or friends and family, no one's going hungry with Avo. Discover our catering menu, or send them an email to handle the rest.
Bondi Sushi, 246 Fifth Avenue, (646) 609-2308, @bondisushi
The fast casual sushi restaurant serves nigiri, hot and crispy hand rolls, sashimi, and crispy rice. Catering options include branded platters or individually packaged combo boxes, handroll station, and homakase. Fill out the form here to get started.
Carrot Express, 18 West 23rd Street, (917) 261-7871, @carrotexpress
Health-conscious eatery Carrot Express has catering options for a variety of dietary preferences such as vegan, vegetarian, dairy-free, paleo, or keto-friendly. Submit your order online.
Hill Country Barbecue Market, 30 West 26th Street, (212) 255-4544, @hillcountrybbq
Enjoy authentic Texas barbecue with catering from Hill Country. Catering options include barbecue packages such as the Texas Feast, 'Cue 'Wich,  and sides & fixin's. Order for delivery or pickup.
Hole in the Wall, 37 West 24th Street, (646) 726-4277, @holeinthewall
Located on the ground floor of Hotel Henri, Hole in the Wall serves up Aussie favorites and seasonal eats. Choose from three catering packages and a variety of shareable platters for your next business breakfast or lunch. Place your order here.

Honeybrains, 34 West 22nd Street, (917) 472-7682, @honeybrainslife
Honeybrains offers healthy catering for corporate-sized events, private parties and social gatherings with nutritious and tasty bowls, salads, sandwiches, and fresh-pressed juices. Fill out a contact form to inquire about catering services.
John Doe Craft Bar & Kitchen, 253 Fifth Avenue, (646) 882-4007, @johndoenyc
John Doe Craft Bar & Kitchen offers New American and classic dishes. Catering packages are available for groups of 20 or more great for your next gathering.

Little Beet Table, 333 Park Avenue South, (212) 466-3330, @eatlittlebeet
The modern restaurant serves organic, vegetarian-focused & gluten-free dishes. Catering options include appetizers, salads, burgers, and sandwiches for your next event. Contact catering@thelittlebeet.com to set up your personalized menu.
Memo Shish Kebab, 100 West 23rd Street, (212) 381-2115, @memoshishkebab
Family-founded Turkish restaurant Memo Shish Kebab offers catering for business meetings and private parties with delicious appetizers, hot entrees, salads, sides, and desserts. Place your order online. 
Milu, 333 Park Avenue South, (212) 377-6403, @eatmilu
Milu offers regional Chinese cuisine with flavorful traditional dishes. Have Milu cater your next event with individual bowls, platter samplers, and shareable sides.
Mista Oh, 41 West 24th Street, (646) 559-8858, @mr.mistahoh_nyc
A family-owned establishment, Mista Oh serves popular Korean dishes. Check out their catering options for your next gathering featuring appetizers, bento boxes, and desserts.
Norikoh, 43 West 24th Street, (646) 922-7383, @norikohnyc
Japanese restaurant Norikoh serves tasty and authentic dishes. Explore a range of catering options for your next event including, appetizers, salads, sushi, rice & noodle trays, and hot entrees.
Olde City Cheesesteaks & Brew, 66 Madison Avenue, (929) 281-3222, @loveoldecity
Serve authentic Philly cheesesteaks at your next party or corporate event from Olde City. Add to your catering order a platter of wings or tenders.
PLNT Burger, 1147 Broadway, (212) 210-2975, @plntburger
Plant-based, fast-casual restaurant PLNT Burger offers American classic comfort food such as vegan burgers, sandwiches, salads, fries and sides. Catering both small and large events, place your order online.
Pure Grit BBQ, 36 Lexington Avenue, (646) 449-8782, @puregritbbq
Pure Grit BBQ, the vegan and gluten-free barbecue joint, offers classic smoked barbecue with a twist that prioritizes dietary preferences. Check out the catering menu for complete options.
Sabai Thai, 432 Park Avenue South, (646) 476-4521, @sabaithainyc
Serving regional Thai cuisine and craft cocktails, Sabai Thai offers catering for your next event. Options include half or full trays of appetizers, noodles, rice, curry, and stir fry. For inquiries, email hospitality@sabairestaurant.com. 
Slate Cafe NoMad, 121 Madison Avenue, (212) 683-7800, @slatecafenyc
The all-day eatery Slate Cafe NoMad serves classic eats including breakfast, salads, and sandwiches. Cater your next office event with delicious platters that can be customized to dietary preferences. Order online or contact catering@slatecafe.com for more information.
Summer Salt, 30 East 23rd Street, (212) 209-0648, @summersaltnyc
Summer Salt offers burritos, tacos, and bowls influenced by Southern Californian cuisine. Cater your next event with a make your own taco, bowl and salad bar. Fill out a catering form online to start your order.
Taïm, 64 West 22nd Street, (212) 966-7364, @eat_taim
Taïm serves tasty Mediterranean fare with vegan, vegetarian, and gluten-free options including falafel, fresh-baked pita, salads, and bowls. Cater your work event or home party with signature platters, a build your own bar, salads, sides, desserts, and individually-packaged meals. Order online.
Tortazo, 1123 Broadway, (212) 920-3722, @tortazo_
Tortazo, the fast-casual eatery serves authentic, bold Mexican cuisine from flavorful tortas to fresh salads. Cater an office gathering or private event with individually packaged boxed lunches, fiesta selections, salads, chips & guacamole, cinnamon-sugar churros, and drinks. Order online.
Header & Thumbnail Photo Credit: ilili