New Neighbor: Kaiten Zushi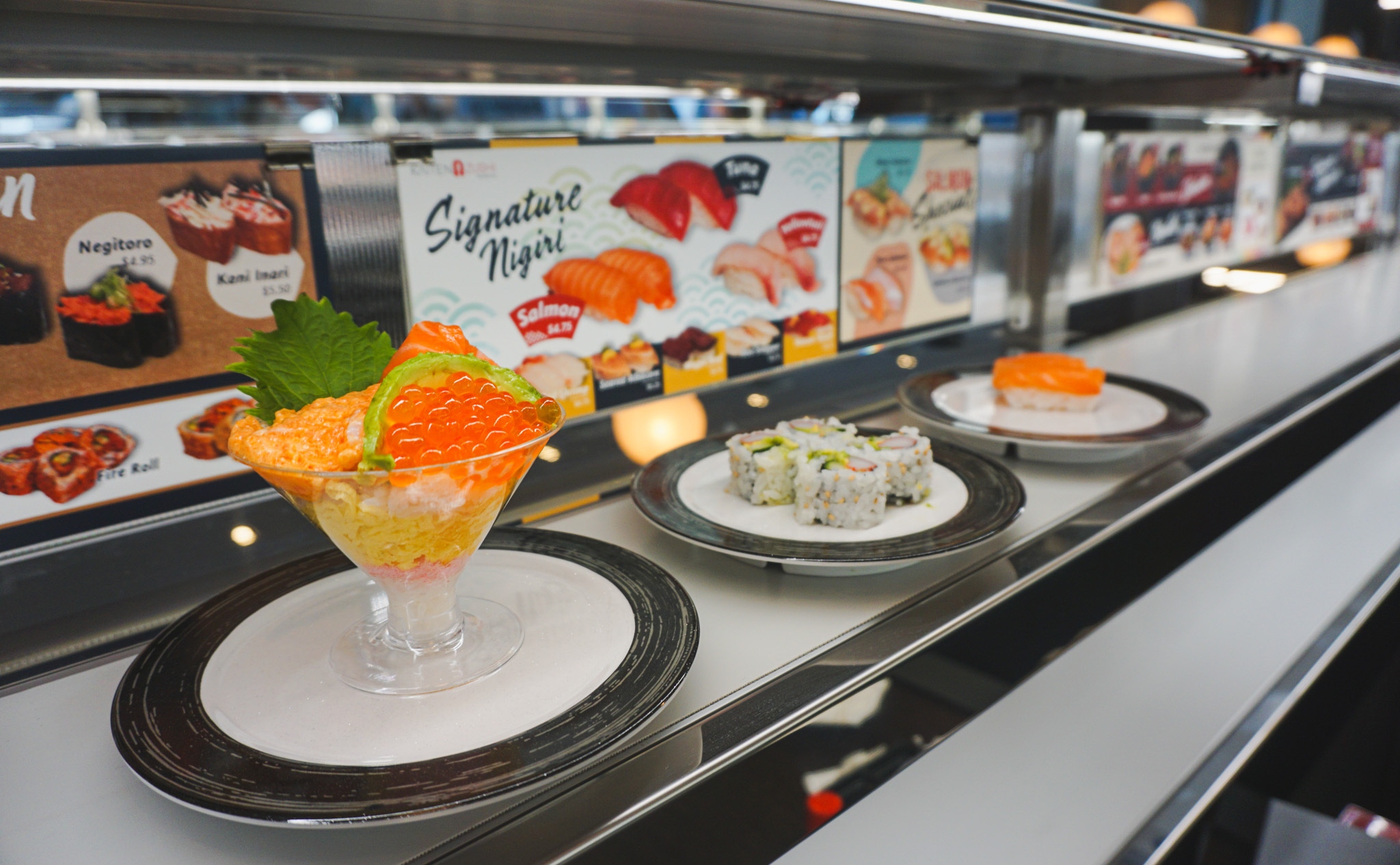 We're excited to welcome Kaiten Zushi, the new conveyor belt sushi restaurant in NoMad. Located at 276 Fifth Avenue, the restaurant uses innovation and tradition to offer delicious sushi in a fun dining experience.
"Kaiten Zushi is thrilled to have found its home in the vibrant neighborhoods of Flatiron and NoMad. The decision to choose this area for our business was carefully considered, driven by a desire to bring the heart of midtown to life with our unique dining concept," says the Kaiten Zushi team. "Flatiron and NoMad are bustling hubs, attracting a diverse crowd of office locals and tourists alike."
Upon entering the restaurant, guests are met with a welcoming ambiance before seated at a counter top or table to begin an automated dining experience. The diverse menu includes sushi, sashimi, nigiri, sushi cocktails, appetizers, and ramen among additional dishes. Once an order is placed, dishes are brought directly to your table via a conveyor belt and drinks are delivered by a mobile robot. Kaiten Zushi's innovative approach allows guests to try multiple plates that all have a range of authentic flavors. Using premium, high-quality ingredients, dishes are free from preservatives, artificial sweeteners, and seasonings providing guests the opportunity to enjoy a unique culinary adventure.
To begin your lunch or dinner, start with a Salmon Flower Cocktail, a sushi cocktail made with salmon, roe, and avocado atop a bed of rice and an order of Agedashi Tofu, deep-fried tofu served in a dashi sauce with green onions and radishes. Then, choose from an extensive selection of hand rolls, nigiri, or sashimi for the table. For a larger dish, try a variety of rice bowls such as Unagi Don made with grilled filets of eel marinated in a sweet and savory sauce served over steamed rice. Or, savor Sukiyaki Don featuring thinly sliced beef, vegetables, and egg over a bowl of rice. Pair your dishes with a beverage such as Yuzu, Sake, or Beer and save room for dessert and indulge in a treat: Mochi Ice Cream.
Head to Kaiten Zushi for an exciting dining experience with a group of friends or for date night!
Kaiten Zushi is open Monday through Saturday from 11:30 am – 10 pm, and Sunday from 12 pm – 10 pm.
Kaiten Zushi, 276 Fifth Avenue, @kaitenzushi_nomad