Sandwich Spots in Flatiron & NoMad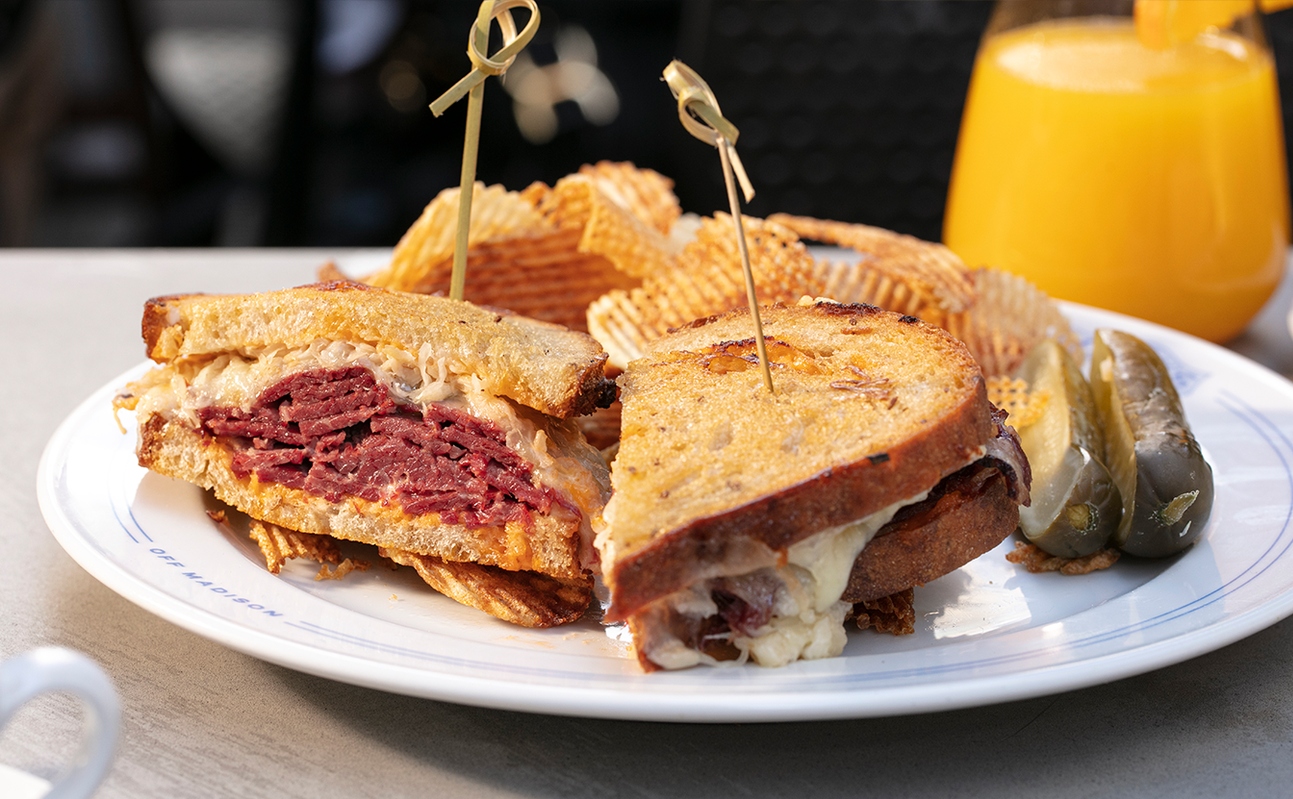 August is National Sandwich Month! Celebrate by finding your new favorite sandwich in the neighborhood to enjoy this month and beyond. We've rounded up delicious sandwiches to savor at fast casual and sit-down restaurants.
BLACKBARN Restaurant, 19 East 26th Street, (212) 265-5959, @blackbarnrestaurant
The farm-to-table restaurant BLACKBARN uses ingredients from local purveyors. For lunch, enjoy the Turkey Club featuring avocado, tomato, applewood smoked bacon on sourdough bread. Or, try the Chicken Milanese Sandwich with fresh tomato, mozzarella, pesto mayo, and arugula on cheese brioche.
Black Seed Bagels, 1188 Broadway, (332) 900-6050, @blackseedbagels
The bagel shop combines Montreal and NYC bagel baking techniques to serve up some tasty sandwiches. Try a Black Seed BLT made with bacon, butter lettuce, vine-ripened tomatoes, and spicy mayo on a wood-fired bagel. 
Bourke Street Bakery, 15 East 28th Street, (718) 744-4803, @bourkestreetbakerynyc
The Australian-founded bakery offers delicious baked in-house breads, pastries, and sandwiches. Order a Ham, Cheese, & Dijonaise Baguette or a Smoked Turkey, Swiss Cheese, & Arugula Croissant.
Effin Egg, 38 East 23rd Street, (646) 596-8879, @theeffinegg
Stop into the fast-casual restaurant for a gourmet breakfast sandwich. Enjoy The OG made with apple-smoked bacon, cage-free over medium egg, cheddar cheese and signature Mexican sauce served on a warm brioche bun. Or, try The CEO featuring cage-free soft scrambled eggs and chives, cheddar cheese, caramelized onions and signature chipotle Effy Sauce served on a warm brioche bun.
Hawksmoor NYC, 109 East 22nd Street, (212) 777-1840, @hawksmoornyc
Join the award-winning British steakhouse for lunch to savor a Hawksmoor Steak Sandwich featuring 10 ounce dry-aged rump, porcini hollandaise, provolone, Parmesan, and fried shallots.
Hill Country Barbecue Market, 30 West 26th Street, (212) 255-4544, @hillcountrybbq
Enjoy authentic Texas barbecue here in the neighborhood! Enjoy classics such as a Pulled Pork Sandwich topped with pickled cabbage and hogwash sauce or try a Chopped Brisket Sandwich featuring barbecue sauce, house pickles, and onion.

Honeybrains, 34 West 22nd Street, (917) 472-7682, @honeybrainslife
Honeybrains creates nutritious and delicious options to keep you energized and feeling good. Try the Spicy Chicken Sandwich made with crisp free-range chicken, mesclun greens, tomatoes, and vegan aioli on multi-grain bread. 
Lenwich, 16 West 23rd Street, (212) 462-4433, @lenwich
Since 1989, Lenwich has been a NYC staple. Serving up a variety of sandwiches, enjoy the one that started it all, the Lenwich, made with hot pastrami, corned beef, melted swiss, coleslaw, and thousand island on your choice of bread.
maman, 22 West 25th Street, (646) 476-7660, @_mamannyc_
French-American café and bakery maman offers tasty baked goods, breakfast, and lunch. Enjoy Anjerika's Turkey Sandwich with cheddar, kale pesto, pickled & crispy onions, and arugula on sourdough.
Mangia NYC, 22 West 23rd Street, (212) 647-0200, @mangia_nyc_official
For 40+ years Mangia has been serving artisanal Italian food and providing corporate catering to New Yorkers. Choose from over a dozen gourmet sandwiches, including the Basil Parmigiano Chicken Salad Sandwich made with roasted chicken, pesto dressing, tomatoes, and watercress on a baguette.
Mark's Off Madison, 41 Madison Avenue, (646) 838-8300, @marksoffmadison
Offering Italian fare and classic NYC favorites, Mark's Off Madison serves mouthwatering sandwiches. Enjoy the Jewish Boy from Queens Sandwich made with freshly-roasted turkey, coleslaw, and Russian dressing on homemade deli rye. Or, try a M.O.M. Reuben Sandwich featuring corned beef, swiss cheese, sauerkraut, and Russian dressing on homemade deli rye.
Nomad Girl, 1151 Broadway, (212) 419-8299, @nomadgirlnyc
Italian restaurant and bar Nomad Girl offers regional cuisine from Emilia Romagna, Milano, and southern Italy. For lunch, order a panini such as the Il Forzuto with organic chicken breast, mozzarella, tomato, and pesto or the Tentazione made with shrimp, smoked mozzarella, arugula, prosciutto, and salsa rosa.
OL'DAYS, 1165 Broadway, (917) 261-5250, @oldaysusa
The all-day farm-to-table cafe offers a robust menu featuring a variety of sandwiches including, Salmon Brioche made with smoked salmon, capers cream, avocado, and arugula and the Chicken Pocket Sandwich with organic roasted chicken, avocado, cream and parmesan cheese on whole wheat pita bread.
Olde City Cheesesteaks & Brew, 66 Madison Avenue, (929) 281-3222, @loveoldecity
Try an authentic cheesesteak at Olde City! Or, savor other Philly specialties including an Italian or Turkey Hoagie featuring lettuce, tomato, red onion, banana peppers, and provolone with a side of oil & vinegar. Pair with a beer on tap from local breweries in Pennsylvania and New York.
S&P Lunch, 174 Fifth Avenue, (212) 691-8862, @sandplunch
A NYC institution, S&P has been around for nearly a century. The old school lunch counter serves up diner classics, including sandwiches. Enjoy the Flatiron Delight made with your choice of pastrami, corned beef, or turkey with slaw, swiss cheese, and Russian dressing on rye.
Sarabeth's, 381 Park Avenue South, (212) 335-0093, @sarabethsnyc
Enjoy a classic meal at Sarabeth's with sandwiches such as the Classic Lobster Roll with remoulade, slaw, and chips or the Adult Grilled Cheese made with three cheeses on pretzel bread and served with tomato soup.
The Smith, 1150 Broadway, (212) 685-4500, @thesmithrestaurant
The Smith offers crowd favorites from salads to sandwiches great for lunch. Enjoy a Grilled Chicken Sandwich with burrata, tomato jam, and basil aioli on a toasted sesame bun, or the Roasted Cauliflower Bahn Mi with avocado, cucumber, jalapeño, pickled vegetables, and spicy sesame aioli on ciabatta.

Zucker's Bagels & Smoked Fish, 40 East 23rd Street, (212) 228-5100, @zuckersbagels
Zucker's makes daily handmade kettle-boiled bagels and deli classics. Pick up a Hot Pastrami Sandwich on your choice of bread or bagel for your next lunch.

Header & Thumbnail Photo Credit: Mark's Off Madison