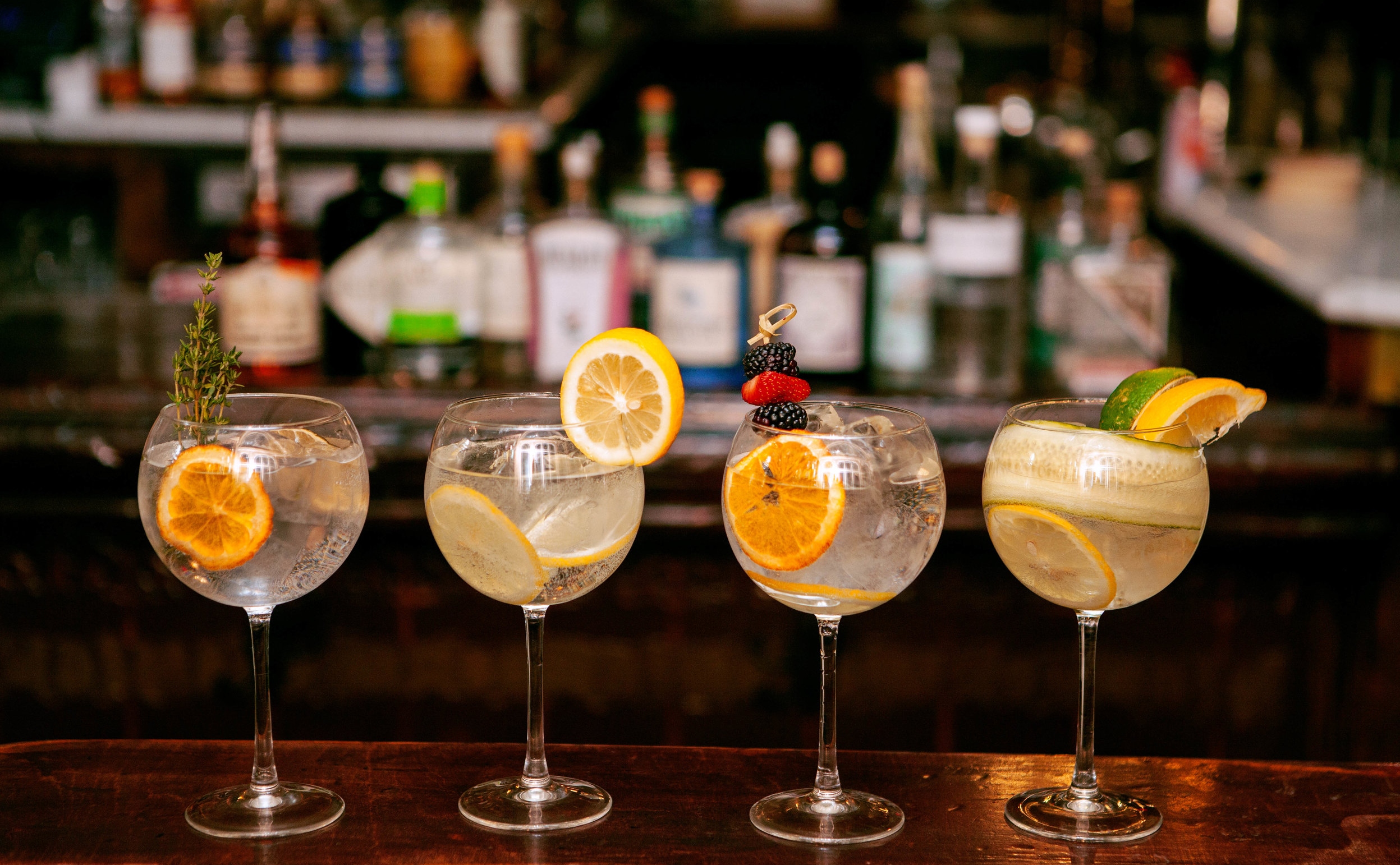 Keep cool in the summer sun with a refreshing cocktail in hand! Find your new favorite cocktail of the season at local spots in Flatiron & NoMad.
Apotheke NoMad, 9 West 26th Street, (212)-842-1632, @apothekenomad
Inspired by apothecaries, Apotheke NoMad features a speakeasy style bar and a penthouse lounge. This summer, enjoy a variety of cocktails made with unique ingredients known for their natural remedies, including Clouds of Gold made with gin, orange, saffron, lime, orange blossom, aquafaba, and club soda.
Bazár Tapas Bar, 31 West 26th Street, (212) 510-8155, @bazartapasnyc
At Bazár, savor delicious tapas with signature craft cocktails such as the Tiki Punch made with coconut rum, dark rum, pineapple juice, and fresh lime juice.
Hawksmoor NYC, 109 East 22nd Street, (212) 777-1840, @hawksmoornyc
Beloved fine-dining British steakhouse, Hawksmoor NYC, has an extensive cocktail menu. Enjoy summer craft cocktails such as the Shore Leave, Back Burner, Mackinaw Highball, and Campino Punch.
Hole in the Wall, 37 West 24th Street, (646) 726-4277, @holeinthewall
Located on the ground floor of Hotel Henri, Hole in the Wall serves up Aussie brunch favorites and seasonal dinner plates alongside signature & classic cocktails. Sip into summer with the Flying High made with mezcal, aperol, amaro, tangerine, lime, spiced pineapple, and tamarind.
Il Fiorista, 17 West 26th Street, (646) 490-8240, @ilfioristanyc
At Il Fiorista, enjoy a floral-inspired meal and cocktails like the Suddenly Last Summer made with shōchū, hibiscus tisane, fresca champagne shrub, cardamaro, and seltzer.
The Ivory Peacock, 38 West 26th Street, (646) 930-8888, @theivorypeacock
The Ivory Peacock offers innovative cocktails, and has a focus on unique gin offerings. For the summer try the Jardin de Fleurs made with Dorothy Parker Rose Petal Gin, calvados, house flower cordial, yuzu, lemon, and egg white.
Jewel Thief NoMad, 30 West 30th Street, (646) 547-1408, @jewelthiefnomad
A boutique speakeasy lounge, Jewel Thief NoMad offers themed cocktails great for the summer. Order The Masterpiece made with Hamilton rum, ancho reyes liqueur, and pineapple.
John Doe Craft Bar & Kitchen, 253 Fifth Avenue, (646) 882-4007, @johndoenyc
Located between the Flatiron and Empire State Building, John Doe Craft Bar & Kitchen offers New American plates and featured & specialty cocktails. Have a taste of summer with their Fresh & Fruity Sangria or Pink Gin Spritz.
Koloman, 16 West 29th Street, (212) 790-8970, @kolomannyc
French-Viennese restaurant Koloman serves eclectic craft cocktails. Check out their seasonal beverage menu and try the Summer Storm made with rum, strawberry, cherry eau de vie, and club soda.
L'Adresse NoMad, 1184 Broadway, (212) 221-2510, @ladressenyc
L'Adresse NoMad features innovative classics and signature dishes, along with craft cocktails such as the Tropical Storm made with Bermuda black rum, cognac, falernum, fresh pineapple juice, fresh lime juice, and cane sugar.
Nubeluz, 25 West 28th Street, (332) 249-8151, @nubeluzbyjose
Located on the 50th Floor of the Ritz-Carlton New York, NoMad resides Nubeluz featuring a stylish interior and modern takes on classic cocktails. This summer enjoy a Tin Pan Butterfly created with Dorothy Parker gin, butterfly pea, yellow pepper, yellow chartreuse, dolin dry vermouth, and tonic.
Oscar Wilde NYC, 45 West 27th Street, (212) 213-3066, @oscarwildenyc
At the Victorian-style bistro, Oscar Wilde NYC, enjoy refreshing summer cocktails at the marble-top bar like The Wilde Hare made with Copper Dog scotch, Amaro Nonino, carrot juice, lemon juice, honey, peach bitters, and a splash of Q Ginger Beer.
Patent Pending, 49 West 27th Street, (212) 689-4002, @patentpendingnyc
Within the Radio Wave Building behind a secret door is Patent Pending, which features a unique cocktail experience paying homage to the inventor Nikola Tesla. Order the J.J. Astor made with Japanese whiskey, bottled-in-bond bourbon, almond grappa, preserved lemon, cloud cardamom, mace, grapefruit, and lychee.
The Sentry – Flatiron, 37 West 24th Street, 18th Floor, (646) 726-4277, @thesentrynyc
The Sentry – Flatiron, a penthouse bar and lounge above Hotel Henri is a great spot to sip on signature cocktails in a relaxed atmosphere. Try a drink that captures the essence of summer, such as Burning Down The House, made with tequila, passionfruit, jalapeño, agave, and grapefruit.
Shinji's, 37 West 20th Street, (212) 481-2432, @shinjisbar
Shinji's offers an intimate bar experience with just 18 seats with cocktails that transport you to the past. Enjoy a Honeypenny made with Satsuma gin, Nikka gin, beeswax vodka, vesper apertif, mead, and cocchi Americano.
SOL Mexican Cocina, 220 Fifth Avenue, (212) 621-7671,@solcocina
Serving up coastal Mexican cuisine, SOL Mexican Cocina offers a variety of refreshing cocktails from a Watermelon Margarita made with Herradura silver, muddled watermelon, and lime juice to Tropical Mimosa Buckets, featuring a chilled bottle of sparkling wine paired with a choice of four juices. 

Spritz NoMad, 30 West 30th Street, (646) 547-1398, @spritznewyork
Bringing Italy to the heart of NYC, the restaurant Spritz NoMad is home to the Larger than Life Aperol Spritz. Also, try a customer favorite, the Amalfi Spritz made with cynar, falernum, elderflower, passion fruit, and prosecco.
Thyme Bar, 20 West 23rd Street, (646) 600-9257, @thymebar_nyc
An underground hideaway, Thyme Bar is a cocktail speakeasy lounge set in a historic pre-war cellar. Perfect for the summer, order Isla Verde made with rum, coconut, pineapple, matcha, and lemongrass.
Undercote, 16 West 22nd Street, (212) 401-7986, @undercote
At Undercote, enjoy bespoke cocktails amidst a plant-filled bar and lounge that is beneath the Michelin-starred restaurant COTE Korean Steakhouse. Enjoy a Victory, a mezcal strawberry margarita made with mezcal rosaluna, cocchi rosa, strawberry, and lime.
Header & Thumbnail Photo Credit: Oscar Wilde NYC