Flatiron NoMad Foodie: L'Adresse NoMad's Bluefin Tuna Crudo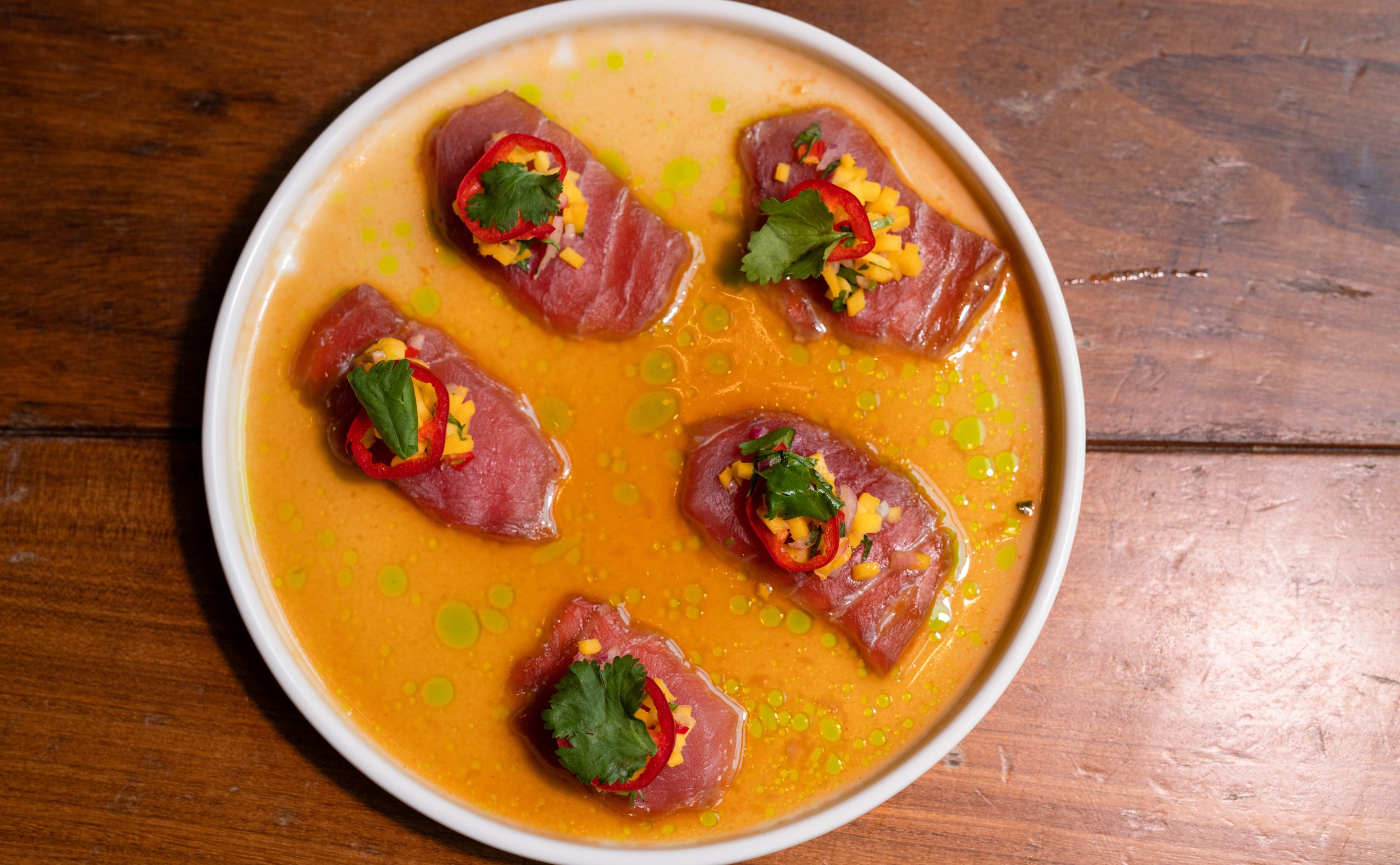 The New American restaurant L'Adresse NoMad shares with us their Bluefin Tuna Crudo recipe. Chef Lee Hernandez walks us through how to make this delicious dish great to serve at your next summer gathering. "This is a great dish for hot summer days. It is a perfect appetizer: packed with flavors, yet very light and refreshing. The sauce is also very versatile; you can use it for any seafood or grilled or sautéed vegetables."
Located at 1184 Broadway, L'Adresse NoMad offers European-inspired seasonal fare in a welcoming atmosphere. Enjoy a variety of flavor-rich dishes for dinner and weekend brunch.
L'Adresse NoMad is open Monday through Wednesday( 5 pm – 10 pm), Thursday and Friday (5 pm – 11 pm), Saturday (11 am – 11 pm), and Sunday (11 am – 4 pm).
Bluefin Tuna Crudo Recipe
Ingredients:
Bluefin Tuna
Sashimi Grade Bluefin Tuna
Sweet Chili Poke Sauce
1/2 cup of Rice Vinegar
3/4 cup of Sweet Chili Sauce
3/4 cup of Sesame Oil
1/4 cup of Fresh Lemon Juice
1/2 cup of Yamasa Soy Sauce
Mango Salsa
0.5 ounces of Red Onion, finely diced
0.3 ounces of Red Fresno Pepper, finely diced
2.5 ounces of Mango, diced small
Cilantro, cut into strips
Ground Black Peppercorn
Kosher Salt
Extra Virgin Olive Oil
Directions for Bluefin Tuna:
Thinly slice the sushi-grade tuna into about 6 slices per portion.
Directions for Sweet Chili Poke Sauce:
In a large stainless steel mixing bowl combine all ingredients and whisk well.
Directions for Mango Salsa:
In a medium stainless steel bowl add the onions, fresno peppers, and mango.
Season with olive oil, salt, and pepper.
Fold in cilantro.
Assemble the Dish:
Aline the slices of tuna on a round or long plate.
Add an even amount of the mango salsa to each slice of fish.
Garnish with a cilantro leaf and then pour the sauce around the tuna.
Enjoy!