Flatiron & NoMad Outdoor Lunch Guide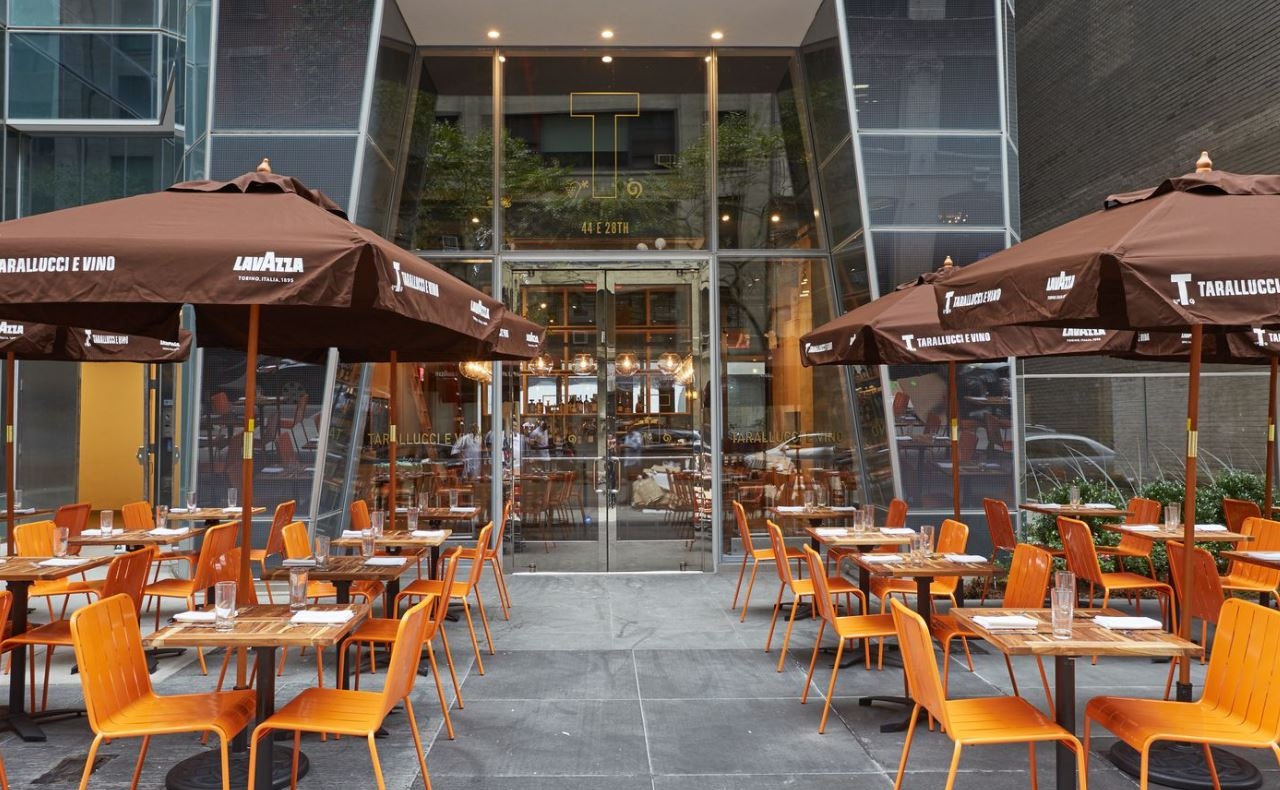 As the weather warms this spring, it's the perfect time to dine outside. Enjoy a sunshine-filled lunch at one of these Flatiron & NoMad restaurants.
Barn Joo NoMad, 816 Sixth Avenue, (917) 409-1637, Reservations, @barnjoo_nomad
Korean restaurant Barn Joo NoMad serves up creative dishes including Lunch Specials from 12 – 4 pm that you can enjoy while dining outside.
Bazár Tapas Bar & Restaurant, 31 West 26th Street, (212) 510-8155, Reservations, @bazartapasnyc
Savor eclectic tapas, entrees, wine and cocktails for a leisurely outdoor lunch at Bazár Tapas.
BLACKBARN, 19 East 26th Street, (212) 265-5959, Reservations, @blackbarnrestaurant
Farm-to-table restaurant BLACKBARN offers lunch featuring locally-sourced ingredients including starters, mains, and dessert that you can enjoy while overlooking Madison Square Park.
ilili, 236 Fifth Avenue, (212) 683-2929, Reservations, @ililirestaurants
ilili serves flavorful Lebanese cuisine great for an outdoor lunch on Fifth Avenue. The menu features mezza, salads, sandwiches, mains, sides, and dessert.
L'Amico, 849 Sixth Avenue, (212) 201-4065, Reservations, @lamiconyc
Dine on L'Amico's patio for an afternoon lunch. Highlights from the spring menu include Warm Mushroom Bruschetta, Artichoke Pizza, and Branzino.
La Pecora Bianca, 1133 Broadway, (212) 498-9696, Reservations, @lapecorabianca
Italian restaurant La Pecora Bianca offers market-driven dishes. For lunch, dine outdoors on Broadway with views of the iconic Flatiron Building.
Mark's Off Madison, 41 Madison Avenue, (646) 838-8300, Reservations, @marksoffmadison
The upscale restaurant and bagel bakery offers lunch featuring Italian fare and classic favorites, including pastas, salads, mains, and pizzas.

Sarabeth's, 381 Park Avenue South, (212) 335-0093, Reservations, @sarabethsnyc
Enjoy a classic lunch at Sarabeth's and dine on the patio along Park Avenue South to take in the iconic city skyline.
The Smith, 1150 Broadway, (212) 685-4500, Reservations, @thesmithrestaurant
The Smith offers American favorites from burgers to salads and sandwiches great for lunch. Enjoy dining outdoors on Broadway.
Tacombi, 30 West 24th Street, (212) 242-3491, Reservations, @tacombi
Enjoy tasty tacos, tostadas, quesadillas, and burritos for lunch at the Mexican eatery. Pair with a margarita as you dine outside.
Tappo Thin Crust, 49 West 24th Street, (212) 807-9200, Reservations, @tappothincrust
Offering super thin crust pizza and Italian classics, enjoy your lunch on Tappo's patio. 
Tarallucci e Vino NoMad, 44 East 28th Street, (212) 779-1100, Reservations, @taralluccinyc
Located in the heart of NoMad Tarallucci e Vino serves delicious Italian dishes. Highlights include Insalata with Shrimp, Orecchiette, and Prosciutto Panini. Pair your lunch with an Aperol Spritz as you dine on the sun-filled patio.
Header & Thumbnail Photo Credit: Tarallucci e Vino NoMad via Eater New York